The housing recovery may be leaving some behind.
Single, full-time housekeepers and wait staff could afford a two-bedroom apartment in none of the 207 U.S. metros the Center for Housing Policy looked at in its August housing affordability study for travel and tourism workers.
The study, which considered rent "affordable" if the sum of the fair market rent and cost of utilities was less than 30 percent of a single wage earner's income in a metro, also looked at homeownership affordability. Housekeepers and wait staff were similarly outpriced in 199 and 197 of the metros looked at, respectively.
"Looking at the full array of 207 metro areas, the low- and moderate-income travel industry workers studied were
unable to rent or buy a home along nearly the whole California coast, from the Santa Rosa and Napa areas down
to metropolitan San Diego," the study noted.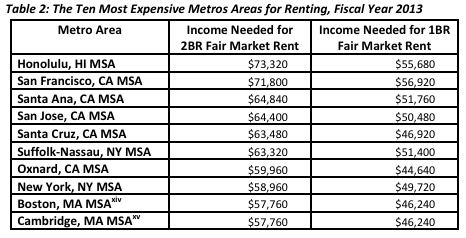 Source: Center for Housing Policy