MyNewPlace, mlsfinder.com and VisualTour.com climbed into the ranks of the 20 most visited real estate Web sites during April, according to an analysis of Internet traffic by metrics company Hitwise.
MyNewPlace (18th) and VisualTour.com (20th) were returning to the Hitwise top 20 after dropping off the list earlier this year. But mlsfinder.com — a company that provides Web development services for the industry — continued its climb from 30th in January and 24th place in March to break into the top 20 for the first time in April at 19th.
Web sites on the Hitwise top 20 netted 40.6 percent of all visits in the "Business and Finance — Real Estate" category. Most of that traffic went to the top 10 Web sites, which captured 30.1 percent of traffic in the category, Hitwise said.
Among the Hitwise top 10, there was some jockeying for position, but no new members.
With 9.66 percent of traffic in the category, Realtor.com maintained its top position on the list, followed by Yahoo! Real Estate (3.72 percent), Zillow (3.18 percent), ZipRealty (2.62 percent), and RE/MAX Real Estate (2.22 percent).
Rent.com's 1.86 percent market share helped the site move up one position from March, to sixth, with ServiceMagic (1.76 percent, seventh place) and Trulia.com (1.73 percent, ninth place) also moving up one place on the top 10 list. The Department of Housing and Urban Development's Web site, www.hud.gov (1.75 percent), slipped two places, to eighth.
HomeGain's 1.62 percent market share wasn't enough to keep the site from sliding one place, to tenth. HomeGain was the sixth-ranked site in January, eighth in February, and ninth in March.
Nine sites entered the Hitwise top 100 in April, a higher "churn" than the six new additions in March. Entering the top 100 at 87th was Socialserve.com, along with MRIS (88), Curbed (89), realestate.msn.realtor.com (91), Sublet.com (94), GOsection8.com (95), eHBSR.com (97), Rental Properties Online (98) and Northern New England Real Estate Network (99).
Sites leaving the top 100 were JustListed.com (104), MostChoice.com (102), RatePlug (231), Online-home-listings.com (156), Prudential Real Estate (106), ForeclosureToGo.com (101), National Home Management Solution (115), About Home Buying/Selling (117), and Agentlistingssource.com (561).
Fast moving Web sites included Halstead Property, up 292 places to 333; Corcoran Luxury Real Estate, up 113 places to 201; Foreclosure File, up 1,055 places to 1,559; Noblespondhomes.com, up 570 places to 1,090; Champion Realty, up 171 places to 369; Live in NYC, up 703 places to 1,306; Warren Real Estate, up 218 places to 502; Asset Group Realty, up 384 places to 902; Polk County Assessor, up 43 places to 112; and www.sbluxuryrentals.com, up 975 places to 1,877.
The top 10 search terms were realtor.com, zillow, remax, real estate, zillow.com, realtor, www.realtor.com, century 21, homes for sale, and remax.com homes for sale.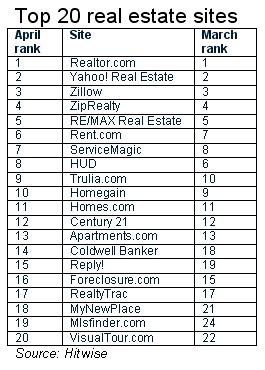 ***
What's your opinion? Leave your comments below or send a letter to the editor.