Real estate data management company Threewide Corp. has released a report to help brokerages compare 55 listing syndication services, the company announced Wednesday.
Threewide compiled the "scorecard" from a survey given to participants of the company's listing syndication system, ListHub. The survey covered such characteristics as listing refresh frequency, property types displayed, and listing duplication policies, the company said.
Participating companies include Yahoo Real Estate, Cyberhomes, Google Maps, Homes.com, Trulia and Zillow, among others.
ListHub counts 270 multiple listings service organizations nationwide among its customers — including 28,000 brokerages, the company said. The scorecard is meant to allow real estate professionals to more easily compare and contrast ListHub's many partners.
"The primary audience for our scorecard are the agents and brokers and practitioners, (to help them) be smarter about online media and make better decisions about where they send their listings," said Celeste Starchild, ListHub's vice president of sales and marketing.
"If a site only purges listings every 14 days, for example, some brokerages might not like that. If a homeowner buys a house and still sees it up and it has pictures of the interior, that might lead to some sticky situations," she said.
ListHub also hopes the report will encourage transparency among the providers and help brokerages manage their clients' expectations.
If a customer expects his or her condominium listing to be displayed in a certain number of sites, for example, but it isn't because some sites don't have a category for condos, the brokers will know in advance, Starchild said.
The scorecard is free to ListHub members. Work to assemble the scorecard took about five months. ListHub had sent the scorecard to participating companies for fact-checking. ListHub plans to update the report every six months, with plans to eventually publish it quarterly, Starchild said.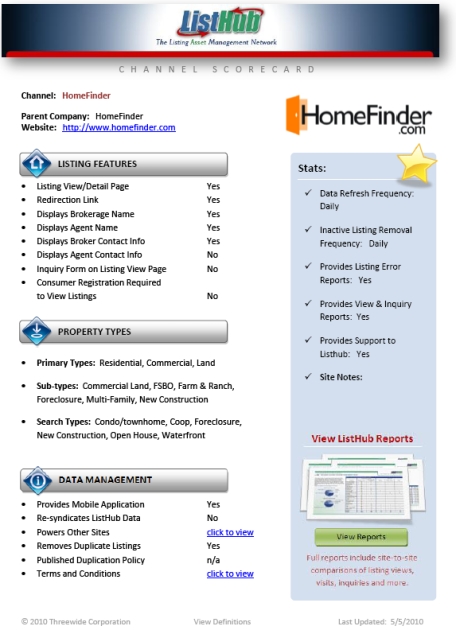 Scorecard screenshot courtesy of Threewide Corp.
***
What's your opinion? Leave your comments below or send a letter to the editor.