Beyond the actual disruption to sales and hit on housing values in areas affected by the Gulf oil spill, real estate professionals on the Gulf Coast say they will likely face a battle of perception for years to come.
Years after Hurricane Katrina slammed the coast in 2005, real estate agents and brokers in the area struggled to break free from the deeply ingrained images of flood-ravaged homes in the aftermath of that disaster.
"In three to five years, there are (still) going to be people thinking that New Orleans is awash in oil. We have (members) in a panic that this (spill) has to be addressed," said Sterling Joe Ory, president of the New Orleans Metropolitan Association of Realtors.
"We're up to our ears in problems. Short sales, lots of (bank-owned properties). This just doesn't help," Ory said.
On April 20, the oil rig Deepwater Horizon caught fire, exploded, and subsequently sank about 41 miles off the coast of Louisiana. The blast killed 11 workers and set off a massive oil leak from the unfinished well it had been drilling about a mile under water.
Worst environmental disaster in U.S. history
The leak is so widely dispersed that the Coast Guard said cleanup could take years, the New York Times reported Monday.
According to several news agencies, the leak has dumped between 17 million and 40 million gallons of oil into the Gulf of Mexico. That makes the BP spill the worst environmental disaster in U.S. history, according to White House energy adviser Carol Browner.
The spill is worse than 1989's Exxon Valdez spill in Prince William Sound in Alaska, which dumped an estimated 11 million gallons into the sea.
After several attempts to shut off the leaking well, officials warn that the spill may not be contained until the fall. To see how the size of the spill area compares to other locations, see ifitwasmyhome.com. The site also has a live PBS video feed showing the oil as it leaks, and the estimated volume of the spill in gallons.
Oil has thus far reached shores in Louisiana, Mississippi, Alabama and Florida to varying degrees. Even before a drop of oil had reached shores, however, businesses catering to vacationers reported high volumes of cancellations and steep drops in reservations.
Spill already taking a toll
Before the spill, vacation rental bookings at Meyer Real Estate on the coast of Alabama and northwest Florida were up 20 percent over last year. Since late April, about 15 percent of the company's customers have canceled and bookings are down about 60 percent, the company said.
"We usually host about 50,000 arrivals in a summer. So right now, unless things change, we're probably down to about 20,000 arrivals rather than the 50,000 we depend on," said Sarah Kuzma, Meyer Real Estate's corporate relations director. The company has three offices and 40 sales associates and handles 1,800 vacation rentals.
"Of course, this disaster is something that hasn't occurred before so no one really knows the effects it will have on our real estate market," said Jon Ritten, president of the Mississippi Gulf Coast Association of Realtors, which has about 1,030 active members.
"The effects will most likely be greater to the tourism market. Our members who practice on the beach are the most concerned for the potential slowdown of investors in the beach/waterfront market. This spill has some potential buyers waiting to see what will happen before making a final decision."
That "wait and see" approach means that Meyer Real Estate's sales arm has also suffered. Investors are trying to figure out how the spill will affect their projected rental income, Kuzma said.
The company covers Gulf Shores, Fort Morgan and Orange Beach, Ala.; and Perdido Key, Fla. According to Kuzma, oil did not reach any of those beaches until Friday and there hasn't been any more coming in since then.
"But there's still a perception that we have spoiled beaches (even though) we have cleanup crews that responded, and in some areas the beach was cleaned up within a few hours," she said.
"This is not like a hurricane where you have physical damage to an area, but it is like a hurricane in that people perceive it's not a place that they want to vacation this year," she added.
To fight those perceptions, the company has been posting daily oil spill updates on the home page of its website, along with daily videos showing current conditions on its beaches. The updates include mention of the tar balls and globs of oil that went beyond skimming vessels and booms on Friday, as well as the cleanup that followed.
"We're building relationships. If we are honest with what's happening, we do believe (customers) will return to our coast," Kuzma said.
The updates also stress the many activities that vacationers can still enjoy, including "a round of mini golf, parasailing, arcade games, a cool dip in the pool, and, of course, enjoying the emerald green waters of the Gulf."
Kuzma admits that, until the leak is contained, there is the possibility that more oil could wash ashore.
"Quite honestly, none of us know yet what this summer will end up being because it's changing with the tides and the winds," she said.
In the meantime, the company is letting its customers cancel as little as 24 hours in advance without penalty. Most of the company's customers come from Alabama, Louisiana, Mississippi, Tennessee, Georgia, Texas and Arkansas, Kuzma said.
Kaiser Realty, a brokerage also covering Gulf Shores and Orange Beach, has been posting similar updates on its website, including videos and photo slide shows. The brokerage is also reaching out to owners and guests through e-mail blasts and updates on Facebook and Twitter.
"If it's raining, or oil and seaweed are on our beaches, we show it. If it's beautiful and clean — like today — we show that as well. We want our guests, owners and the public to know and trust that the information they are receiving from Kaiser Realty is accurate," said Emily Gonzalez, the brokerage's marketing director.
Kaiser Realty is also offering refunds for guests who cancel, but it encourages guests "to be patient, keep their reservations and come to the beaches to see conditions for themselves," Gonzalez said.
Louisiana Realtors respond
Malcolm Young, CEO for the Louisiana Realtors Association, said today that the association is prepared to use a disaster relief fund to aid homeowners who are directly impacted by the Gulf spill.
While so far it's mainly a "wait and see situation" to determine the real estate impacts of the disaster, Young said, "I think your first line of people who are going to be impacted are going to be the fishermen as the fishing beds are shut down (and) they experience loss of income."
Oil workers will likely be the second line to feel the impacts, he said. "If you do have offshore drilling shut down — I think you're going to see some major devastation to Louisiana just because of jobs (losses)."
The goal is to keep out-of-work residents in their homes, he said, and the association will tap the same relief fund it used in response to Hurricane Katrina.
"We're starting to gear up our disaster relief fund. We are getting inquiries from other states," he said.
Real estate professionals who specialize in vacation rentals in coastal Alabama and Florida will likely bear the brunt of the spill's short-term impacts, Young also said.
The coastal areas of Louisiana that have been impacted by the spill to date are largely marshes and wetlands and are very rural, he said.
Economic diversification efforts should benefit Louisiana communities even if they suffer from the spill, Young said.
The association is particularly watching for potential impacts in Thibodaux, La., and Lafayette, La., areas that are job centers for the state's seafood, shipbuilding and oil industries, he said.
Young also noted that many real estate professionals report doing more business this year than in the previous year.
The National Association of Realtors reported that statewide sales of existing homes in Louisiana were unchanged in the first quarter of this year compared to the same quarter last year, with median single-family existing-home prices up 7.6 percent in the Shreveport, La., metro area, up 4.3 percent in the Baton Rouge metro, and up 2.5 percent in the New Orleans metro year-over-year in the first quarter.
Grim predictions
According to a forecast by real estate research site Housing Predictor, property values could drop at least 30 percent in the areas affected by the spill in Louisiana and Mississippi. This is in addition to an average 65 percent fall in values for properties in the area since the real estate boom, the site said.
The spill's effects could also push the already foreclosure-ridden region deeper into decline, warned Kevin Chiu, a researcher and writer for the site.
"Housing analysts contend that the projected losses in housing value will top that of any oil disaster in the nation's history and will send tens of thousands of additional homes into foreclosure as a result," Chiu said.
In addition, should oil from the leak soak Florida's iconic white, sandy beaches, "the environmental impact and long-term economic pain for the area is projected to run into the billions of dollars since Florida is so dependent on the tourist industry," he said.
Thus far, some globs of oil have reached Florida's panhandle, but the state government does not expect any oil to reach the rest of the state for at least the next 72 hours. The state's governor has declared a state of emergency in 26 coastal counties that the spill could potentially impact.
Florida already has the nation's third-highest rate of foreclosures. If the spill causes real estate values to plunge and cripples local economies, foreclosures in the region will jump, Chiu predicted. The spill is already bringing the fishing industry to its knees, as officials have declared about a third of the Gulf's federal waters off-limits.
Mike Colpitts, Housing Predictor editor and a Destin, Fla., resident, said the company's forecast for price declines is based on anticipated job losses in coastal areas of Louisiana and Mississippi. In a June 3 blog post, Colpitts said that "spill" seems to downplay the scope of the Gulf disaster. "Oil 'spills' have been cleaned up before, of course. The Exxon Valdez comes to mind in Alaska, but this is not a 'spill.' This is a disaster of mammoth proportions that will have devastating impacts for years to come," Colpitts wrote.
Payouts for loss of business
The $6.5 billion seafood industry and its attendant restaurants are a major backbone of the Gulf Coast's economy. Before Hurricane Katrina, for example, the New Orleans metro area had more than 800 restaurants, the Realtor association's Ory said.
That figure has now risen to more than 1,100 — making any impact on seafood supplies that much more devastating.
"All of us are concerned about our neighbors in the marshes and fisheries. We have so many ancillary businesses that are connected to that industry. We're so absolutely distraught," Ory said.
As of Friday, BP said payouts announced so far will amount to about $84 million in compensation to thousands of workers in the four affected states for loss of income and/or net profit.
Most of those compensated earn their living from the sea — shrimpers, oyster harvesters, charter boat operators, commercial fishermen and wholesale distributors — but real estate professionals are also demanding redress.
In Florida, at least 446 claims for loss of rental income had been filed and $75,725 had been paid out, CNN reported Thursday. BP had also reportedly paid $5,000 for real estate sales losses in the state.
Real estate giant Realogy Corp. declined to comment on the spill's effects on its businesses. Calls to subsidiaries Century 21 and Coldwell Banker were not returned.
Whether or not BP will compensate property owners should their properties lose value is unclear. BP has said it is self-insured and that it will assume liability for all "legitimate" claims caused by the spill. Pollution is usually excluded as a covered peril in property insurance policies, according to the Insurance Information Institute.
And standard commercial or home insurance policies usually cover only property damage, not claims for lost value, Robert Hartwig, the institute's president and economist, told Property Wire.
Federal authorities have opened criminal and civil investigations concerning the leak. Environmental groups are also lining up to sue the energy giant for alleged violations of environmental law.
Taking BP to court
Thousands of fishermen, property owners and business owners have already filed lawsuits against BP.
Vacation rental company Ocean Reef Resorts in Destin, on the Florida Panhandle, is participating in a lawsuit against the oil giant in federal court.
"It's easy for us to quantify our losses from a vacation rental standpoint. In May, our reservations were down by $1.1 million compared to May of '09," said Tim Taylor, the company's owner. "The people who call in May are normally calling for a reservation in June. Those people aren't coming back. This is just business that's gone."
The company is suing to recover that million-dollar loss in income under the Oil Pollution Act of 1990, which was enacted largely in response to the Exxon Valdez spill in 1989. The company has also lost more than $400,000 from cancellations since the oil leak began, Taylor said.
The company has a live beach cam on its site showing blue waters and dozens of beachcombers.
"The most you'll see is a light sheen (in the water). But people coming on vacation don't know that. As far as they're concerned they're going to be stepping over dead turtles and birds, in air you can't breathe. That's the hysteria that's going on right now," Taylor said.
Ocean Reef also sells real estate, primarily second homes. So far, the company has not lost any contracts on its listings as a result of the spill, although buyers are postponing making new offers, Taylor said.
Taylor estimates that, because of the tourism industry, Alabama and Florida are going to see billions of dollars in losses as a result of the spill, eclipsing losses by the fishing industry.
"The most a shrimper is going to make is $40,000. We're $15 million a year and there's lots of companies like us," he said.
BP officials reported the company has spent at least $1 billion on response and cleanup costs so far.
Dwarfing the Santa Barbara spill
The spill in the Gulf has been drawing some comparisons to a spill off the Santa Barbara coast in 1969. That spill spurred the federal government to create the Environmental Protection Agency and enact legislation that BP is now accused of violating, including the National Environmental Policy Act and the Clean Water Act.
The magnitude of the spill in the Gulf is already far greater than it was in Santa Barbara, where oil gushed unabated for 10 days and dumped about 3 million gallons into the ocean. The leak in the Gulf has already spilled tens of millions of gallons into the sea over the course of about six weeks.
"There's no comparison at all. The economic impact of the Santa Barbara spill was relatively limited, whereas the Gulf of Mexico was one of the main fisheries for the entire United States," said Josh Schimel, chair of the environmental studies program at the University of California, Santa Barbara. The program was founded as a result of that oil spill.
Schimel was also at the University of Alaska at the time of the Exxon Valdez spill in 1989. Because the area of the spill was near total wilderness, property values weren't really affected, Schimel said. And in Santa Barbara, any economic effects of the spill were fairly short-lived because of that waterfront's high wave activity, Schimel said.
"This shoreline is very active. There's a lot of waves, a rocky coastline, and a lot of sand beaches where sand gets washed out every winter and comes back every spring," he said.
The Gulf's coastline, by contrast, is made up of marshes and wetlands — which is more susceptible to long-term damage from crude oil.
"(Santa Barbara's coast has) a very effective system for removing oil, but a wetland is a very effective system for retaining oil," Schimel said. The oil — or the dispersants used to clean it up — can potentially cut off oxygen to aquatic organisms that could naturally break it down over time.
"When you've got fine sticky sediment and an anaerobic environment, that means oil can hang around for a very long time," Schimel said.
Even two decades later, the oil from the Exxon Valdez has not been completely cleaned up, and "decades-long impacts are certainly quite possible" in the Gulf, he said.
"I don't know what will happen to property values in the Gulf. Some of those resort areas will definitely suffer," Schimel said.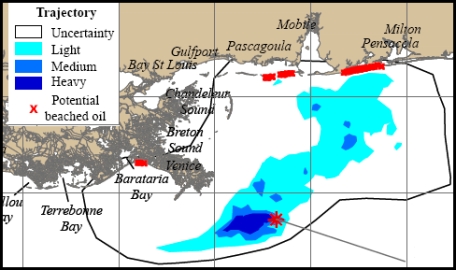 Map of Gulf oil spill area, projected through June 11. Courtesy of NOAA.gov.
***
What's your opinion? Leave your comments below or send a letter to the editor. To contact the writer, click the byline at the top of the story.