Some kids dream of being firefighters or police officers. The young Greg Hague dreamed of being a lawyer.
"I had to get special permission to stay up late and watch 'Perry Mason,' " he recalls. "That was a big deal to me. I had a vision of being a trial attorney."
He never lost it, but getting there took some patience. After college, Hague got a law degree, but before he was able to practice he took a very long detour as a serial entrepreneur in real estate.
And now, at an age when many successful real estate executives would be thinking about kicking back — playing a lot of golf or seeing the world — Hague is finally getting the law career he dreamed of.
At 61, he turned over the management of his real estate business to his family and hunkered down for six months of intense study for the Arizona bar exam. Not only did he pass it — he nailed the highest score in the state.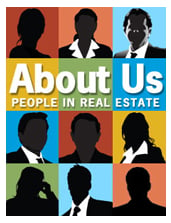 And so, a few weeks ago, with the ink barely dry on his license, an admittedly nervous Hague showed up for his first day at a Phoenix law firm.
But he isn't exactly leaving real estate behind — he still owns a local brokerage, and at the Phoenix offices of Stinson Morrison Hecker, he'll focus on real estate law.
"I have my own clients. People are calling me," he said. "I'm also handling some major-league commercial matters. The bottom line is: I just love it."
Hague said he loves real estate, too. But in the past couple of years, the aspects of it that he loved the most — dealing directly with consumers and being the bearer of good news for them — had slipped away with the Phoenix market meltdown.
"Most Realtors in the past couple of years have been in the unenviable position of having to deliver a lot of bad news, and that's just not fun," he said. "How much fun is it to go to somebody who is hoping their home is worth X — and they weren't even happy about the X — and having to tell them their home is actually worth X minus 20 percent?"
And then came the avalanche of short sales and foreclosures, which he found frustrating.
"I'd say in 75 percent of my firm's listings now, we're working with banks, not the sellers," Hague said. "That's not fun, either. It takes forever. Buyers are accustomed to closing on a home in 30 to 90 days, and now you're lucky if you even get an answer back from the bank in that period of time."
It wasn't that Hague felt he was burned out, he said. "I woke up every morning and it wasn't something that I looked forward to doing."
So, during a car trip with his wife one day last year, he made up his mind.
"I turned to her and said, 'I am going to take the Arizona bar exam and I'm going to practice law,' " he recalled. "I said I had wanted to do this all my life. I said, 'I think I would be an amazing attorney.'
"I could help people out," Hague said he told her. "It's not the money. I worked all these years to have the money to do what I want."
His wife, Roseann, was stunned, but agreed to help him make it happen. She dusted off her own real estate license and worked with their son, Corey, to take over all his responsibilities running Hague Partners, a boutique brokerage in Paradise Valley, while Hague got re-acquainted with his law books.
"They took over everything, and I mean everything," he said. "They brought food to the house. We kept a record — in six months, I went out to dinner three times and went to two movies."
It was all law, all the time, he said: From 8 a.m. until midnight every day he read, watched legal videos and listened to audio books. He recorded his own seminars and loaded them into his iPod.
He described himself as a nervous wreck before the two-day exam, but said he was even worse afterward, waiting for the results.
"I was a basket case," he said. "Everybody in town knew I was taking the bar. If I had flunked, I would have left town."
There was apparently no need to worry. Hague scored a 507 on the exam, out of a possible 600 points. It was the top score in the state among those who took the test with him.
He finally would be doing something he set out to do in the early 1970s, after he finished law school at American University in Washington, D.C., and took the bar exam in Cincinnati, where he grew up.
The son of an Air Force flight instructor who came back from World War II to start his own real estate brokerage, Hague was literally raised in the business. He got his real estate license at 18.
"I'd come back in the summers (from Miami University of Ohio) and work for my dad, selling real estate," he said. "Nobody would list with me; I was too young."
So his father (whose company had grown to one of the largest brokerages in Cincinnati) put him to work handling sales for builders at local subdivisions.
"I sold a bunch," he recalled. But it took some practice.
"The first year I sold, I drove back to law school in a VW Beetle that we worried wouldn't make it back to Washington," he recalled.
As he gained more experience, the commissions started to flow, he said.
"The second year, I bought a silver Lincoln Continental," he said. "I put a trailer hitch on it and put a trailer on it and bought a Harley and hauled it."
After graduating and passing the Ohio bar in 1974, he accepted an offer from a local law firm, but never got there.
"My dad had developed emphysema," Hague said. "He asked me to put off practicing law while he took some time to see if he could get himself well, which didn't happen."
With his sales background and his legal education, he thought he was fairly well equipped to manage the brokerage. He even found time to start his own brokerage, which eventually merged with his father's.
But when the market soured in the early 1980s ("business was miserable," he said), he brought in someone to run the Cincinnati business, and Hague decided to relocate with his family to Scottsdale, Ariz., and start a Realty Executives brokerage — which he said was successful, though he itched to find a way to spend more time with his family.
He particularly hated handling open houses, thinking he was missing time with his kids. So in the mid-1980s he hit on the idea of starting a full-service brokerage, except he convinced clients to handle their own open houses and to pass on to him the names of those who attended, in exchange for a substantially lower commission — $990, plus 3 percent of the sales price to an agent who brought in a buyer.
He called the company WHY USA (with the first three letters standing for We Hear You). Working with his wife, the idea took off, he said. Soon he decided to franchise the plan.
"We built that to well over 100 offices," he said, and in 1988 he sold it to his management team.
Soon afterward, he started Hague Partners, a small brokerage in Paradise Valley with a dozen agents who concentrate on high-end properties. He also founded a real estate referral company that he has since sold.
The brokerage has done well, given the current state of the economy, he said. Even though he's no longer actively managing it, he plans to hold on to the company, he said.
"It's my family thing," he said. "I love real estate. The fact that I'm practicing law doesn't mean that I can't have the firm for my children."
And now, he said, he wakes up every morning and looks forward to what he's doing.
"Happiness — people think it's the fun stuff," Hague said. "To me, the definition is a deep sense of satisfaction you get from enthusiastically pursuing a worthwhile goal of your own choosing."
Mary Umberger is a freelance writer in Chicago.