Editor's note: This is the second article in a three-part series detailing the results of an Inman News survey on real estate professionals' use of smart phones and mobile applications. Part 1 focused on the popularity of smart phones and their features among different industry groups. This article, Part 2, focuses on the mobile apps respondents use the most, as well as how they use them and which they would recommend; and, the final article will look at the feasibility of respondents' ideas for a "killer app" they would like to use in their business.
Social networking and property-search sites dominated the list of apps most frequently cited by real estate agents, brokers and technologists as useful to their work, an Inman News smart phone and mobile tech survey revealed.
In particular, mobile apps created by Facebook, Realtor.com, Zillow, Twitter, Trulia and Smarter Agent stood out among the list of mobile apps most frequently used for work purposes among real estate industry professionals.
In recent years, mobile technologies have exploded in an array of smart phones and thousands of apps. The Inman News smart phone and mobile technology survey explored the impact of this mobile revolution on real estate professionals and their industry.
The Inman News smart phone survey, which ran from July 28, 2010, through Aug. 6, 2010, garnered responses from 313 real estate professionals and technologists. Some respondents did not answer all of the survey questions; the average number of responses per question was 247.
Of those surveyed, 57.7 percent identified themselves as real estate agents or salespeople, 22.6 percent as brokers or brokerage executives, and 12 percent identified themselves as working for real estate technology companies, vendors, trade groups and multiple listing services.
These three groupings of respondents will be referred to as "agents," "brokers" and "technologists" throughout the report.
Professionals in other sectors of the industry, including mortgage and title professionals, made up 7.7 percent of respondents.
The survey covered respondents' current occupation, the make and model of their smart phone, the names and quantities of the mobile apps on their phone, how often they used their phone, and how frequently they performed specific tasks on their phone, among other areas.
For those questions that sought only one response but received more than one (for example, respondents in some cases recommended more than one app), only the first answer was used in tabulating survey results. These questions include the type of phone owned; the kind of phone respondents planned to purchase in the next six months; and the respective names of the mobile apps they used most, downloaded most recently and recommended the most.   
The vast majority of industry professionals — 80.4 percent — did not have more than 10 work-related mobile apps loaded onto their smart phones at the time of the survey. Almost half of all respondents had between one and five work-related apps loaded (see Figure 1).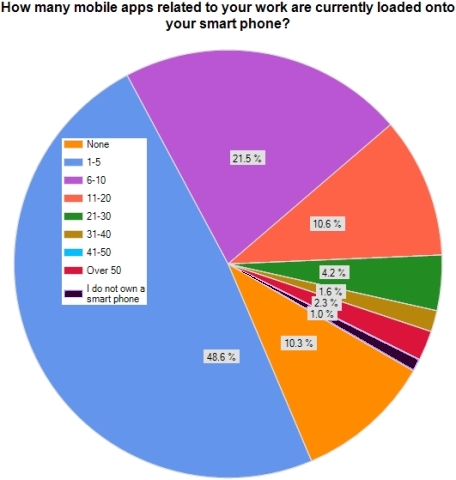 Figure 1
Broken down by group, more than half of agents — 53.7 percent — had between one and five work-related apps, compared with 48.6 percent of technologists and 42 percent of brokers. Technologists especially had comparatively more apps: 24 percent had 11 or more, compared with 19.2 percent of brokers and 14.9 percent of agents.
Apple's iPhone stood out when comparing the number of work-related mobile apps by phone type. IPhone users claimed more apps than users of any other smart phone — almost two thirds (64 percent) of iPhone users claimed six or more work-related mobile apps, with 32.8 percent reporting six to 10 work-related apps and 31.2 percent reporting 11 or more work-related apps.
By contrast, the largest share of owners of the other major smart phone types claimed between one and five apps on their phones. For BlackBerry owners, that one-to-five app figure was 74.4 percent, compared with 65.5 percent for Palm users and 50 percent for Android users.
About 20.5 percent of Android users, 10.3 percent of Palm users, and 5.1 percent of BlackBerry users claim 11 or more mobile apps. These differences in app quantity may be partially attributed to the total inventory of apps available for each device: there are roughly, 3,000 for Palm; 10,000 for BlackBerry; 100,000 for Android; and 225,000 for iPhone, as reported by a range of online tech sources.
When asked which apps they used the most, respondents specifically named about 85 apps; in addition, some generically mentioned apps by function, such as "e-mail" or "MLS" (multiple listing service). Out of those specifically named, the five most popular apps were, in order: Facebook, Realtor.com, Trulia, Zillow and Real Estate by Smarter Agent (see Figure 2).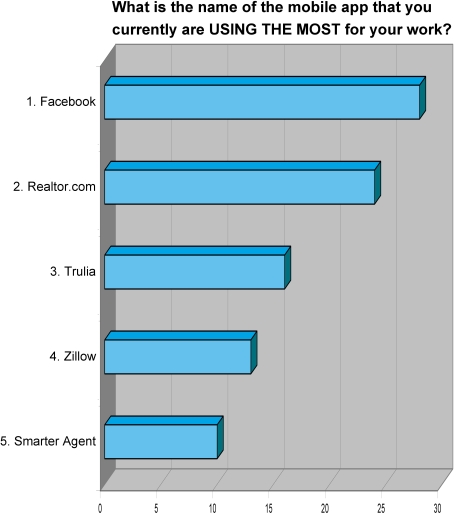 Figure 2
Note: Generic references to a mobile app — which did not include a specific name — are not included in these rankings.
The popularity of specific apps may be partially attributed to the number of platforms for which they are available. Facebook, for example, is available as a mobile app for all of the four major smart phone types named by survey participants: iPhone, BlackBerry, Android and Palm, for example.
On the other hand, both Realtor.com and Zillow say that the vast majority of mobile users access their site through the iPhone operating system, though Zillow's app is available both on Android and iPhone-operated devices, while Realtor.com's app is available only on the iPhone at this time.
Zillow's iPhone app launched in April 2009, while its Android app came out in March 2010. Its iPhone app has passed the 2 million mark for downloads across both platforms, the company reported. Realtor.com operator Move Inc. updated its Realtor.com mobile app this month, and announced that it has been downloaded more than 1.5 million times since its January 2010 launch.
According to the iPhone app ranking site TopAppCharts.com, Facebook is the No. 1 most highly ranked app in the "Social Networking" category of the Apple App Store. The other four apps are classified under "Lifestyle." (There is no "Real estate" category.) According to the site, Realtor.com ranks No. 47 in the Lifestyle category; Trulia is No. 112; Zillow is No. 5; and Smarter Agent is currently unranked. These rankings were sampled Friday, Aug. 20, 2010, and the TopAppCharts rankings can change daily. 
The property-search function was the most popular feature among these "most used" apps, respondents said. Property search was especially common among agents — they made up 50 of the 79 respondents who listed property search as the function of their "most used" app.
The next most popular use for these apps was e-mail and contact management. This function was also most popular among agents, and was cited by 32 of 48 agents participating in that survey question.
Networking was cited as the third most popular use among all survey participants, followed by document sharing and filing, and lockbox access.
In a survey conducted by the National Association of Realtors' Center for Realtor Technology in January, the top five most popular types of apps were apps for social media (54.5 percent of respondents had downloaded at least one onto their smart phone); maps (43.3 percent); weather (41.8 percent); contact management (37.6 percent); and text-messaging (29.4 percent). The most frequently mentioned social media apps in that survey were Facebook, SwiftApp, Tweetie, UberTwitter, Twitdroid and Tetherberry.
In the Inman News survey, when respondents were asked to name a few other apps they used frequently in their work (as opposed to the "most used" work-related app), 221 respondents answered the question with a specific app.
Among these, the top 10 most-listed apps were: Facebook (with 51 out of 221 responses), Google Maps (40), Zillow (34), Twitter (33), Realtor.com (26), DropBox (20), Foursquare (19), Smarter Agent (12), Trulia (13), and Calendar (11).
Together, social networking apps for Facebook and Twitter account for 38 percent of responses among the apps most frequently used for work purposes that were named by survey participant. And when grouped with the mobile app for location-based social network and gaming platform Foursquare, the three social apps account for 46.6 percent of responses.
Of these, Facebook was the app most popular among both technologists (including employees of real estate tech firms, vendors, trade groups and MLSs) and agents, while brokers were most likely to name Twitter. Twitter and Foursquare tied as second most popular among technologists, while Google Maps was second most popular among agents, and Zillow was second most popular among brokers.
When asked which app respondents had most recently downloaded, no app particularly stood out. Smarter Agent received the most responses (12), followed by Facebook (10), Google Maps (8), Foursquare (7), Realtor.com (7), and Zillow (7). To put that in perspective, 214 people answered the question, and agents alone mentioned 82 different apps.
Those included apps for GPS navigation, financial calculations, electronic signatures, photos, lockbox access, forms, individual MLSs, individual brokerages, note-taking, and QR ("quick response") codes, among others. 
When asked which app industry professionals would most recommend to customers or clients, Realtor.com received the most nods overall (36 out of 162 responses). Not surprisingly, given that the app is owned by the National Association of Realtors, agents and brokers provided the bulk of those votes (34).
That app was followed by Trulia's mobile app (18), Zillow (16), and Smarter Agent (11). In this case, about 39 different apps were mentioned overall.
A few respondents said they would not or could not recommend any specific app. "I don't know of any great real estate specific app," said one respondent. Others pointed to the limitations of available mobile apps.
"None. They don't compare to MLS data and often include incorrect or incomplete data," said one respondent.
Another said, "For now, Real Estate Droid (for Android smart phones) might help them find homes in a specific location that meets their criteria. But they'll need me to get them in the door."