The number of homes sold on courthouse steps or repossessed by banks at the end of the foreclosure process dropped 35 percent nationwide in October, according to mortgage-data aggregator Lender Processing Services.
There were about 80,000 foreclosure sales and bank repossessions in October, LPS said, down from 124,000 in September, which was a high for the year.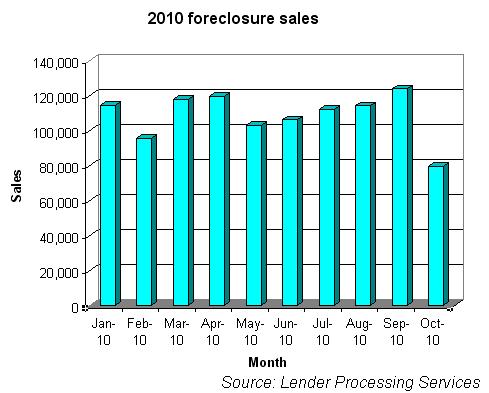 The slowdown — fallout from the robo-signing controversy — helped boost the total number of homes in the foreclosure process for the fourth consecutive month, to 2.09 million, LPS said.
Another 4.95 million homeowners were behind on their payments but not yet in foreclosure, LPS estimated. The number of newly-delinquent loans ticked up for a third consecutive month, to 1.92 million, or about the same level as a year ago. Another 794,000 first-lien loans were 60 days delinquent, and 2.24 million homeowners were behind on their payments by 90 days or more.
All told, LPS estimated that about 7.04 million homeowners had missed at least one mortgage payments or were in foreclosure in October, down 13.2 percent from January's high of 8.12 million.
10 states with the highest share of non-current loans:
1. Florida (23.4 percent)
2. Nevada (21.0 percent)
3. Mississippi (19.1 percent)
4. Georgia (15.8 percent)
5. Louisiana (14.7 percent)
6. New Jersey (14.7 percent)
7. Illinois (14.6 percent)
8. Ohio (14.6 percent)
9. Indiana (14.6 percent)
10. Arizona (14.3 percent)
Source: LPS
Other states where the percentage of non-current loans exceeded the national average of 13.2 percent: Rhode Island (14.1 percent), Michigan (13.9 percent), Tennessee (13.7 percent), Maryland (13.5 percent), South Carolina (13.3 percent), Alabama (13.3 percent), West Virginia (13.3 percent).
States seeing the greatest growth in non-current loans during the last six months were Arkansas (up 9.7 percent, to 11.4 percent); Oklahoma (up 9.4 percent, to 11 percent); Kansas (up 8.9 percent, to 9.6 percent); Nebraska (up 8.3 percent, to 7.7 percent); Iowa (up 7.7 percent, to 9 percent); and Texas (up 7 percent, to 11.1 percent).
States seeing the greatest reductions in non-current loans compared to 6 months ago were Alaska (down 9.8 percent, to 5.6 percent), California (down 8.5 percent, to 13.2 percent), Arizona (down 6.4 percent, to 14.3 percent); Nevada (down 6.1 percent, to 21 percent); and Hawaii (down 4.7 percent, to 11.9 percent).