Editor's note: This article is reposted with permission of Zillow. View the original item: "VIDEO: Home Where Michael Jackson Died Listed for Sale in Los Angeles."
By Erika Riggs
It was inevitable that the home where Michael Jackson met his untimely demise would eventually come up for sale. It was listed previously without much success and now, once again, it has hit the Beverly Hills real estate market and is being listed for $23.9 million.
Only this time, it carries a significant footnote in pop-culture history as the place where the King of Pop died.
But even as images of Jackson's chaotically messy bedroom from that fateful 2009 night linger, the reality now is that the multimillion-dollar mansion in the tony neighborhood of Beverly Hills, Calif., has been cleaned up — destined for a new chapter with new owners.
The real question now, after so much drama (the word is that Jackson's mother ordered the queen-sized headboard to be removed from the auction), is how to market the home where the King of Pop died?
Given the headline-news-circumstances of Jackson's death, and the stunning loss of an entertainment icon, marketing this property would be a Herculean task for any real estate broker.
Unless, of course, the listing agent for the home where Jackson met his tragic end was a professional with a personal stake in not only maintaining the integrity of Jackson's legacy, but representing the value of the home, too.
"I knew him and my wife (Kyle Richards) has been friends with Michael Jackson since she was 8 to 10 years old," said Mauricio Umansky, the listing broker for the Holmby Hills mansion and co-founder of The Agency. (Umansky appeared on stage during the Inman News Real Estate Connect conference in January.)
"And I personally think there's some great energy in the house and I see it as a major positive. I'm excited to be selling it."
Umansky doesn't dance around the subject of Jackson's death in the home. He knows the pop-culture-changing bit of history will not only come up, but be a major storyline concerning the listing.
"It is what it is. There's no need to hide it," Umansky said. "Michael Jackson was an amazing human being — he changed music as we know it. Unfortunately, he passed away. It doesn't take away from the house."
Indeed, the grandeur is what drew Jackson to the 17,000-square-foot French Chateau-style estate that was the creation of Hubert Guez, CEO of Hardy Designs, and his wife Roxanne Guez.
In 2002, they hired Los Angeles designer Richard Landry to create the one-of-a-kind estate, at 100 N. Carolwood Drive in Los Angeles, which sits on over an acre in the prestigious Holmby Hills real estate market.
The seven-bedroom, 13-bathroom home is finished with high-end amenities such as a theater, wine cellar with tasting room, an elevator, 14 fireplaces, a spacious spa with gym, and a large swimming pool. When construction was completed, it was designed to sell and priced at $38 million on the Beverly Hills real estate market. That's when Jackson fell in love with the property.
"He loved the master bedroom and he loved the grounds," said Umansky. "He was happy there."
The home was leased for Jackson by concert promoter AEG Live from December 2008 up until his death in June 2009 for a reported $100,000 monthly rental. And it was here that Jackson was preparing for his comeback tour, "This is It," when he died of a drug overdose for which his personal physician, Conrad Murray, was later convicted of involuntary manslaughter.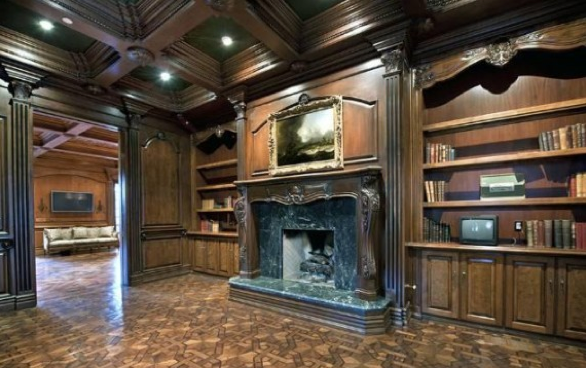 The home was relisted briefly in 2010 for $23.5 million, and the home has now been relisted again at a new price of $23.9 million. All contents relating to Jackson have been removed from the home following the sale of most of Jackson's personal items, furniture and collections during a December 2011 auction.
Umansky said he has no plans to stage the home.
"You have the chance to live in the same home that an icon lived in. If you look at Elizabeth Taylor's home, it sold for more money because it was Elizabeth Taylor's home," explained Umansky. "It's a beautiful home on a great piece of land."
While curiosity about the property is bound to spike with news of its relisting, there's little chance that anyone except a preapproved buyer will get a tour of the place. Set behind high walls, thick hedges and double gates, it's not an easy place to spy on. And Umansky said he will be screening all potential buyers for financial qualifications. This is standard operating procedure for any high-end property.
More Zillow "Eye Candy":
Copyright Zillow 2012