Editor's note: On March 30, Inman News opened its headquarters to a full day of real estate technology demonstrations. This first-ever Demo Day featured 24 participants. Inman News and sister site InmanNext will be highlighting some of the participants' technologies in upcoming coverage.
| | |
| --- | --- |
| Company name | Cre8tive Apps LLC |
| Company website | www.cre8tiveapps.com |
| Product name | House Hunter: My agent |
| Revenue model/cost | My Agent: $15/month for agent version, $4 for consumer version, or free from agent's website. |
| Intended audience/users | Real estate agents, homebuyers |
| Key features | Efficient communication between homebuyer and agent |
| | Good branding tool. App customized to each individual agent |
|   | Lead generation. Users looking for a free version of an app are directed to agents with the app in their homebuying area. |
| New product launch | February 2012 |
| Company summary | House Hunter is Cre8tive Apps' signature product, which aims to simplify the homebuying experience by identifying the features that are most important to the homebuyer and recommending houses based on those rated features. |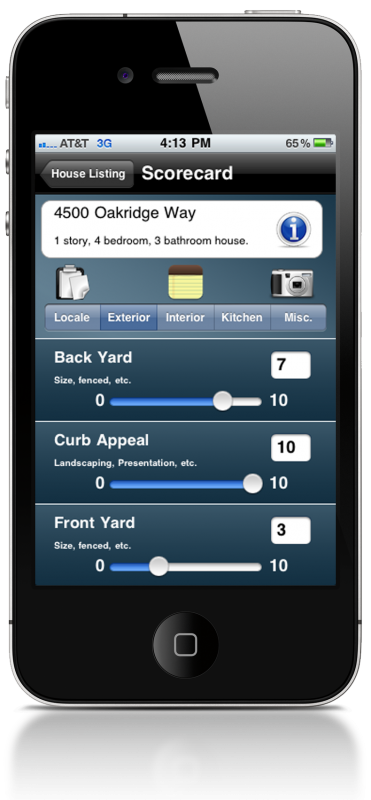 Consumer app screen shot.
In February, Cre8tive Apps launched House Hunter: My Agent, a version of its previously released House Hunter app. The new version allows real estate agents to connect with prospective homebuyers. The My Agent version of the app costs an agent $15 a month. In exchange, agents can offer the app, which is branded to their business, for free to an unlimited number of clients.
Currently the app is available only for iPhone but the company is working on an Android version, which is expected to be available by the end of June, Taylor said. Users of the agent version of the app can see that agent's contact info upon opening the app; agents can share contact details for email, Facebook, text messaging and their website that the user can access while browsing real estate listings.
So far, since its launch two months ago, about 20 agents are using the "My agent" version of the app, said Taylor. That adds to about 1,000 users worldwide who have downloaded the consumer version of the app from the iTunes store, he said.
House Hunter, the company's original iPhone app that launched in mid-2011, allows homebuyers to find houses based on ranking the importance of certain features like kitchen style or its relative location to schools, work, parks. The consumer app costs $4.
Each feature has a scale from one to 10 that users use to rank home features. The app then gives a total score — the higher, the better the match, said Jay Taylor, Cre8tive Apps co-founder.
"(The numbers) are a clean way to capture the emotion of a home and display it in numerical form," he said.
The app also allows users to store photos and notes with each particular house, helping to organize the homebuying process. There's also a photo comparison tool that allows users to compare the photos of different houses on the same screen, said Taylor.