ValueAppeal, a company that charges a fee to assist consumers in appealing their property tax assessment, has launched a platform designed to help finance and real estate professionals offer property tax appeal services.
ValueAppeal Pro allows real estate professionals to analyze their clients' and prospective clients' properties to determine if they are overassessed, create appeal reports with relevant comparable sales, track and manage appeals through a dashboard, and generate leads by purchasing targeted lists of overassessed properties.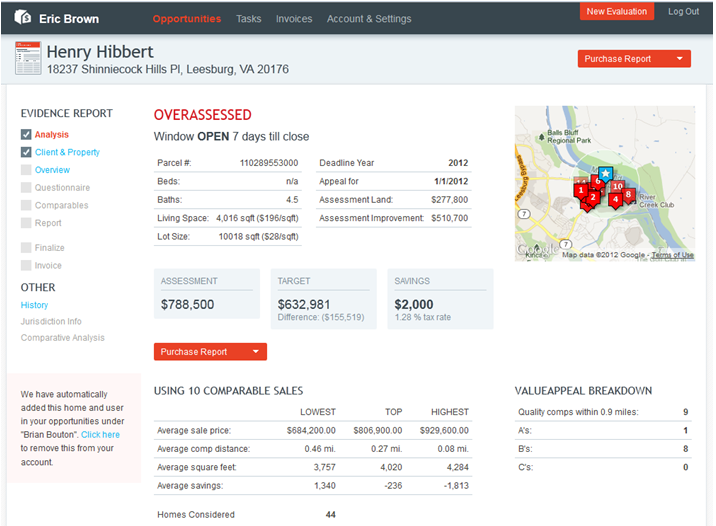 ValueAppeal Pro screen shot  
The platform is a "powerful customer acquisition tool" for industry professionals, the Seattle-based company said in a June 12 announcement.
"If a professional wants to quickly identify all the homes within thirty miles of their office that are overassessed and could save at least $3,000 on their property taxes, we can deliver this," said Charlie Walsh, ValueAppeal's founder and CEO, in a statement.
ValueAppeal was founded in 2009 offering a direct-to-consumer service. In that three-year period, ValueAppeal has "received numerous inquiries from financial and real estate professionals who wanted to offer ValueAppeal's services to their clients," the company said.
ValueAppeal's direct-to-consumer service analyzes whether a particular home is overassessed compared to nearby, similar properties according to local county assessor data. The company's proprietary algorithm takes into account several factors, including a home's number of bedrooms and bathrooms, construction quality, age, condition, square footage, grade, and whether it has amenities like a golf course or an exceptional view. (ValueAppeal Pro uses the same algorithm.)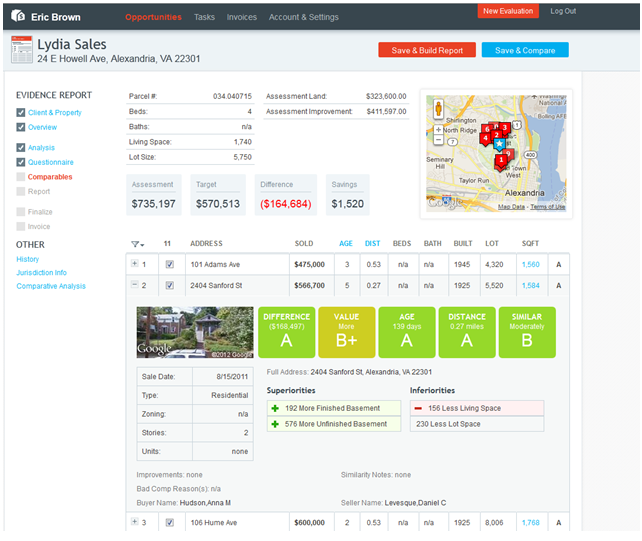 ValueAppeal Pro screen shot    
For free, the company tells consumers whether or not their property is overassessed on its website. ValueAppeal estimates that between 20 and 25 percent of homes are overassessed in the U.S. in any given year.
If the company finds a certain property is overassessed, for a $99 fee the company will create a custom report for the homeowner to mail in to the county assessor's office, including a prefilled appeal form and data for five to eight comparable homes consumers narrow down from 15 homes ValueAppeal preselects for them. The fee is refundable if the appeal is unsuccessful.
In 2011, the average ValueAppeal customer saved $1,346 on their property taxes and experienced an appeal success rate of more than 80 percent, compared to a success rate of 40 percent for those who challenge their property taxes on their own, the company said.
Homeowners who believe their county has overassessed their home can appeal the decision themselves at no cost. In California, for example, homeowners can submit evidence from comparable sales of similar properties to their county assessor's office.
If the homeowner and the assessor cannot agree, the homeowner can file an appeal form with their local appeals board and submit similar evidence at a hearing. Some homeowners choose to hire an attorney or other advocate to represent them at the hearing.
"With the exception of just a few states, including Ohio and New Jersey, creating a property tax appeal for clients does not require being a lawyer and does not involve rendering any legal advice," said Mark Peterson, spokesman for ValueAppeal.
"In terms of a parallel/comparable example, just as real estate professionals currently provide value-added services such as an annual analysis of comparable sales, they can now provide property tax analysis services, and appeal services, for their clients. This helps real estate professionals retain existing clients, add new clients and grow their business."
ValueAppeal Pro offers basic and advanced "starter kits" to finance and real estate professionals for $299 and $599, respectively. The kits include lists of qualified properties targeted by neighborhood, property type, home value, estimated tax savings or other parameters; appeal reports; sample direct mail letters; and sample email templates, among other features. 
After exhausting their starter kit, real estate professionals have access to ValueAppeal Pro as a subscription service. Packages start at $49 depending on how many users in the company use the service, how many reports they generate and how many overassessed property leads are desired, ValueAppeal said.
"ValueAppeal's mission is to provide the data and tools needed to level the playing field for homeowners, real estate professionals and others who otherwise might find the property tax appeals process too confusing, time-consuming, and even intimidating to address on their own," Peterson said.
ValueAppeal also announced that it had raised $1.2 million in a funding round. This is in addition to about $3.1 million raised from angel investors in 2010 and 2011.
According to Walsh, "proceeds from the latest round of funding will support continued growth for the now 40-employee organization, expanded technology and product development, as well as additional strategic activity."