Online real estate marketplace Trulia has developed a free property search app for the new Microsoft operating system Windows 8 that allows users to view homes for sale and for rent via the tile layout characteristic of the new operating system.
The app will also work on the mobile-optimized version of Windows 8, Windows RT. Both operating systems will be made available to the public tomorrow.
The "app hub" section of the app will highlight homes for sale or rent, and those nearby, with tiles highlighting the number of new listings in the search area and the number of listings with price drops.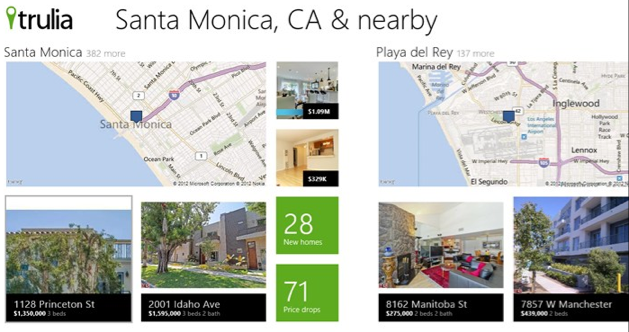 Screen shot of Trulia's new Windows 8 app.
Users can "pin" specific properties in the app, which prompts the app to send the user an email each time a price drops or a similar home comes on the market nearby. It also connects users to real estate agents.
Other sections of the app include: map view, where users can see homes for sale, open houses and apartments for rent oriented on a map; photo galleries to view listing photos; and listing pages that present home details.
"Trulia prides itself on releasing products on some of the biggest platforms around," said Lee Clancy, Trulia's vice president of consumer products. "We're honored to be a part of Windows 8 and to launch an app that everyone can use to personalize their real estate search and get the inside scoop on listings that match their needs."
The app, titled "Trulia Real Estate — Homes for Sale & Apartments for Rent," is available in the Windows Store. Trulia also has apps available for Android, iOS (Apple) and Kindle Fire.