After seeing success with a Facebook gaming ad campaign this fall, Century 21 Real Estate LLC has announced that it will advertise in a similar Facebook game, The Sims Social, for the holiday season.
During the campaign, which runs from Dec. 20 to Jan. 9, gamers can earn virtual currency by using Century 21-branded items, like a fireplace they can use to "warm" their virtual homes.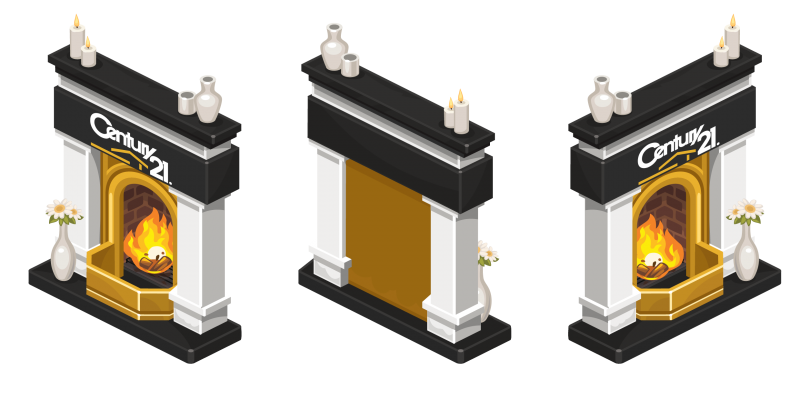 Century 21-branded fireplace that The Sims Social gamers will have access to during the Century 21's ad campaign.
The Realogy Holdings Corp. franchisor said the decision to advertise in The Sims Social was inspired by the success of the company's ad campaign another Facebook game, SimCity Social.
That campaign, which ran for three weeks, saw 192,000 Century 21-branded structures built through Nov. 5, and a 225 percent jump in "likes" on Century 21's Facebook business page, the company said.
Earlier this year, Century 21 won a social marketing campaign award from the Association of Marketing and Communication Professionals for a campaign with a social simulated city-building game, We City, that ran for two weeks last year.
That campaign generated 5.4 million Century 21-branded welcome screen views, 401,000 Century 21 virtual buildings placed and 300,000 views of Century 21 video ad spots.
Century 21 has been aggressive with advertising this year. In February, it became the first residential real estate brokerage in 21 years to have a Super Bowl TV commercial. This month, the company announced it will be advertising again on TV during next year's big game on Feb. 3, 2013 in New Orleans.
The company also sponsored U.S. Soccer, ran TV ads during this summer's Olympics and launched an Internet radio ad campaign on Pandora this year.