NEW YORK — Agent matching site HomeLight rolled out client reviews today, holding out the tantalizing possibility that reviews will boost agents' ranking on the site and land them more business.
Backed by Google Ventures, HomeLight is a referral-based site that claims to match homebuyers and sellers with unbiased real estate agent recommendations.
The site launched out of beta on Nov. 14 with $1.5 million in funding in hand from Google Ventures (Google's venture capital arm), Crosslink Capital, Innovation Endeavors, and several undisclosed angel investors. 
Until now, the site's algorithm had focused on transaction performance data, such as an agent's experience selling homes in a particular location or in a target price range. Now, HomeLight also considers client reviews posted to the site.
"We acknowledge that past transactions are only one way to highlight an agent's strengths," said Drew Uher, HomeLight's CEO and co-founder and a licensed real estate broker. "Client satisfaction is also a critically important part of an agent's reputation. We see it as a way for agents to showcase their overall client satisfaction."
Uher, who will be one of the panelists participating in today's "New Kids on the Block" session at Real Estate Connect New York City, said HomeLight views itself as a tool for agents to promote their reputation online.
"We'll continue to build more features for them in the future to really help them showcase their skills," he said.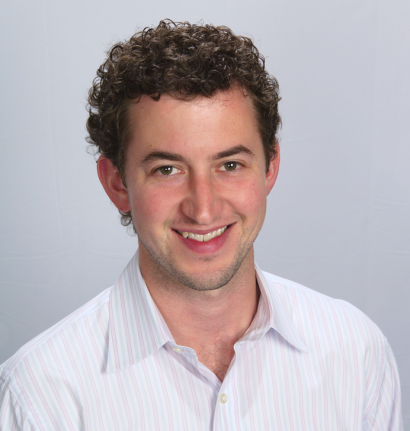 Drew Uher
The change is a vital one in the sense that HomeLight recommends only those agents the site has identified as top performers in their market. HomeLight claims to have transactional data and licensing records for more than 2 million current real estate licensees in the 34 markets it covers.
But the site doesn't allow consumers to look up specific agents and see their performance data, and poor performers are simply not listed.
The addition of client reviews has the potential to make agents who are currently invisible show up on the site.
"The cool thing about this is this is a way for agents that might be newer to the industry and haven't done a lot of transactions to really boost their HomeLight ranking because we will be pulling in ratings into our algorithm," Uher said.
Uher declined to specify how much of a factor client reviews play in the site's rankings, but he said they are "meaningful."
"We believe that qualitative feedback from clients is very important and, to the extent that an agent has several positive reviews, that would influence their ranking considerably," Uher said.
A client can leave a review directly on an agent's profile page, or an agent can send past clients a personalized link and ask them to review the agent on HomeLight. Agents can also pull LinkedIn recommendations into the site.
The reviews include ratings on a 1- to 5-star scale, and a checklist of answers to the question, "In what areas did your agent truly excel?" The checklist includes attributes such as "finding homes that fit my criteria" and "negotiating the best price." The review page also includes a text box where a client is asked to describe his or her experience with the agent.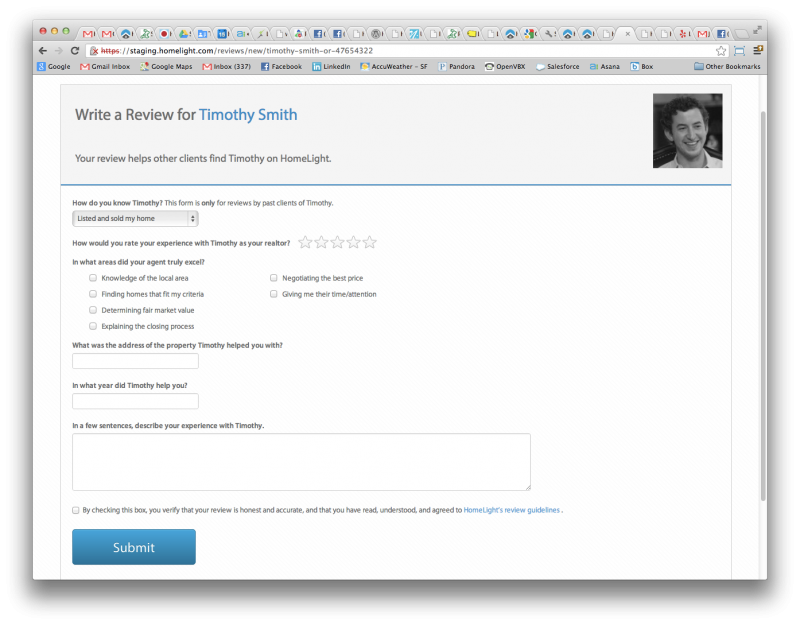 Screen shot of HomeLight review page.
HomeLight will monitor the reviews for accuracy, Uher said. Users may only submit reviews if they have actually worked with the reviewed agent, though they don't necessarily have to have closed a transaction with the agent, he said.
To that end, HomeLight asks users to describe their previous relationship to the agent ("listed and sold my home"), confirm their email address, enter the address of the property the agent helped them with, and type in the year they worked with the agent.
The site has several different ways to verify the relationship, including checking with the agent and looking for a particular property address in the agent's transaction history, Uher said.
Agents can opt out of the site entirely. But if they choose to remain, they cannot dictate which reviews are posted as long as they're accurate — negative, but truthful, reviews will go on an agent's profile, Uher said.
"If the review appears to be inaccurate or if it appears to come from somebody who didn't actually interact with the agent, we will remove it if it's just purely inaccurate information," Uher said. "But we're not going to remove a review just because it's negative."
Soon, HomeLight plans to incorporate the ability for agents to respond to a review, Uher said. In the meantime, he advised agents to let the company know when a review is not accurate so that the company can investigate.
"I think the best thing an agent can do is solicit reviews from the clients that really had a good experience with them," Uher said.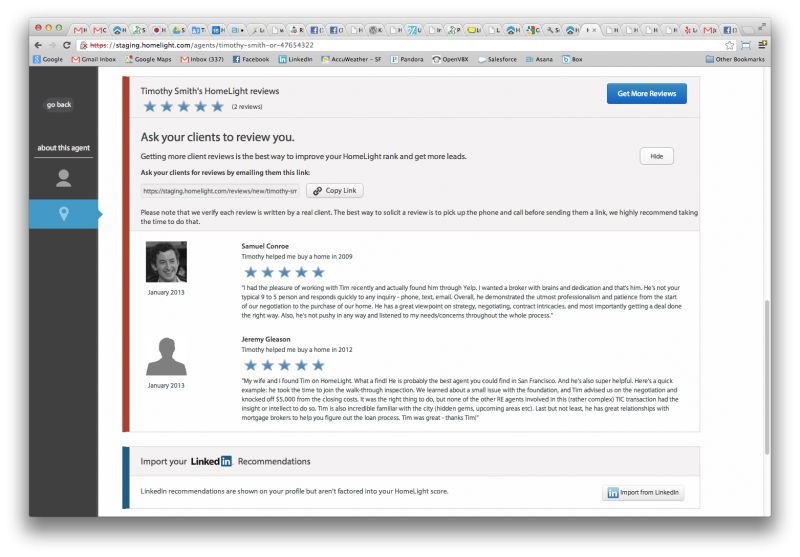 Screen shot of agent reviews page on HomeLight.
Because not all agents appear when users search in a particular market area and agents are not searchable by name, Uher anticipates the vast majority of reviews on the site will come from clients who were asked by their agents to submit a review.
"So agents really have a lot of power over their profile," he said.
In areas where HomeLight is not live yet and therefore not showing agent recommendations, agents can still create a profile for themselves and ask clients to review them, Uher said. Those agents can link to their profile to show off those reviews, he said.
"And then when we go live in that area they'll already be one step ahead because they'll already have a lot of reviews," he added.
HomeLight rolled out two other features today: an expanded sign-up process that makes it easier for agents to claim their profile, and online transaction verification.
Before, transaction verification was manual, Uher said.
"We've just been working with agents and communicating via email or whatnot, and now they're actually able to submit requests to add a transaction through our website. When agents log in, there's a button right on the page where they can manage their transactions," he said.
"In the rare case that we're missing a transaction, agents can go in and claim that missing transaction. It's just a better user interface."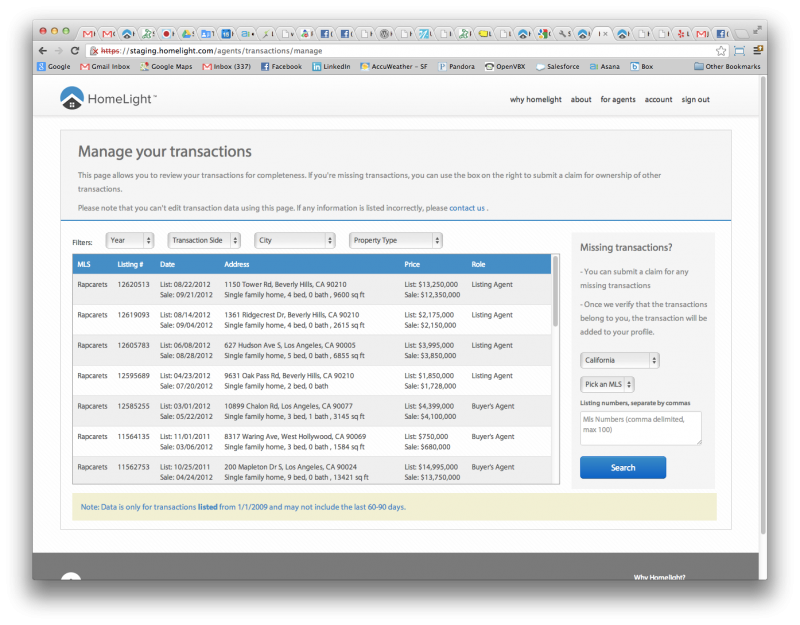 Screen shot of HomeLight's transaction management page.
HomeLight then verifies that transaction with the local multiple listing service or other sources, Uher said.
"Oftentimes, there are certain circumstances where an agent might be part of a team and the transaction is not attributed to the right member of the team. That's one kind of example that this will help solve," he said.
The three features launched today came at the request of agents who have signed up on HomeLight since its November launch, Uher said, who number in the thousands.
"Ever since we launched, the agent response has been tremendously positive," he said.
The same cannot be said of some other industry players, however. Just two weeks after HomeLight's official debut, the site stopped showing recommendations for agents in central and western Washington state, including Seattle, at the request of the Kirkland, Wash.-based Northwest Multiple Listing Service. The MLS said HomeLight, though a broker member of NWMLS, did not have a license for NWMLS data and therefore could not use any of it on its website.
Days later, the Grover Beach, Calif.-based Pismo Coast Association of Realtors, one of eight member associations that own the Central Coast Regional MLS, made a similar request asking HomeLight to pull CCRMLS data from its site.
Uher said HomeLight is still working with Northwest MLS and the Pismo Coast Association to develop a solution.