Two property valuation tools from mortgage giant Freddie Mac are now available to lenders and third-party resellers such as appraisal management companies, data providers and due diligence firms through real estate data and valuation firm Clear Capital.
Clear Capital has been named a master distributor of Freddie Mac's home value products, Home Value Explorer and Home Value Calibrator. That means the Truckee, Calif.-based firm can offer the products to both end users and third-party resellers, the firm told Inman News.
Clear Capital joins CBC Companies, CoreLogic Inc., Equifax Mortgage Services, DataQuick and Lender Processing Services Inc. on Freddie Mac's distributor network.
HVE and Calibrator were first offered through approved distributors in 1997, after Freddie Mac had been using the tools internally for years.
HVE is an automated valuation model (AVM) that delivers an estimated property valuation in seconds and covers more than 3,100 counties in all 50 states with a database of about 81 million property records, Clear Capital said.
Clear Capital offers HVE as a standalone AVM; a rule set in ClearQC, its automated valuation review service for loan originators, servicers and investors launchedin March 2012; or coupled with the firm's Property Condition Inspections. 
Calibrator flags loans with potentially inflated valuations by measuring the risk that an appraisal or other property valuation exceeds actual market value by at least 10 percent, the company said.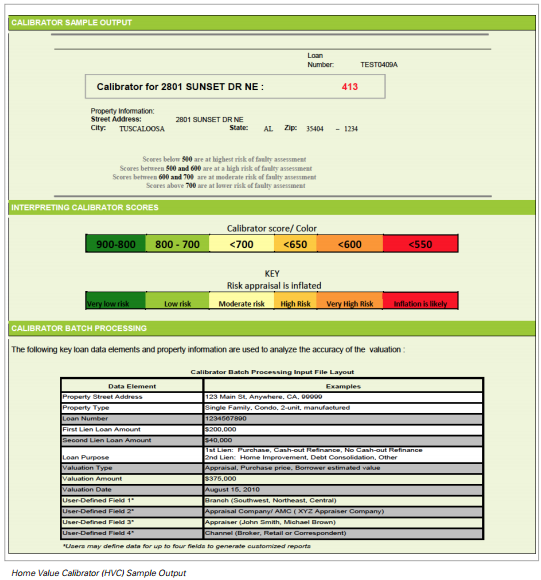 Source: Clear Capital 
The tools are regarded as among the most accurate, highest quality AVMs available due to the volume of home loans and unique data available only to Freddie Mac, Clear Capital said. They feature 20 years of proprietary, historical property data, and more than 20 years of practical use and testing, the company added.
"We are excited about the opportunity to help our clients benefit from Freddie Mac's HVE AVM," said Kevin Marshall, president of Clear Capital, in a statement.
"We are confident that Clear Capital's service levels, technology, and history of partnership with our clients combined with the years of validation of HVE will enable our clients to more easily incorporate it into their valuation decisions. It's a great AVM, and we can make it easier for people to order and use it."
Clear Capital said its broad customer reach and solid track record working with Freddie Mac's servicing and REO (real estate-owned) divisions were key in adding the firm to Freddie's distributor network. Clear Capital counts large financial services companies, including investment firms and the largest U.S. banks, among its customers.
"Our customers consider us an extension of their on-site teams," Marshall said. "We work hard to identify the right product, not an off-the-shelf solution. As an independent provider of a range of AVMs, we objectively recommend the optimal solution to our customers. This judicious approach appeals to Freddie Mac."