The Bristol will be an ultra-luxury, 25-story tower, to be built on the coast in West Palm Beach.
The project is being marketed to potential buyers in creative ways.
Units will be three to five bedrooms, and begin at $5 million.
For the first time in about 15 years, a new building will rise along the shoreline in West Palm Beach. But, this will not be just any building, and it's not being marketed in just any way.
Ground will be broken within the next few months for The Bristol, to be located at 1100 South Flagler Drive. This 25-story building, the developer promises, will be "the first and last building of its kind, with breathtaking unobstructed views of the Atlantic Ocean, Intracoastal Waterway and Palm Beach Island."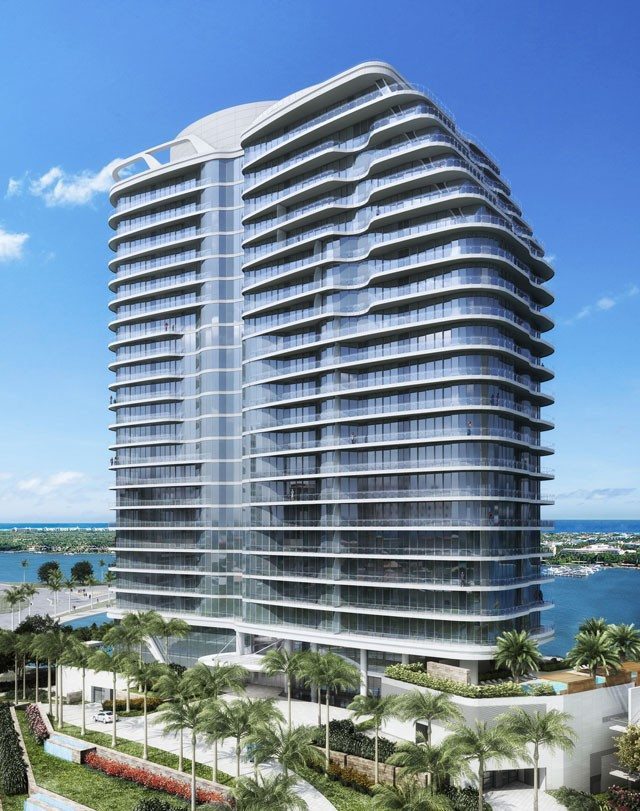 The Bristol will feature three- to five-bedroom units, with the option of combining them to encompass even more space. Those residences range from 3,700 to 9,000 square feet, but the building will have a 14,000-square-foot unit. Prices will start at $5 million, and ascend to $25 million, although reps for the project said that the 14,000-square-foot unit is not priced yet.
For that price point, buyers can expect not only breathtaking views, but the best of every amenity. A back-up generator will provide uninterrupted power. A flow-through floor plan includes floor-to-ceiling glass, finished 10-foot, 7-inch ceilings with even taller options for penthouses. Each unit will be be outfitted with one or more expansive terraces and top-of-the-line appliances and finishes. Master suites are designed to have separate his and hers closets and bathrooms.
Outside of the living space, residents will have two or three car air-conditioned garages, spas, personal training and beauty facilities. Manicured outdoor areas will include a 75-foot lap pool, hot tub, private children's area and dog walks, and will be large enough host parties for up to 200 guests.
Marketing such a unique property takes a different set of tools and strategies than those used to entice the typical buyer.
"This is a very specific product," said Chris Leavitt, Director of Luxury Sales for Douglas Elliman Real Estate, the firm on the project. "you either want to be in Palm Beach, or not."
Leavitt said that, after careful research, his firm honed in on a few specific blocks on the Upper East Side of Manhattan as the place to find The Bristol's likely buyers.
Knowing specifics about the likely population of buyers also led to knowing more about their habits. Leavitt's firm hosted a private event to woo likely candidates, and he said that effort resulted in 10 qualified buyers expressing interest.
Leavitt's company is doing one better: They are opening an office where buyers can sit down with sales professionals to review feature boards and detailed renderings of the tower and planned amenities. There is now a full-sized monitor beaming images of the renderings on Madison Avenue to help whet appetites.
The sales office will be open until May, and Leavitt says that after that, he'll take The Bristol's show on the road to The Hamptons and Aspen, other places his target client spends time.
"We're going to follow our client," he said. "We know who they are, and where they go."