Existing-home sales were down 7.1 percent to a seasonally adjusted rate of 5.08 million in February.
Despite the month-over-month decline in February 2016, the numbers are up 2.2 percent year-over-year from February 2015.
NAR's chief economist, Lawrence Yun, says the decline reflects buyer anxiety about the economy and the increasing difficultly in finding affordable housing.
The National Association of Realtors existing-home sales report reflects would-be buyers anxiety about the cost of living and the overall state of the economy.
According to the report, total existing-home sales, which are completed transactions that include single-family homes, townhomes, condominiums and co-ops, dropped 7.1 percent to a seasonally adjusted annual rate of 5.08 million in February compared to 5.47 million in January.
However, sales in February 2016 were still 2.2 percent higher than sales in February 2015 — so despite the dip, the February market is not dire.
Home sales take a 'considerable step back'
Single-family home sales were hit the hardest, declining 7.2 percent to a seasonally adjusted rate of 4.51 million in February from 4.86 million in January. Condominium and co-op sales suffered as well with a 6.6 percent decline to a seasonally adjusted rate of 570,000 in February compared to 610,000 in the previous month.
Despite the February sales decline, the overall existing-home sales numbers are still 2.2 percent higher than last year's numbers.
"Sales took a considerable step back in most of the country last month, and especially in the Northeast and Midwest. The lull in contract signings in January from the large East Coast blizzard, along with the slump in the stock market, may have played a role in February's lack of closings," said Lawrence Yun, NAR's chief economist, in the announcement.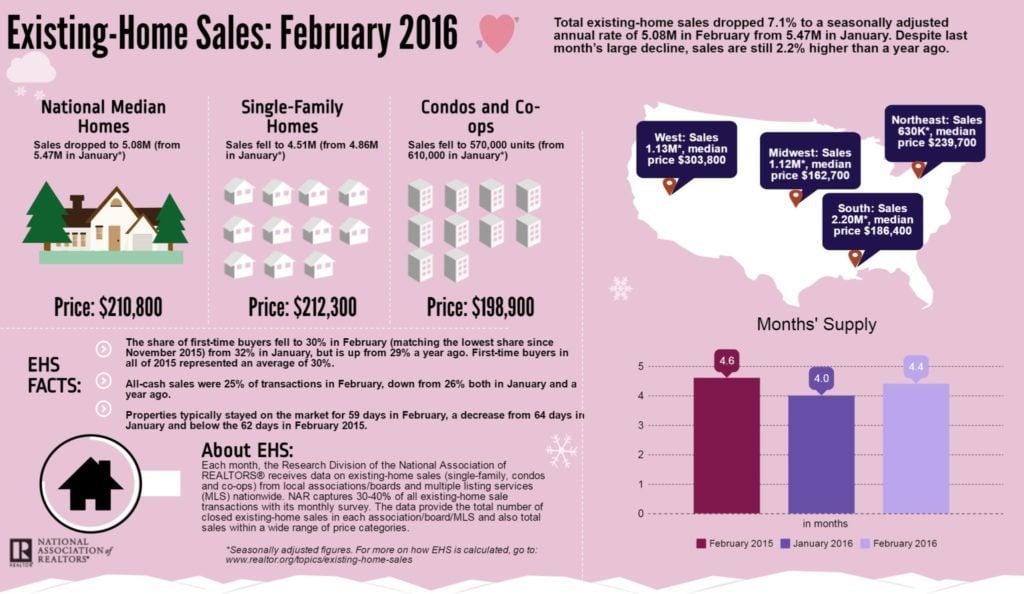 "However, the main issue continues to be a supply and affordability problem. Finding the right property at an affordable price is burdening many potential buyers."
Home prices continue to rise while buyers shy away
The median existing-home price for all housing types in February was $210,800, up 4.4 percent from February 2015's $201,900. Furthermore, the existing-home price increase is the 48th consecutive month of year-over-year gains.
Lastly, the share of first-time buyers dropped 30 percent in February from 32 percent in January, which matches the lowest share since November 2015.
Despite the disappointing numbers, NAR president Tom Salomone says buyers need to dig in rather than give up on the homebuying process.
"With low supply this spring buying season, it's easy for buyers to get discouraged when their offer is rejected in favor of a higher bid," Salomone said in a press release. "That's why it's important for buyers to stay patient and work with a Realtor to develop a negotiation strategy that ensures success without overstretching their budget."