I just read Teresa Boardman's post on women in leadership in the real estate industry, and I have to admit, it struck a nerve.
You see, I'm probably one of those who thinks the whole "gender equality" thing is overblown, because I tend to reject identity politics as basis for leadership — and I say that as a member of the least represented demographic in real estate industry leadership: Asian-Americans.
But reading what Teresa wrote, it struck a nerve, because I get where she's coming from, emotionally. It's the same place that has my fellow Asian-Americans pissed off at Hollywood:
Perhaps the issue of women in leadership in real estate is totally different, since it isn't like a bunch of dudes are dressing up as women like Hollywood is doing yellowface, but emotionally, it's the same place of feeling ignored and disenfranchised and somehow screwed over.
So I have a suggestion that might actually change the landscape. It is one that I actually sort of mentioned at the start of the year in my Seven Predictions post here on Inman. Here it is:
The next CEO of NAR should be a woman.
There you go. Now, let's get into it a bit.
As widely reported, Dale Stinton's contract as CEO of NAR is coming to an end in 2017. Most industry folks think that he will not renew, and choose to ride off into the sunset as one of the most influential real estate leaders of all time.
If Teresa and her compadres in the Women Leadership movement are serious about what they want, they should start working now to make sure that the next CEO of NAR is a woman.
After all, when one of the two presumptive nominees for President of the United States is a woman, it doesn't seem that crazy to think that perhaps NAR could follow the times.
The excuses that Teresa lists in her post may or may not be valid, as applies to the annual elected leadership carousel that is common in the Association world. But most of them simply don't apply when it comes to the job of CEO.
That is a job which is appointed, of course, but by the Board of Directors of NAR. That Board is accountable to the membership, through the complex-yet-roughly-representative method by which members to the Board are chosen. They will have plenty of time to go through candidates, vet them, and select the right person to lead NAR for the next…15? 20? 30? years.
Furthermore, while elected leadership — president, first vice-president, etc. etc. — changes every year, the CEO position does not. It is the rock of leadership upon which all the constant flow of volunteer leaders rely upon. If Teresa and her crew are serious about women in leadership at NAR, it's the CEO position they should be looking at, not the carousel of elected leaders.
With that in mind, I'd like to offer up five names of women who I think merit your consideration as CEO of NAR, in no particular order.
1. Pam O'Connor, CEO, Leading Real Estate Companies of the World
Pam was No. 25 on Swanepoel's SP200 list, and for good reason. I'll just copy and paste the bio here:
O'Connor heads up the largest network of real estate brokerage companies in the world. The network has 530 member firms, with more than 125,000 agents working from some 3,500 offices generating $1.1 million transactions representing an astounding $330 billion in annual home sales.
It doesn't hurt that she's incredibly kind, already lives in Chicago, and has strong relationships to the brokerage community that NAR is in bed with now vis-a-vis Project Upstream.
2. Sherry Chris, President, Better Homes & Gardens Real Estate
Also out of the brokerage world, we'd have to consider Sherry Chris, the President of BHGRE and a rockstar in her own right. Here's her SP200 bio:
Chris is one of the most widely recognized CEO names in the industry, heading up the 300 office, 9,800 agent strong Better Homes and Gardens Real Estate franchise. BHGRE was named "Real Estate Agency Brand of the Year" as part of the 2015 Harris Poll EquiTrend Study. She also serves as on the Advisory Board for realtor.com and Zillow.
Sherry is also one of the nicest, smartest people of either gender you could meet, and her social media savvy only helps as the industry, and by extension NAR, gets younger as the newer generation continues to move up.
3. Janet Branton, SVP, Commercial and Global Real Estate, NAR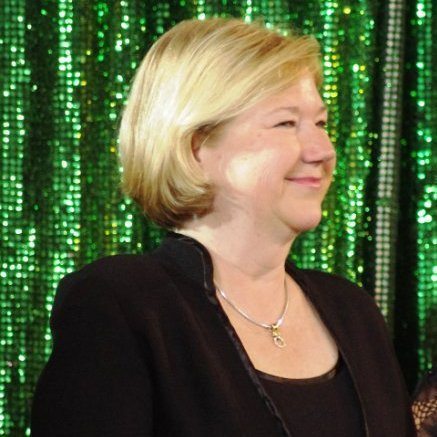 The internal candidate who makes sense is Janet Branton. She's already a senior NAR executive and knows how that place runs. Plus, as the SVP in charge of Global, Janet has been working closely with real estate professionals around the world, which might help NAR over the next two to three decades as globalization continues to be important to real estate.
With 27 years of association management experience, Ms. Branton heads up Commercial and Global Services at NAR. Prior to joining NAR, she served as a local AE with three real estate associations in Florida. She has a BA degree in Political Science with minors in French, Spanish, and Sociology from Auburn University.
Given the state of flux around the issue of the three-way-agreement and some of the tensions between local, state, and national Associations…I think it's a real plus that she has been a local AE herself.
4. Merri Jo Cowen, CEO, MyFloridaRegional MLS
I have had the pleasure of working with Merri Jo in my professional life, and I can say she is an incredible leader with a grasp of both the strategy and the politics of organized real estate. Plus, the gap between the MLS world and the Association world continues to grow, and having someone with Merri Jo's experience as the next CEO of NAR could help resolve that issue amicably.
5. Celeste Starchild, Vice President and General Manager, Move, Inc.
My personal favorite, primarily because I've done multiple karaoke sessions with her, and have not done even one karaoke session with any of the other candidates, is Celeste Starchild, formerly of Listhub, now of realtor.com/Move. She's probably a bit of an outside choice, but there are a couple of things that make her my choice.
First, she's young — the CEO of NAR can be expected to stay in office for decades (based on history). Why not someone who could stay in that job for 20 to 30 years to provide stability?
Second, she's not just tech-savvy, she's a tech leader. As technology continues to get more and more important for real estate, wouldn't having a CEO of NAR with a background in a real pure technology company be helpful?
Third, she's not a Realtor herself, and comes from outside traditional Organized Real Estate — yet, because of her jobs, she's had to understand the needs and wants and pitfalls of agents, brokers, franchises, Associations, and MLSs.
And it's hard to find people across the industry who don't love Celeste, even if they hate her employer.
Wrapping up
So there are five names. I'm sure other people can come up with a dozen more names. If, as Teresa says, there are hundreds of smart, capable women who can be leaders in the real estate industry — except for the barriers and excuses that the men in power throw up — then it will be no problem to put together a slate of candidates for the one position that matters more than any other: CEO of NAR.
Contact your local Association and find out who your NAR Directors are. Let them know that you want the next CEO after Dale Stinton to be a woman. THAT would be change.
Make it happen, ladies! This man will support your efforts to change the landscape of leadership in real estate once and for all.
Maybe your efforts will lead one day to having some AZN dude as a MLS CEO somewhere. :)
-rsh