Check Inman every day for the daily version of this market roundup.
Mortgage rates:
Home equity rates:
Thursday, June 30:
Freddie Mac's Primary Mortgage Market Survey:
Average fixed mortgage rates dropped to 3.48 percent.
This is 17 basis points from the November 2012 all-time record low: 3.31 percent.
Last week, average 30-year fixed-rate mortgages were 3.56 percent.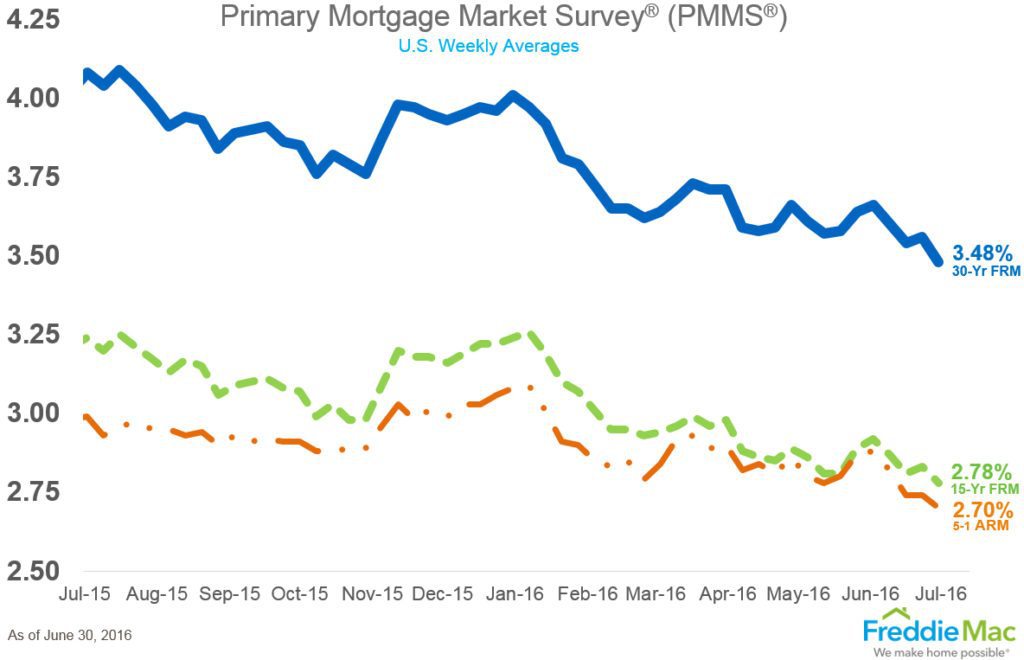 Ten-X Residential Real Estate Nowcast for June 2016:

Find the best tenant and maximize the ROI of your rental
The landlord-tenant relationship should be looked at more like a partnership, rather than simply a transaction
READ MORE
Existing home sales will fall between seasonally adjusted annual rates of 5.38 and 5.74 million, with a targeted number of 5.56 million.
This is a slight 0.5 percent increase from May.
It also indicates a 1.4 percent year-over-year gain.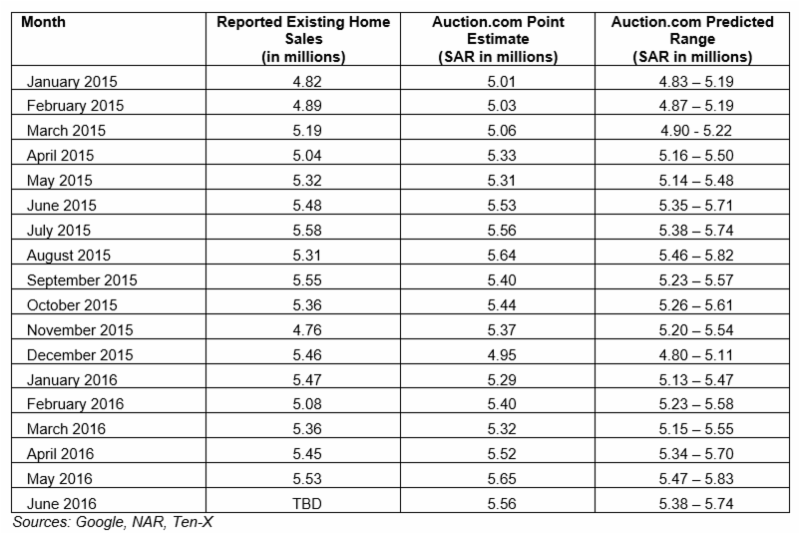 Wednesday, June 29:
HSH.com's 'Mortgage Rates Radar':
The average rate for conforming 30-year fixed-rate mortgages rose by one basis point (0.01 percent) week-over-week to 3.61 percent.
The average rate for conforming 5/1-year adjustable-rate mortgage rose by one basis point (0.01 percent) week-over-week to 2.85 percent.

Freddie Mac's Multi-Indicator Market Index (MiMi):
The national MiMi value stands at 84.1.
This is up 0.27 percent from March to April.
On a year-over-year basis, the national MiMi value has improved 7.37 percent.
Mortgage Bankers Association's Weekly Applications Survey:
The Market Composite Index, a measure of mortgage loan application volume, decreased 2.6 percent on a seasonally adjusted basis from one week earlier.
On an unadjusted basis, the Index decreased 3 percent compared with the previous week.
The refinance share of mortgage activity increased to 58.1 percent of total applications from 57.7 percent the previous week.
Federal Housing Finance Agency's mortgage interest rates for May 2016:
The index for the national average contract mortgage rate for previously occupied homes by combined lenders was 3.70 percent for loans closed in late May, down 5 basis points from 3.75 percent in April.
The average interest rate on conventional, 30-year, fixed-rate mortgages of $417,000 or less was 3.89 percent, down 5 basis points from 3.94 in April.
The average loan amount for all loans was $329,500 in May, up $7,100 from $322,400 in April.
Tuesday, June 28:
The Conference Board's Consumer Confidence Index for June 2016:
The index for June stands at 98.0.
This is up from 92.4 in May.
The Present Situation Index increased from 113.2 to 118.3, while the Expectations Index rose from 78.5 to 84.5 in June.
S&P/Case-Shiller Home Price Indices for April 2016:
The National Home Price Index, covering all nine U.S. census divisions, reported a 5.0 percent year-over-year gain in April.
This is a slower rate than March's 5.1 percent annual gain.
Before seasonal adjustment, the National Index posted a month-over-month gain of 1.0 percent in April.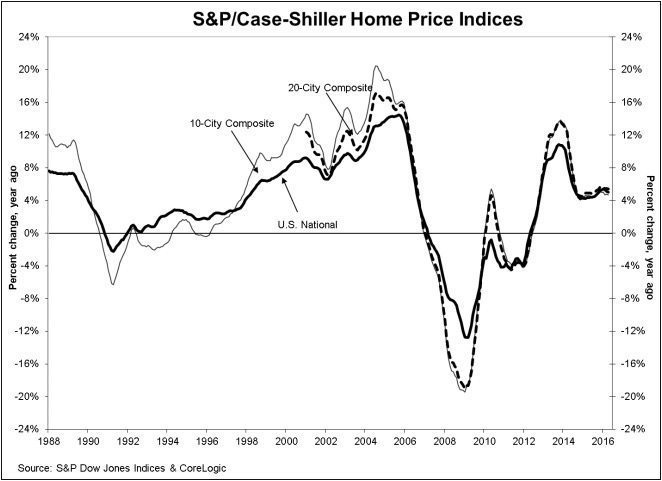 Monday, June 27:
Campbell/Inside Mortgage Finance HousingPulse Tracking Survey:
First-time homebuyers accounted for 40.8 percent of home purchases in May.
This is the highest level seen in more than five years.
Real estate owned properties and short sales accounted for a combined 18.0 percent share of home sales in May, down from a 20.3 percent share in May 2015.
Black Knight's home price index for April 2016:
The U.S. home price index was at $260,000.
This is up 30.4 percent from the market's bottom and is 2.9 percent lower than the June 2006 market peak.
Washington led all states with 1.9 percent appreciation month-over-month.

Email market news to press@inman.com.