Foreclosure-related filings on U.S. homes during the first three months of the year were up 9 percent from the previous quarter and 24 percent from a year ago, surpassing previous highs for the current downturn, data aggregator RealtyTrac said today.
The 803,489 properties subject to some kind of foreclosure filing during the first quarter — including default notices, auction sale notices and bank repossessions —  marked a record high since RealtyTrac began reporting in January 2005.
Not all homes that enter the foreclosure process are repossessed by lenders, and RealtyTrac said bank repossessions were down 13 percent from the previous quarter.
The latest numbers from RealtyTrac cover January through March, and lenders and loan servicers began implementing the Obama administration's Making Home Affordable program only this month. The program is aimed at helping as many as 9 million homeowners refinance their loans or negotiate more affordable terms.
But the pace of filings seems to have picked up in the final month of the quarter, as foreclosure moratoriums instituted by Fannie Mae, Freddie Mac and others are lifted, RealtyTrac said.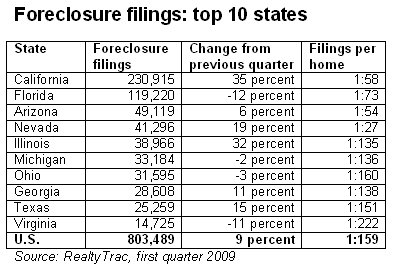 A record 341,180 properties were subjected to foreclosure-related filings in March — a 17 percent increase from February and a 46 percent increase from the same month a year ago.
Many of those filings were to initiate new foreclosure proceedings, suggesting that lenders and servicers have been holding off on foreclosures because of moratoria and legislative delays, said James J. Saccacio, chief executive officer of RealtyTrac, in a statement. …CONTINUED
Saccacio thinks it's also likely that the drop in "REO" activity (repossessions of homes by banks, which become "real estate owned" properties) can be attributed to processing delays, rather than to foreclosure prevention programs.
"It's very likely that we'll see the number of REOs increase again now that most of the moratoria have been lifted," Saccacio said.
Although demand for REOs by first-time homebuyers and investors has picked up in some hard-hit markets, it's unlikely to offset the the growing number of foreclosures in the pipeline, which are driven by unemployment, Saccacio said.
California, Florida, Arizona, Nevada and Illinois accounted for nearly 60 percent of properties subject to foreclosure-related filings during the first quarter, RealtyTrac said.
California alone accounted for 29 percent of the properties in some stage of foreclosure — 230,915 — a 35 percent increase from the previous quarter, and the highest total seen in the four years RealtyTrac has been issuing reports.
Those numbers are backed up by California-based data aggregator, ForeclosureRadar, which this week reported a 29 percent surge from February to March in the number of homes in the state subjected to notices of default, and an 82 percent increase in auction notices (see story).
Florida saw the number of properties subjected to foreclosure filings fall by 12 percent from the previous quarter, to 119,220, while filings were up 6 percent in Arizona, 19 percent in Nevada and 32 percent in Illinois.
Nevada and Arizona had the highest foreclosure rates in the nation, with one in 27 Nevada homes and one in 54 Arizona homes subject to a foreclosure-related filing, compared with one in 159 homes for the U.S. on average.
***
What's your opinion? Leave your comments below or send a letter to the editor.