The 26 metro areas with the highest foreclosure rates during the first quarter were located in just four "sand states" — California, Florida, Nevada and Arizona —  data aggregator RealtyTrac said today.
Las Vegas had the highest foreclosure rate of 203 U.S. metro areas with populations of 200,000 or more, with one foreclosure-related filing for every 22 housing units. Las Vegas was followed by Merced, Calif. (one filing per 24 homes) and Cape Coral-Fort Myers, Fla. (one filing per 26 homes), RealtyTrac said.
Other metro areas in the top 10 included Stockton, Calif. (one filing per 27 homes), Riverside-San Bernardino-Ontario, Calif. (one filing per 28 homes), Modesto, Calif. (one filing per 29 homes), Bakersfield, Calif. (one filing in 37 homes), and Vallejo-Fairfield, Calif. (one filing per 37 homez); Phoenix, Ariz. (one filing per 40 homes); and Port St. Lucie, Fla. (one filing per 46 homes).
Thirteen of the top 26 metro foreclosure rates were in California, nine were in Florida, and two each in Nevada and Arizona, RealtyTrac said.
Sales activity appears to be increasing in some markets as home prices have fallen to levels that are attractive to first-time homebuyers and investors, RealtyTrac CEO James Saccacio said in a press release.
"While we expect many of these metro areas to continue to experience high levels of foreclosure activity throughout 2009, we also expect to see other markets rise up the ranks as unemployment rates surge throughout the country," Saccacio said.
RealtyTrac reported on April 16 that a record 803,489 U.S. homes were subjected to a foreclosure-related filing during the first quarter, up 9 percent from the previous quarter and 24 percent from a year ago (see story).
RealtyTrac tracks properties through three stages of foreclosure — default, notice of foreclosure sale, and bank repurchases. Not all properties that are subject to foreclosure-related filings will complete the foreclosure process, as some borrowers will negotiate short sales or loan workouts.
But a recent report by the Federal Housing Finance Agency, which oversees Fannie Mae and Freddie Mac, shows rapid growth in the number of loans on which borrowers had fallen 60 days behind on their payments. …CONTINUED
Among the 30.6 million residential mortgages owned or guaranteed by Fannie and Freddie, the number of loans delinquent by 60 days or more increased 47 percent from the end of November to the end of January, to 1.23 million, FHFA said.
The top five identified reasons for default were curtailment of income (34.1 percent), "excessive obligations" (19.8 percent), unemployment (8.1 percent), illness (6.5 percent) or marital difficulties (3.5 percent).
Foreclosure proceedings were initiated on 6.12 percent of loans delinquent by 60 days or more in January, down from 6.38 percent in December and a high of 9.22 percent in February 2008.
Foreclosure sales were completed on 0.28 percent of loans delinquent by 60 days or more in January, down from 2.43 percent in October.
The mortgage giants modified nearly 24,000 loans during the fourth quarter of 2008, a 76 percent increase from the third quarter, which helped reduce foreclosures by nearly 27 percent, FHFA said.
But Fannie and Freddie instituted moratoriums on foreclosure sales and evictions from owner-occupied properties on Nov. 26 that ended March 31, the report noted.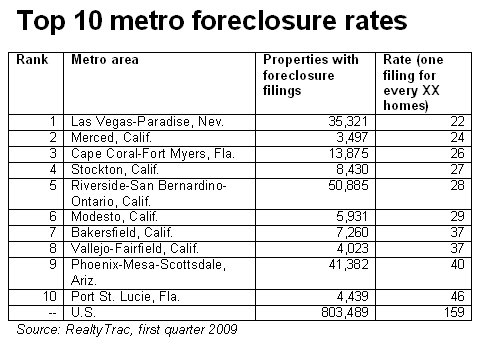 ***
What's your opinion? Leave your comments below or send a letter to the editor.