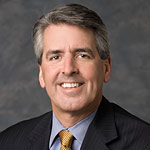 Long & Foster Cos. President and Chief Operating Officer David H. Stevens has been confirmed by the Senate as the Obama administration's choice to head the Federal Housing Administration.
The mortgage industry veteran succeeds Brian Montgomery as federal housing commissioner at a time when demand for FHA-backed loans has surged, but record claims threaten to put the program in the red for the first time since 1934 (see story).
In prepared testimony to the Senate Banking Committee in April, Stevens acknowledged that FHA loans originated in 2007 and 2008 with high loan-to-value ratios, seller-funded down-payment assistance programs and, in some cases "questionable lender behaviors," could cause "some stress on the program in the months going forward."
Stevens said his top priority would be to ensure that the FHA loan guarantee program — which has historically been entirely funded by mortgage-insurance premiums paid by borrowers — does not require taxpayer assistance.
He promised "a thorough review of the credit parameters of the FHA program" to identify "program features that are higher risk and could cause adverse impacts to the fund."
Removing lenders with poor performance "is job one to protect new business," Stevens said. But investment is also needed to improve automated underwriting quality and data integrity on new loans and existing insured business, he said.
During the housing boom, FHA lenders lost market share not only because subprime lenders employed laxer underwriting standards, but because homes in pricier markets exceeded FHA limits. Congress has raised FHA limits to up to $729,750 in high-cost markets. But some critics say the FHA approval process was also cumbersome and outdated, contributing to the loss of market share.
In passing the Housing and Economic Recovery Act of 2008, Congress implemented some aspects of an "FHA modernization" program sought by the Bush administration. The bill, HR 3221, eliminated seller-funded down-payment assistance on FHA loans, and raised minimum down-payment requirements to 3.5 percent.
But Congress put on hold until Sept. 30, 2009, planned "risk-based" pricing of FHA mortgage insurance premiums that briefly replaced a one-size-fits-all pricing structure last year (see story). …CONTINUED
Steven said he wants to "restore FHA to a more respected position of leadership in the marketplace," by combining ongoing efforts to modernize core technology systems with improvements to FHA's "best practices."
He also pledged to support the Obama administration's Homeowner Affordability and Stability Plan and the updated Hope for Homeowners refinance program.
Nominated on March 23 to serve as assistant secretary for housing and federal housing commissioner within the Department of Housing and Urban Development, Stevens has extensive experience in mortgage lending.
He joined Long & Foster in July 2006 as president of the company's affiliated mortgage, title and insurance businesses, having held executive positions at Wells Fargo Home Mortgage, Freddie Mac and World Savings Bank.
Stevens has also served on the board of directors of the Real Estate Services Providers Council Inc., or RESPRO, a trade association representing companies that provide services through affiliated businesses.
RESPRO has fought changes to the Real Estate Settlement Procedures Act, or RESPA, that were initiated by the Bush administration but which Obama's Secretary of Housing, Shaun Donovan, has said HUD remains committed to implementing (see story).
The Senate on Friday also confirmed the appointment of Raphael Bostic as assistant secretary for policy development and research. A University of Southern California professor, Bostic is an expert on housing and homeownership who has studied credit markets and financing, the White House said in announcing his nomination.
***
What's your opinion? Leave your comments below or send a letter to the editor.