Realtor.com operator Move Inc. says the company will save about $1 million a year in rent by vacating nearly half of the office space it's occupied for the past nine years at its headquarters in Westlake Village, Calif.
Move's new seven-year lease with Arden Realty Limited Partnership provides the company with 76,000 square feet on two floors at 30700 Russell Ranch Road, compared with 138,000 square feet under its previous lease, signed in 2000.
Move spokeswoman Julie Reynolds said there are no layoffs planned in association with the downsizing of the corporate headquarters. Some employees have already been relocated to a 30,000-square-foot product development and marketing office in Campbell, Calif.
"We are working with the landlord to refurbish the (headquarters) facility to make a more enjoyable work environment," Reynolds said.
Annual rent at the Westlake Village headquarters will average $2.2 million a year through 2016, compared with $4 million a year under the old lease, Move said in a regulatory filing. At the end of last year, Move reported it had leases at seven other facilities in the U.S. and Canada totalling 202,000 square feet.
Those figures include the Campbell office and a 48,000-square-foot facility leased by the company's Welcome Wagon subsidiary in Plainview, N.Y. Move sold Welcome Wagon to South Florida Media Group for $2 million in a deal that closed June 22.
During the dot-com boom, when the company was known as Homestore, its payroll grew from 993 workers at the end of 1999 to 2,800 by the close of 2001. After falling to 1,456 by the end of 2004, Move's workforce grew to the equivalent of 1,666 full-time workers in 2006 before beginning to shrink again as the housing downturn picked up steam (see chart below).
In its most recent annual report, Move said it employed the equivalent of 1,181 full-time workers at the end of 2008, including 166 Welcome Wagon employees. The 24 percent reduction in payroll from the year before left the company starting off 2009 with its smallest workforce in a decade.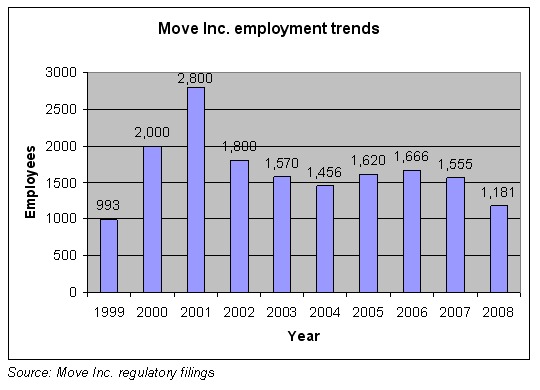 ***
What's your opinion? Leave your comments below or send a letter to the editor.