One day in 2004, Allison Gambone was idling in traffic when she was startled to hear her own voice wafting from the radio of the car next to hers. She burst into tears and called her mother.
The New York real estate agent probably shouldn't have been so surprised — after all, she was a fledgling singer who had written and recorded a song, "Can't Go On," that was getting some attention.
Still, the reality that a radio station actually would play it hadn't set in until that moment.
"That was my entire goal," Gambone says today. "I just wanted to hear myself on a record and I wanted to hear myself on the radio."
But her run at fame wasn't a long one, and though "Can't Go On" counted as a bona fide hit, Gambone eventually had to shelve singing in favor of paying the rent.
In fact, it was the rent, itself, that had led to a real estate career, and now the 28-year-old manages a bustling Keller Williams Realty office in Queens, N.Y.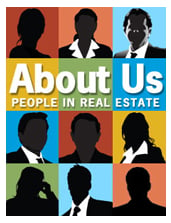 These days, Gambone would seem to be on something of a tear — in November she made Realtor magazine's "30 Under 30" list of young real estate professionals to watch. At the end of December, her office emerged as No. 1 in Queens for closed sales volume in 2009.
And later this month, she'll dust off that singing career and perform a new record at a Long Island dance club.
"I love to sing," she says. "It keeps me sane."
That's no small consideration, she says, when her day job consists of managing about 260 agents and recruiting others, conducting daily training sessions and working on KW's expansion in New York.
Gambone says that real estate consumes about 90 percent of her time, music about 10 percent — though that ratio is changing. Lately she's in been in a recording studio about four times a month, she says, and has recorded another song, "Where's the Party?" with two other songs in the works.
A performer since childhood, Gambone says that when she was 18, her parents moved out of state, but she decided to stay behind to study business at a community college in Queens and to pursue her singing dreams.
Financing it all was a constant headache. At one point, she says, she was working multiple waitressing jobs and going to classes.
"Singing was saving me from feeling that I was struggling so much," she says. "But I think I was 21 when I finally said, I can't do all of this. I was falling asleep at work."
She first started thinking about real estate when she leased her first apartment and observed that the rental agent was going to collect an $800 commission. The next time she moved, the agent earned $1,400. …CONTINUED
"I said, 'That's it, whoa, I'm going to make that money,' " she says.
So in 2002 she began working part time in apartment leasing, eventually turning to residential sales for a small local brokerage while still promoting her singing career, she says.
In 2004, "Can't Go On" was released, with Gambone singing professionally under the name "Allie." The song reached the top 10 of Billboard's dance-music charts, she says.
"Between 2004 and 2006, I was doing shows frequently on the weekends, all over the place — New York, New Jersey, Connecticut, Boston, Arizona," she says. "It was a crazy lifestyle. I loved it."
All the while, her real estate career was blossoming — in 2006, her first full-time year in residential sales, her gross commissions were $120,000. The next year, she brought in $420,000.
But the music side of her life had started to trail off. Two subsequent songs Gambone wrote and recorded didn't meet as much success, so she decided to focus on real estate.
"I had a good two-year run (in music) and that dwindled," she says. "It was time to let things go. Balancing family, friends, music and real estate — it was just too much."
Not that she was coasting. In the space of several months in 2007, she took on a Keller Williams management job and got married. A month after her wedding, her father died, she says.
She returned from the funeral and poured herself into her job, recruiting 13 agents within a month.
Gambone says she missed selling homes for a while after moving into management, but discovered that she particularly enjoys recruiting and training. She constantly digresses from talking about her singing career to extol the praises of her company.
Still, the joy she found in singing nagged at her and she finally decided to try again.
"Music, like real estate, is a people business," she says. "You're on stage and you're passionate about what you're singing and you make people smile.
"You see people listening to lyrics that you laid down on your bedroom floor to write," she explained. "I've had girls write to me, 'You got me through a breakup with this song.'
"Whatever happens, happens, but I'll never stop writing songs," she says. "I'll never stop singing."
Mary Umberger is a freelance writer in Chicago.
***
What's your opinion? Leave your comments below or send a letter to the editor.