Editor's note: This is the first part of a series of articles that detail the responses to a survey of real estate brokers. This series highlights brokers' business strategies to survive these challenging economic times. In Part 1, below, brokers' views of the government's role in the industry are explored — what it's done right, what it got wrong, and what it could be doing better. Part 2 will examine brokers' attitudes toward rules and policies established by the industry itself. Part 3 will detail the segments in which brokerages are gaining or losing busines. Part 4 will look at cost-cutting measures implemented by brokerages, and Part 5 will explore what brokers see as their company's competitive advantage.
The best thing the government can do for real estate brokers is to implement tougher licensing requirements that would raise the bar for entry to new agents, said a group of real estate brokers surveyed by Inman News.
Conducted from Oct. 16 to Jan. 12, the online survey captured the views of 179 brokers doing business in 37 states and Washington, D.C., and also generated two responses from Canada and one from India.
The survey found that new rules for appraisals on loans slated for purchase or guarantee by Fannie Mae and Freddie Mac are viewed as the most problematic government law or regulation affecting the real estate business today.
The recently extended homebuyer tax credit and other incentives for homeownership were viewed by brokers as the most beneficial government law or regulation in effect.
Although many participants expressed a strong desire for less government regulation and intervention in markets, others supported stronger oversight of lenders and recent changes to the Real Estate Settlement Procedures Act (RESPA) that are intended to help borrowers shop for loans and settlement services like title insurance.
Many also saw a need for the government to take a more active role in getting lenders to approve short sales by streamlining the short-sale process.
Another issue of concern highlighted in the survey was the varied treatment and disclosure of agency issues — including potential pitfalls of "dual agency," when a single agent or agents from the same brokerage office represent both the buyer and seller in a home-sale transaction.
States with the greatest representation in the survey were California (31 responses), New York (22 responses), Colorado (13 responses), Massachusetts (10 responses), Washington (nine responses), and Arizona (eight responses).
Maryland and Pennsylvania were each represented by six brokers, while Connecticut, Florida, Georgia, Indiana, Nevada, Ohio, South Carolina, Texas and Virginia each generated responses from five brokers.
The number of brokers and agents at each company surveyed ranged from one to 4,500, and averaged 96 agents. If brokers claiming 1,000 or more agents are excluded from the calculation, the average agent count was 53.
Where the government's gone wrong
Given the amount of complaining — and lobbying — the real estate industry has engaged in since Fannie Mae and Freddie Mac adopted new rules for appraisals on May 1, it may come as no surprise that brokers regard the Home Valuation Code of Conduct (HVCC) and other issues surrounding appraisals as the most problematic government law or regulation they face.
Among the 146 brokers who identified a "most problematic" government law or regulation, 21 percent identified the HVCC, followed by new lending laws and consumer protections (12 percent), tax issues for clients and businesses (10 percent), rules governing agency issues (9 percent), and licensing issues including the low bar to entry and inconsistencies from in licensing from state to state (9 percent).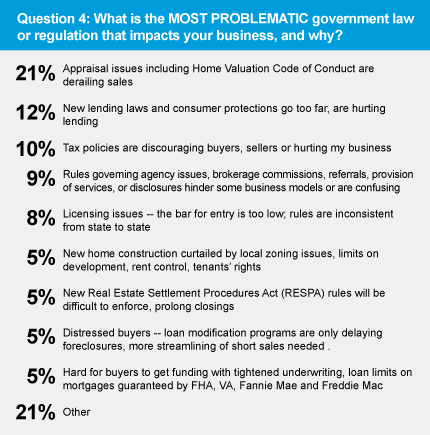 Note: Due to rounding, percentages in charts may add up to more than 100 percent.
Many real estate brokers, builders, and mortgage lenders have complained that new appraisal rules — intended to protect appraisers from coercion — have had the unintended consequence of shifting business to appraisal management companies that allegedly employ less experienced appraisers.
Appraisers who lack experience are more likely to select distressed properties as "comparable sales" without making the proper adjustments, critics say, derailing sales when property valuations don't support the price the buyer is willing to pay.
"The third-party assignment of appraisers has resulted in appraisers who don't know the market area and cannot choose the correct comparable properties to establish value," said one broker at a company with over 60 agents in the Boston, Mass., region. "HVCC is going away soon, right?"
Bills pending in Congress could suspend the code, or give a Consumer Financial Protection Agency proposed by the Obama administration the authority to draft new rules governing appraisals that would supersede it.
In the meantime, Fannie Mae, Freddie Mac, and their regulator, the Federal Housing Finance Agency, maintain that declining home prices, not the code, are often to blame when valuations fall short of a proposed sales price (see story).
Many Realtors aren't buying that explanation.
A broker at a Las Vegas-based brokerage with over 1,000 agents said that while the code was "well intentioned, (it) violates the law of unintended consequences."
Nearly identical homes in the same subdivision aren't appraising consistently, the Las Vegas broker said.  Appraisers are using asking prices on active listings as comps, and employing declining market appraisal methods when median sale prices are on the rise, the broker complained. …CONTINUED
"Recently, we could show sold comps of $300,000 but since there was an available listing for $240,000, the appraisal came in at $240,000," the broker said.
Another broker at a company with about 40 agents in the San Francisco Bay Area, summed up the views of many who took the survey.
The Home Valuation Code of Conduct, the broker said, "Has dramatically slowed down the time to process an appraisal, created confusion over the process for Realtors and mortgage professionals, and driven up the cost of purchase for consumers due to the additional time needed to complete (an) appraisal."
The Federal Housing Administration is set to adopt most of the code's provisions on Feb. 15  — a month and a half later than planned. The FHA has attempted to address not only "geographic competency" complaints, but issues of compensation that some appraisers said made them reluctant to take work from appraisal management companies (see story).
But a Dallas-based broker at a company with about 80 agents said the FHA's new appraisal guidelines already "seem to (have appraisers running) scared that they will be held liable for foreclosures that happen two to three years down the road."
If the Home Valuation Code of Conduct is seen as preventing home buyers from obtaining loans, other real estate brokers (12 percent) see new restrictions on lenders that are aimed at protecting consumers as the biggest problem the government has caused for them.
"Truth-in-lending, although well intended, does not help consumers," said an Indiana-based broker at a company with about 180 agents. "It is confusing and drives up costs without providing benefit … the more the government does, the worse any problem becomes."
Tax policies that discourage buyers or sellers or brokers themselves were the third-most often cited problematic government law or regulation (10 percent).
Capital gains taxes, property taxes and transfer taxes were identified separately by brokers as problematic issues for their clients.
"Sellers are really getting hit hard with high taxes on investment properties that they're selling, and we're not talking about million-dollar properties" but those in the $100,000 to $250,000 range, said a Connecticut broker who's focused on foreclosures and short sales.
A Florida broker at a company with about 90 agents agreed that taxes aren't just an issue on high-end properties.
Until the market readjusts, taxes should be based on sales price, the Florida broker said, because "High taxes on lower priced homes are killing the deals."
While the real estate, title insurance and lending industries put up a concerted fight against changes to RESPA rules taking effect Jan. 1 (see story), only 5 percent of brokers identified RESPA as the most problematic law or regulation they face. Those who are troubled by RESPA say it will be difficult to enforce, and will delay closings.
More brokers — 7 percent — identified RESPA as the most beneficial government law or regulation affecting their business.
The same Indiana broker who's skeptical that truth in lending laws help consumers said "RESPA actually makes sense if it were enforced. Unfortunately, only the honest brokers comply and the dishonest ones don't get caught."
Five percent of brokers participating in the survey said their biggest beef with the government was that local zoning laws and limits on development were curtailing new-home construction.
An equal percentage said government loan modification programs only delay foreclosures and that more streamlining of short sales is needed.
Another 5 percent responded that they were most concerned about tightened underwriting and loan limits on mortgages guaranteed by FHA, VA, Fannie Mae and Freddie Mac.
What the government got right
Incentives for purchasing and owning a home — including the homebuyer tax credit and mortgage-interest deductions — were the most popular government law or regulation among brokers who participated in the survey.
Among the 130 brokers who identified a "most beneficial" government law or regulation, 29 percent of respondents named the tax credit and other financial incentives for homeownership.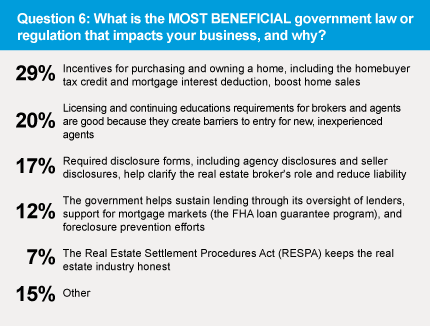 …CONTINUED
Although there's been much debate among housing analysts over how much impact the tax credit has had — some say the majority of homebuyers claiming the credit would have bought a home anyway — many real estate brokers are convinced of its effectiveness.
Passing the tax credit, and then extending and expanding it to include move-up buyers, "is absolutely the best thing that Congress has ever done," said a Connecticut broker with about 25 agents. The broker said first-time homebuyers account for about 80 percent of the company's business.
The homebuyer tax credit "has demonstratively stimulated our sagging real estate market since the first quarter of 2008, and our numbers reflect that," said the Las Vegas broker who also expressed concerns about the unintended consequences of the Home Valuation Code of Conduct.
An Arizona broker at a company with about 15 agents begged to differ.
"Contrary to what I suspect a lot of people will say, (the most beneficial law or regulation) is not the homebuyer tax credit," the Phoenix broker said. "I suppose it would be … FHA/VA financing. Without that backing, there would be far fewer loans being made."
That broker was among 12 percent of survey respondents who identified various aspects of the government's role in mortgage lending — including oversight of lenders, provision of FHA loan guarantees, and foreclosure prevention efforts — as "most beneficial" to them.
None, however, singled out the government's support of secondary mortgage markets — including a $1.25 trillion Federal Reserve program to purchase mortgage backed securities guaranteed by Fannie Mae, Freddie Mac and Ginnie Mae — as "most beneficial" to them.
The Federal Reserve program, which is credited with helping keep mortgage rates low, is currently scheduled to wind down in March — just before the homebuyer tax credit expires and the FHA implements tighter underwriting standards and raises mortgage insurance premiums (see story).
One in five brokers cited licensing and continuing education requirements for agents and brokers as the most beneficial government law or regulation, because they create barriers to entry for new, inexperienced agents.
The survey also showed that brokers saw tougher licensing and education requirements for agents and brokers as the area where additional government regulation was most needed (see below).
Also seen as "most beneficial" by 17 percent of respondents were mandatory agency and seller disclosure forms, which brokers said help clarify their role and reduce the risk of legal disputes.
Pennsylvania's seller disclosure laws require sellers to answer a questionnaire pertaining to the condition of the property, which "assists buyers with the due diligence immensely," said a Pennsylvania broker in an office with about 50 agents.
"My complaints have dwindled to zero," said another broker, ever since Washington state amended its seller disclosure laws.
The 2007 amendments closed loopholes that had allowed some sellers to avoid providing disclosures, while also making it clear that disclosures are provided the sellers and are not representations by real estate licensees or other parties.
Connecticut's buyer-agency law "makes the work more professional and appreciated," said another broker at a four-agent office.
But rules governing agency issues, brokerage commissions, referrals, provision of services, and disclosures were also cited by 9 percent of those surveyed as the "most problematic" government law or regulation affecting them.
"Agency disclosure continues to baffle almost everyone in the industry," said a Syracuse, N.Y.-based broker in an office with about one dozen agents.
New York's conflicting agency disclosure guidelines prevent timely showing of dual agency listings, said another Binghamton, N.Y.-based broker with about 20 agents.
"It's hard to disclose (during) the first substantive conversation who you are working for at that particular moment, as the status could change," said a Westport, N.Y., broker in an office with about 10 agents.
A Lincoln, Neb.-based broker said it's a problem that brokers can't lower their overall fees by offering flat-fee listings along with prepaid marketing services as an "up charge" in states that require a closing in order for compensation to be collected.
An Oregon-based broker said the state's ban on real estate rebates impairs the practice of buyer's agency, and is the most problematic regulation he faces.
Although New Jersey, Kentucky and West Virginia have lifed bans on real estate rebates in recent years, Oregon is one of 10 states with bans still in place, according to the U.S. Department of Justice. The other state are Alaska, Kansas, Oklahoma, Iowa, Missouri, Louisiana, Mississippi, Tennessee and Alabama.
When asked what government could be doing that it's not to benefit the real estate industry, 8 percent of brokers recommended getting rid of dual agency, or creating uniform rules and agency disclosures that better protect consumers. …CONTINUED
"Drop agency in favor of marketing specialists," said an East St. Louis, Ill.-based broker at a company with 48 agents. "Agency is not being presented properly by Realtors. Sellers are led to believe that the firms are representing them, and that agents are working for them."
Agency disclosure requirements are beneficial, but generally not enforced, said a New Jersey broker in a company with four agents. Regulators could fix the problem by making true agency disclosure "a threshold requirement to collecting a commission," the broker said.
A broker who partners with 100 agents in five markets complained that too often, listing agents and their brokers use their clients' listings as "bait" to find new buyer clients.
Some will do this by withholding their listings or a property's address from IDX (Internet Data Exchange, a broker data-sharing standard) sites, while sending more complete listings to Trulia or Zillow, because those sites link back to them, the broker said.
If brokers were required to represent either the buyer or the seller  in a transaction — not both parties — listing agents and brokers would have a "pure motivation" to put their listings "in front of as many people as possible as fast as possible to get the highest price," the broker said.
How the government could do better
When asked what government law or regulation is needed to benefit the real estate industry, 22 percent of 133 brokers responding to that question wanted to see tougher licensing and education requirements for agents and brokers to raise the bar for entry into the business.
"Brokers 'wholesale' recruit, train lightly, (and) supervise even more lightly," said a Lincoln-based broker who advocates a tiered licensing structure.
When new agents take on business they are not comfortable or competent to execute, the broker said, "the client feels the value received was out of balance, and all Realtors are branded with blame for the newbie's performance."
"Real estate is too complicated for many agents," said the Pennsylvania broker who liked the state's seller disclosures. "The bar should be raised in order to weed out part-time agents and … those who are incapable of representing their clients professionally.
"Make the admissions test harder. Raise the membership fees. Increase the number of (continuing education hours). Consumers and agents will benefit alike."
Another 14 percent of respondents wrote that they wanted the government to expand the homebuyer tax credit or provide other incentives to boost home sales, such as reducing property and conveyance taxes.
Next in the rankings, 11 percent of brokers responded that the government's top priority should be streamlining the short-sale process, and putting more pressure on lenders to engage in short sales and loan modifications to reduce foreclosures.
"Force the banks holding bad debt to either dump it, modify it, or quickly agree to short sales," said a Colorado broker at a company with over 100 agents.
"Banks must follow direct procedures and time line to accept or reject short sales," said a broker at company with over 200 agents that operates in several major markets in Ohio. "Too many are just sitting and waiting."
Another 8 percent of brokers surveyed said they thought the government should focus on simplifying the borrowing process, relaxing restrictions on lenders, or eliminating the Home Valuation Code of Conduct.
Among 7 percent of respondents, there was a yearning for less government regulation and intervention in markets — including those who would like to see policymakers give up on loan modifications and allow foreclosures to run their course.
"Each piece of legislation passed creates ripples which spread for years to come," said a broker in a 10-agent office in Benzonia, Mich. "Some fade away with little impact, some build in amplitude and create far-reaching and unforeseen impacts. Weaning ourselves from government manipulation of markets will be key to improved long-term stability."
"Allow the foreclosure process to run its course," said another broker at a office with about 70 agents operating east of Los Angeles. "Stop the moratoriums and the resist the urge to pass a new law every three months to 'fix' the real estate market. Let the market work itself out … we will survive."
Only 6 percent responded that stronger oversight of lenders, loan originators and mortgage brokers should be the government's top priority.
The U.S. needs "a much stronger law to prevent predatory lending," said a broker in Andover, Mass. "We wouldn't be in such a mess if there was one."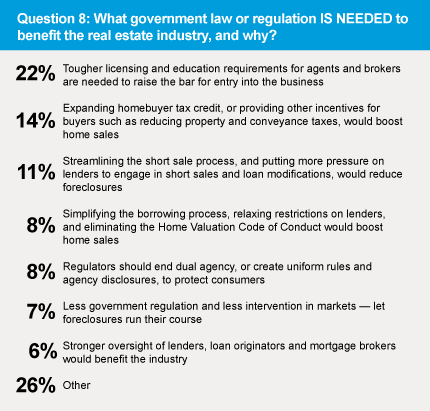 ***
What's your opinion? Leave your comments below or send a letter to the editor.