Editor's note: This is Part 2 in a series of stories based on an Inman News survey of nearly 200 real estate brokers. Part 1 explored brokers' views of the government's role in the industry. Part 2, below, details' brokers attitudes about rules and policies established by the industry itself — what's helpful, what's harmful, and what could be changed for the better. Part 3 will detail the segments in which brokerages are gaining or losing busines. Part 4 will look at cost-cutting measures implemented by brokerages, and Part 5 will explore what brokers see as their company's competitive advantage.
Real estate brokers surveyed by Inman News say multiple listing services and Realtor associations create some of their biggest headaches, but that they couldn't live without the services they provide.
Issues with MLSs and Realtor associations — including disparities in rules and standards, restrictions on the use and display of listings data, and the need to belong to and pay dues to multiple organizations — topped a list of problematic industry rules or policies cited by survey participants.
But real estate brokers also said Realtor associations and MLSs stand behind some of the rules and policies that are of the greatest benefit to their businesses, including the drafting and enforcement of professional standards and ethics, and the exchange of listings data and offers of compensation.
What brokers want their Realtor associations and MLSs to do is get tougher on rule breakers, help them straighten out agency representation issues like dual agency, and consolidate into larger regional, state or national organizations.
The online survey, conducted from Oct. 16, 2009, to Jan. 12, 2010, includes the views of 179 brokers doing business in 37 states and Washington, D.C., plus two responses from Canada and one from India.
States with the greatest representation in the survey were California (31 responses), New York (22 responses), Colorado (13 responses), Massachusetts (10 responses), Washington (nine responses), and Arizona (eight responses).
Maryland and Pennsylvania were each represented by six brokerages, while Connecticut, Florida, Georgia, Indiana, Nevada, Ohio, South Carolina, Texas and Virginia each had five respondents.
The average agent count at responding brokerages was 96, or 53 if brokerages claiming 1,000 or more agents are excluded.
What's broken
Given the prominent role they play in their professional lives, it may be inevitable that MLSs and Realtor associations are the source of industry rules and policies that brokers cite as most problematic.
One in four of 129 brokers responding to the open-ended question, "What is the MOST PROBLEMATIC industry rule or policy that impacts your business, and why?" cited issues with their MLS or Realtor association.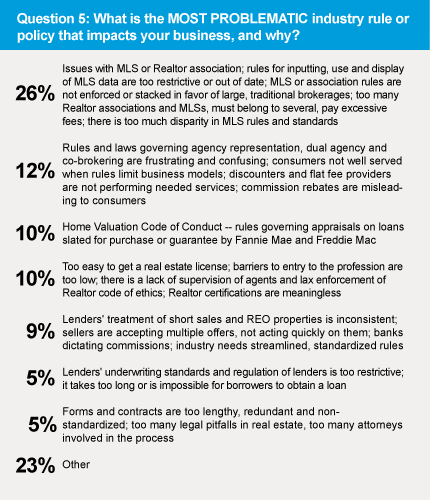 Rules governing agency representation, buyer agency, dual agency, co-brokering and reciprocity were most problematic for another 12 percent of brokers.
The Home Valuation Code of Conduct — rules for appraisals adopted in May by Fannie Mae and Freddie Mac — were cited as the biggest problem by 10 percent of brokers (broker's complaints about the code are addressed in Part 1, which looks at government regulations).
One in 10 brokers also said their biggest concerns relate to low barriers to entry to the profession, a lack of supervision of agents and lax enforcement of Realtor code of ethics, and the proliferation of Realtor certifications.
Rounding out the list of problematic industry rules and polices were lenders' treatment of short sales (cited by 9 percent of brokers), tight underwriting standards and restrictive regulation of lenders (5 percent), and the proliferation of lengthy, redundant and non-standardized contracts (5 percent).
MLSs and Realtor associations
Because many Realtor organizations operate their own MLSs, and because MLSs frequently base their rules on policies adopted by local, state and national Realtor associations, many problems cited by brokers with both can be categorized under the same umbrella. …CONTINUED
Brokers' issues with MLSs and Realtor associations can be divided into two general categories: gripes about how their own MLS or Realtor association is run, and complaints about the number of Realtor associations and MLSs and the need for consolidation.
"We are stuck in the 1950s, with too many small local real estate boards and too many MLSs," said an Ohio broker with about 250 agents. "We should have one state (Realtor) board and one state MLS … (to) cut down costs and have one central source of information and data for agent, buyers and sellers."
Many respondents who complained about their own MLS or Realtor association saw restrictions on the sharing of listings data as archaic — based on "arcane rules developed before the Internet age" with an "outmoded (intent) of protecting data," for example.
Some said MLS or association rules are not enforced or are stacked in favor of large, traditional brokerages.
Internet Data Exchange (IDX) Web sites allow real estate brokers to display not only properties they represent, but the for-sale listings of other members of their MLS who enter into broker reciprocity agreements.
"Some of the rules regarding broker reciprocity and what you can and can't do are frustrating," said one Minnesota broker with 10 agents. "(The National Association of Realtors) is trying too hard to own the MLS. There should be one standard, national MLS that every dues paying member can access. It would transform the industry."
Some brokers surveyed by Inman News said large brokerages had too much say in running their MLS or Realtor association, and that the views of smaller brokers aren't well represented.
"Our local (MLS) is controlled by the owners of four brokerages who cumulatively (represent a large majority of the market)," said a Pennsylvania broker at a company with about 50 agents. That MLS, West Penn Multi-List Inc., the broker said, "Is oriented toward benefiting those … brokerages, not the agents."
West Penn MLS's policy forbidding agents from displaying IDX listings on their own Web sites — they are only allowed to link to listings displayed on their principal broker's site — "is disturbing because it dramatically reduces each agent's ability to compete," the broker said.
The same Pittsburgh broker said rules and policies that allow IDX sites are the most beneficial provided by the industry, because they "give our firm the ability to 'look like a big guy' online so that we can compete with much larger firms on a fairly even playing-field."
A broker in Washington state at a three-agent company stated that the local MLS doesn't publish listing expiration dates, which he suggested could give "the big brokerages an advantage in hanging on to a listing."
It's a "bad rule for a seller and agents from small brokerages," the broker said. "The antitrust attorneys should be jumping on this instead of commission issues. For 30 years I've always negotiated commissions."
In Indiana, a broker at a 13-agent company lamented that banks are hiring "bottom-feeding listing brokers" to market their bank-owned (REO) properties, and that "local boards allow their standards of practice to be compromised" by such brokers.
"All lending institutions (with) REO and short-sale properties should conform their policies and procedures to the locale of the property," the Indiana broker said. "There is mass industry chaos. Ten REO and short-sale properties will have 10 different ways to process a transaction. The public trust is violated."
A Minnesota broker managing four agents said he isn't counting on help from Realtor associations at any level.
"Personally, as a small broker, I really don't feel that the local, state, or National Association of Realtors really cares about us," the broker said. "Everything seems geared toward protecting the largest members."
Not all brokers think MLSs and Realtor associations are too restrictive in their approach to controlling listings data.
Only a few brokers surveyed by Inman News continue to harbor concerns about listings aggregators charging brokers for leads and advertising for broker-created data. But many still see listings as a valuable asset created, maintained and owned by brokers through their membership in Realtor associations and MLSs.
A Massachusetts broker at a seven-agent company said MLSs should only be allowed to provide IDX feeds to licensed brokerages, and that "entry-only" listings should be banned "to require (for-sale-by-owner) sellers to utilize a Realtor if they want to market their property through the MLS."
"MLS services should be for Realtors, contract negotiations should be part of the Realtor's job," said a Georgia-based broker. "If a homeowner does not want help, (the owner) should stick a sign in the yard and go about it on their own or put it on the for-sale-by-owner Web site."
An Arizona broker with about 50 agents complained that the local MLS is "making us go 'AWC' — active with conditions — when we get an offer. Other agents then assume the 'deal is done' and will not show (the property)," the broker said.
A broker at a company in New York with 14 agents had a similar complaint: the listing status of a home is changed to "under contract … and the seller is underserved" even if the home sale is contingent on the buyer's sale of a home prior to the purchase.
An Iowa broker at a three-agent office said the company could get more use out of its contract employees and non-licensed support staff it the local MLS eased restrictions on their use of the system.
About a third of the 35 brokers who listed MLS or Realtor association issues as their top concern said there are just too many of the organizations. Those brokers complained about the disparity in MLS rules and standards and the need to pay dues to more than one MLS or Realtor association to conduct business in multiple markets.
One broker doing business in five U.S. markets complained of "Balkanized MLSs with varying rules, especially with regard to IDX, and incompatible data and technology."
The need to work with multiple MLSs is not only a drain on revenue and time, but "makes it very hard to create economies of scale in areas like technology," the broker said — a complaint that's often echoed by real estate tech vendors.
A California broker with 10 agents complained about the number of MLSs and variation in rules, charging that the system is rigged to "coddle the inexperienced agents to milk them for their dues money." …CONTINUED
Agency representation
If MLS and Realtor association rules and policies are real estate brokers' biggest headache, there was also grumbling about practices surrounding agency representation, co-brokerage, dual agency, and commission splits.
Consumers aren't being provided with or may not understand disclosures that explain agency representation, some brokers said.
"Agency is not being presented properly by Realtors," worried a broker at an Illinois brokerage with 48 agents. "Sellers are led to believe that the firms are representing them and that agents are working for them."
Illinois is a "designated agency" state that allow two different agents at the same brokerage to represent the buyer and seller in a home-sale transaction. Illinois law permits each designated agent to disclose to the sponsoring broker "confidential information of a client for the purpose of seeking advice or assistance for the benefit of the client."
Massachusetts is also a designated agency state, "but many local brokerages continue to allow the listing agent to do deal direct," said a survey respondent. "Buyers are being told that the listing agent is representing them as a buyer's agent."
"Dual agency should be eliminated," said a broker at a 90-agent firm in Orange County, Calif., referring to the practice of a single agent or two agents from the same brokerage office representing the buyer and seller in a home sale. "It is impossible to represent both parties fairly, and it encourages listing agents to hold onto listings until they or their team get the buyer. This is very unfair to buyer's agents who are also working very hard showing properties, trying to get their offers presented, and yet the listing agent already has a buyer in their pocket."
Illinois still allows a single agent to represent both buyer and seller — traditional "dual agency" representation — as long as both parties sign a consent form.
A better solution, the Illinois broker said, would be to drop agency representation altogether and simply allow real estate agents to be "marketing specialists." But others say the agency representation system can make it hard for brokerages to move to a "fee for service" model in which they provide marketing and other menu-based services.
"As pressures continue on lower commissions, I think we may see a move to a more 'services' model industry where fees are paid to perform a specific task such as a (comparative market analysis) or listing and marketing plan," a broker at a 10-agent company in rural North Carolina said.
"Currently there are many rules that prohibit or discourage fees for service. As the market changes we need to continually update these rules and policies."
"MLS offers of compensation (by listing brokers) make it more difficult for buyers agents to independently negotiate fees," said a New Jersey broker at a four-agent company.
The proposed solution: "Eliminate the MLS offer of compensation and make buyer-agent fees universally independent of the fee negotiated between the seller and their agent," the broker said.
But some full-service brokers complain that discounters and flat-fee services providers aren't providing adequate services to their clients, and that commission rebates are misleading to consumers.
Requiring cooperation "with brokers who do not bring sellers or buyers to the table," is the most problematic industry rule or policy for an Indiana broker with 180 agents. "We should all be transaction facilitators, instead of (designated) agents, because that is a more accurate description."
Some states allow "transactional brokerage" in which brokerages ostensibly represent the transaction itself rather than the buyer or seller.
"Resorting to a facilitator or transaction broker (model) is a questionable practice," said a Tennessee broker. "If you state you are going to represent that party, then want to change to be able to get two sides of a commission, (that) should not be allowed."
What's working
Brokers see the role that Realtor associations and MLSs play in setting standards and facilitating cooperation and resolving disputes between brokerages and their agents as crucial to their success.
Asked, "What is the MOST BENEFICIAL industry rule or policy that impacts your business, and why?" 40 percent of the 116 brokers responding to the question cited professional standards and licensing, Realtor association and MLS rules, or the Realtor Code of Ethics.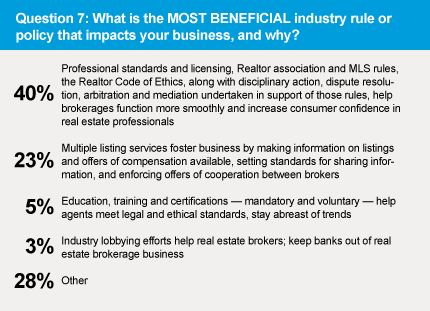 The Realtor Code of Ethics and Standards of Practice "keeps the honest agents honest and gives the public a resource for complaints with the not so honest agents," said a Michigan broker. …CONTINUED
NAR's Code of Ethics "is the foundation of good practice which speaks when laws, regulations or other rules don't apply well" to the situation at hand, said a Lincoln, Neb.-based broker.
Requiring disputes be submitted for binding arbitration eliminates costly lawsuits over nuisance issues, a New York broker with 75 agents said.
Another 23 percent of brokers said the role MLSs play in making information on listings and offers of compensation available, setting standards for sharing information, and enforcing offers of cooperation between brokers was the industry rule or policy that benefits them most.
The MLS provides "an easy place to record and keep co-op information," said a Phoenix, Ariz., broker. "Without it, it would be a nightmare negotiating co-ops on every individual transaction." Other brokers cited MLSs' role in ensuring data accuracy as important for agents and the public.
What could be better
While brokers give Realtor associations high marks for setting professional standards and holding members to them, one in four brokers surveyed by Inman News said they would also like to see tougher licensing requirements and enforcement of ethics violations, along with better education and training for agents.
NAR should encourage states to raise continuing-education requirements for agents, said a Charlotte, N.C.-based broker.
"In North Carolina, only eight hours of continuing education is needed each year — ridiculous for a true professional," the broker said. "Also, (NAR should) encourage states to better educate agents on the rules of negotiation. (It) seems unfair to (the) consumer to have representation (who) is not schooled in basic negotiation."
A broker in San Carlos, Calif., stated, "Most agents in the field have a complete lack of understanding of contract law and what it means to enter a contract." The public "should demand that agents are well trained to protect their contractual rights and obligations."
One in 10 stated that the best thing the industry could do would be to address issues of agency representation, suggesting fixes such as eliminating dual agency, or establishing minimum levels of service.
Nearly the same percentage (9 percent) said the industry's top priority should be to encourages MLSs and Realtor associations to consolidate into larger regional, state or national organizations — or at least collaborate more on data exchange.
"Our company participates in at least nine MLSs," said a Michigan broker who would like to see more MLS consolidation. "This not only increases membership expenses, but creates nightmares with IDX feeds, compliance, integration of data and tracking market statistics across our company."
"(I'm not advocating for a) nationwide MLS necessarily, but a pragmatic system to share information across MLS jurisdictional lines," said another broker in Albany, N.Y.
In upstate New York, the broker said, there are "too many minuscule boards of Realtors who do not actually serve the public, but instead create obstacles to brokers whose market areas overlap for the purpose of preventing the 'outside' brokers from showing and selling their listings.
"License law states that we are able to sell throughout the state, but local boards effectively prevent that from happening," the broker said.
Another 8 percent of brokers cited a desire for less regulation, consolidation of that regulation at the state level, relaxed licensing requirements, and allowing interstate licensing.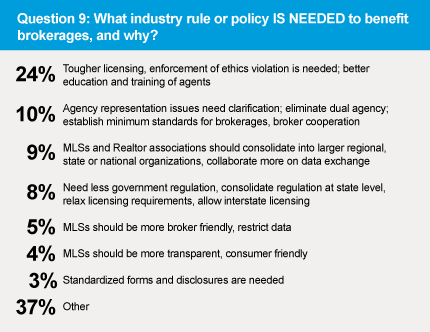 ***
What's your opinion? Leave your comments below or send a letter to the editor.