Real estate technology company Roost Inc. has launched a new application to help agents and brokers build their presence on Facebook, the company announced Thursday.
The free application, called Social Real Estate, adds a "Real Estate" tab that displays local market data on business pages on Facebook. The company has partnered with Education.com, Altos Research and Walk Score to offer school, market trend and walkability data, respectively. The consumer will also be able to see some active listings provided by Roost.
"We kind of had three goals for the application: 1. to help Realtors use Facebook in a productive way; 2. (to position) you on Facebook as an expert in your local market; and 3. to offer an incredibly easy-to-use application that takes no time to set up," said Alex Chang, the company's CEO.
The company developed the application in-house over the course of two months, Chang said.
The app is in beta form and will be released in full form sometime in the coming months; the full version will include multiple listing service real estate search and lead generation and drip marketing tools, the company said.
For now, if a consumer wants to search for-sale listings, they can click a button to see all listings and be directed to either an IDX (Internet Data Exchange) search site that the agent has hired Roost to power and host, or that agent's Web site.
The application is free and anyone with a business page on Facebook can use it, the company said. The application is available in the roughly 70 metro areas in which Roost operates, with the exception of Manhattan. The company plans to add more coverage areas in the next few months.
To see an example of the application in action, click here. So far more than 100 users have added the application from Roost's Social Real Estate Platform Facebook page, the company reported.
Chang co-founded the San Francisco-based company in 2007. It won the Inman News Innovator Award for new technology in 2008.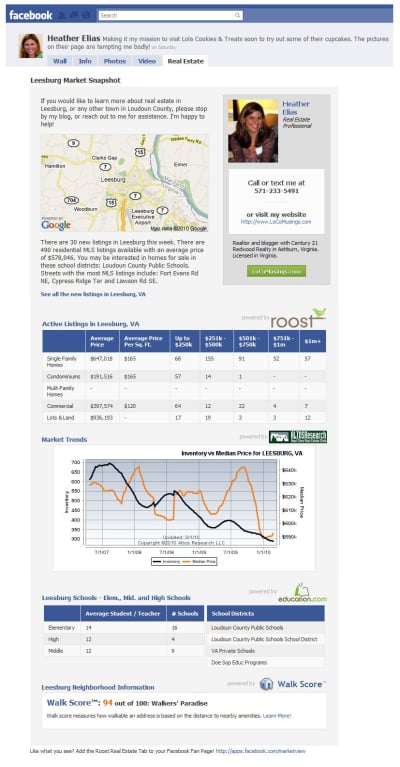 ***
What's your opinion? Leave your comments below or send a letter to the editor.