Editor's note: This is the second in a four-part series examining what the real estate brokerage industry might look like in the year 2020, based on a survey of Inman News readers. Part I examines potential real estate compensation practices in the next decade. This story, Part II, looks at how the number of industry participants may change in coming years, and trends that will drive the industry in the future. Part III examines how agents envision spending their time in 2020 and the relevancy of brokers, multiple listing services and associations. Part IV peeks into the up-and-coming technology agents and brokers predict will dominate the industry in 2020.
The vast majority of industry professionals surveyed by Inman News believe there will be fewer Realtors in 2020 than there are today.
The online survey, conducted from Feb. 5 to March 5, asked readers to envision the business of real estate brokerage in the year 2020.
Seven questions on the survey focused on the number of industry participants and trends that will drive the industry in the future; each question received between 475 and 505 responses.
There were 1,112,645 Realtors nationwide at the end of 2009, according to the National Association of Realtors. In 2005, the association estimated that there were 2.5 million real estate licensees in the country, 1.2 million of whom were Realtors.
Only 20.9 percent of 478 survey respondents said the number of Realtors in 2020 would be 1.2 million or greater, and 30.1 percent said there would be fewer than 800,000 Realtors by then.
Some said the economic crisis would weed out the weakest in the profession.
"Too many people were in (the) business because (it) was easy," said Julie Chapman, broker with Chapman Realty in Brunswick, Ga. "Now that you have to work to earn your money and there are so many (membership) fees to be paid, more and more members drop. Ours dropped 10 percent off in January and 5 percent more in February."
Richard Abel, qualifying broker at Vaughn Company Realtors in Albuquerque, N.M., said the "economic mess" has "a bit of a silver lining, in that it is economically filtering out licensees who would not be successful at realty sales."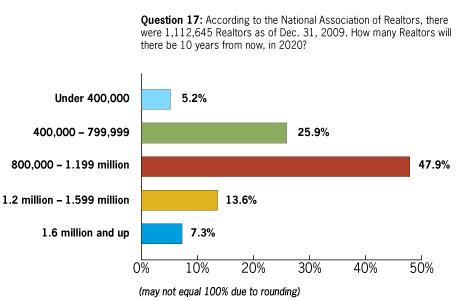 Many respondents asserted a need for higher standards in the industry, and hoped the industry's future would include fewer, but better qualified agents. …CONTINUED
"I feel agents need additional and a higher quality of training," said Joe Mayo, broker-owner of RE/MAX of Long Beach Island. "There needs to be full time management who makes the agents accountable for their productivity, professionalism, and client and customer follow up. Many states require more training to cut someone's hair then to sell the person's home. I am embarrassed by the public perception of (the) real estate industry."
Liability in a housing market brimming with transactions involving tight credit, foreclosures, and short sales is especially tricky, some said — yet another justification for higher standards.
"This market requires a knowledgeable agent just to navigate the lending world, let alone the short sale and REO properties," said Peg Popken, a Realtor at American Dream Realty in Scotts Valley, Calif. "The consequences of using the wrong contact or forgetting the tax consequences of a short sale are just a few of the reasons" agents need experience and training.
According to NAR's 2009 Member Profile, 82 percent of Realtors are independent contractors, 6 percent are employees, and 12 percent are "other." As part of a push for higher standards, however, some say real estate agents will – or should — lose independent contractor status and become employees.
"The independent contractor status will, I think, be eliminated by more and more brokerages as they work to improve the profitability of their brokerages," said Tyler Webb, associate broker at Champion Realty Inc. in the Washington, D.C. metro area. "There is a need for mandatory performance standards and training in this industry."
Companies that classify workers as independent contractors don't pay unemployment insurance taxes or Social Security on their behalf.
The Internal Revenue Service takes into account whether or not the company can control how the worker does his or her job in order to determine if that worker is an independent contractor.
Brokerages "are afraid to tell agents what to do" for fear that the Internal Revenue Service will challenge their classification of workers as independent contractors, Webb said.
Brokerages also generally don't provide benefits, at least partially because to do so would put the status at risk.
Federal and state officials have stepped up scrutiny of employment tax issues, independent contractor classification among them, according to the New York Times.
"I feel that the increasing scrutiny, by IRS, of the independent contractor relationship will create pressure on agents and brokers to justify that status," said Ron Anderson, branch vice president at Coldwell Banker Burnet in Edina, Minn.
"Liability issues and cost of defense have many brokers and managers realizing that more control of field activities will be necessary in the future, which may confound the independent contractor relationship as well," Anderson added.
Some 70.9 percent of respondents predicted there will also be fewer real estate associations by 2020. Many respondents said interest in association membership would sink if information available on multiple listings services (MLSs) — which are often tied to associations — were no longer exclusive.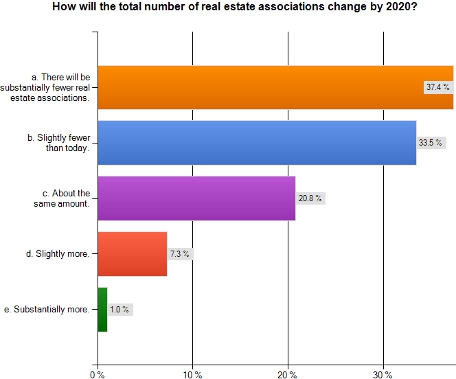 Note: Data in charts may not add up to 100 percent due to rounding.
"It's my belief that the majority of Realtors choose to be Realtors for the use of the MLS only. Once a good alternative is offered, it's my belief the NAR will lose the majority of the membership," said John Mitchell, owner of ABQ Realty in Albuquerque, N.M.
"Agents will choose to keep their real estate licenses and will choose not to pay the membership fees associated with NAR, state associations, and local associations. In my case, it totals to over a thousand dollars a year," Mitchell added. …CONTINUED
The vast majority of those surveyed — 80.6 percent — also expect the number of MLSs to decline by 2020. Most said they expect the decline to be substantial.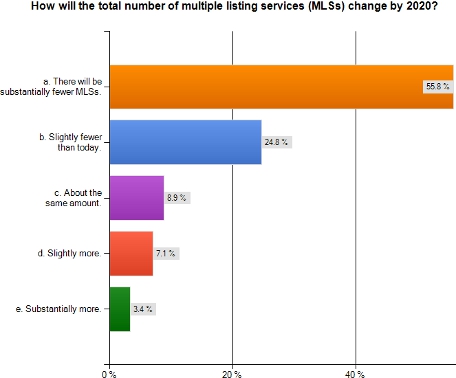 "In the case of MLSs, I think we are going to see the rise of more regional MLSs," said Lane Bailey, a Realtor at Century 21 Network Realty in Atlanta. "In fact, we might see just one or two MLSs in a given state."
With the proliferation of Web sites where it is easy and free to post a property listing, the relevance of MLSs is eroding, some respondents said.
"I do think there's a movement afoot to consolidate MLSs, again due to improved information technology and the fact that agents aren't limiting themselves to narrow geographic regions — nor are consumers. Therefore, consolidation of services and sharing of data will be demanded by the subscribers who don't want to belong to half a dozen MLSs," said Chris Hardy, managing broker at Coldwell Banker Residential Brokerage in Fort Collins, Colo.
At least two respondents predicted that technological advances meant real estate agents would share the ill fate of travel agents.
"Because of modern technology, consumers now have access to proprietary information formerly available only through real estate agents," said Charles Berge, broker at AuctionRefer.com in Wayzata, Minn. "The information portal has been breached. Look what happened to travel agents. Most of them have disappeared."
According to 78.4 percent of respondents, there will also be fewer brokerage offices by 2020 — most said substantially fewer.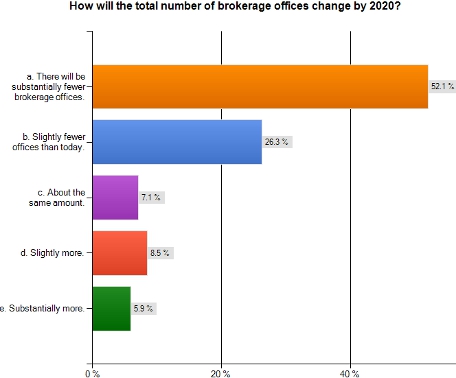 There will also be at least slightly fewer agents per office than today in 2020, according to 63.2 percent of respondents. Of that share, most said there would be substantially fewer. A quarter said there would be more.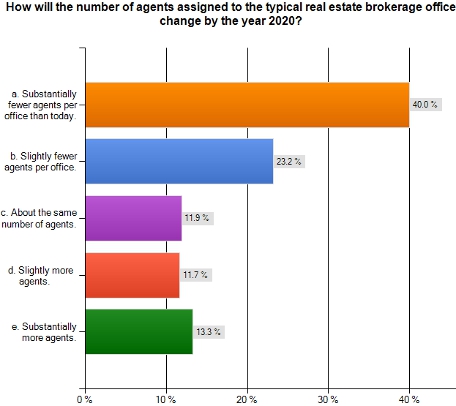 "While 'floor time' used to be important, I think that going forward there will be a lot more emphasis on networking, in person and online," Bailey said. "I think we are also going to see more virtual offices. Combining those two trends, it just doesn't seem like agents will be hanging around the water cooler at the office."
Other respondents echoed these sentiments.
"The need for actual bricks and mortar has definitely decreased. Many agents from brokerages all across the country are now mobile agents — that is, they do not have an assigned, physical office space. The tools needed to remain in contact with clients and provide up-to-date information no longer requires a desk, a computer, and a land line. It can be done from a $300 smart phone!" Hardy said.
"I have an office but I am never there," said Anne Wilson, Realtor at Paradigm AdvantEdge in Edmond, Okla.
"I am either out in the field, with people or working from home," Wilson said. "Everywhere I go, my office goes with me in the form of my iPhone. It will only increase in convenience as the world adjusts and operates the same way." …CONTINUED
According to NAR's 2009 Member Profile, 51 percent of all Realtors affiliated themselves with an independent, non-franchised firm, 33 percent affiliated with an independent, franchised firm, and 10 percent with a franchise subsidiary of a national or regional corporation.
The median number of agents and brokers in a typical firm was 23; that number fell from 25 in the last survey.
More than half of Realtors — 53 percent — worked at a company with one office, up from 47 percent in 2008's profile; 24 percent worked at a company with two to four offices, the same as in 2008. For companies with more than four offices, their share of Realtors fell between 2008 and 2009.
According to 23 percent of survey respondents, large real estate franchise networks will see the greatest gain in market share by 2020. The second biggest share, 21 percent, thought small, independent regional brokerage companies with several offices would see the biggest gain.
"The larger brokerages will morph into training institutions that cater to brand new agents who need the big brand to cover for the lack of experience. There will always be a need for new agent training and the big brokerages will fill that need," said Vicki Lloyd, a Realtor at The Real Estate Professionals in South Orange County, Calif.
Large brokerage companies with company-owned offices nearly tied with small, independent single-office brokerages for the third spot, with 15.8 percent of respondents choosing the former, and 15.4 percent choosing the latter.
"In effect, agents aren't going to want to pay higher broker splits AND franchise fees to their brokerage. And with the rise of virtual offices, blogging and the democratizing power of the Internet, smaller brokerages are often able to keep up or even overtake the big franchises in technology and even visibility," Bailey said.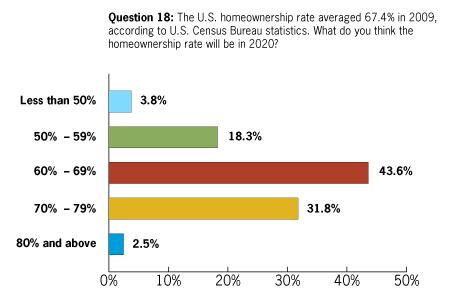 Over half of respondents expected the U.S. homeownership rate (the proportion of households that are owner-occupied, according to the U.S. Census Bureau) to fall from its 67.4 percent rate in 2009.
A little more than a fifth, 22.1 percent, expected the rate to fall below 60 percent, while 34.3 percent predicted the rate would go up to 70 percent or higher. The rest, 43.6 percent, expected a rate of 60 to 69 percent in 2020.
These calculations are based on 475 responses. Another 11 responses were not included for lack of specificity. Of those, three said the rate would rise, while the rest said it would go down.
"I just lived through an era of the greatest economic expansion in history and the second most catastrophic financial crisis in history. We are also looking at a huge population shift along with a culture change in values," Wilson said.
"During the economic expansion, I heard phrases from the federal government that homeownership was for everyone. Now, the page has turned. It is clearly not for everyone."  
***
What's your opinion? Leave your comments below or send a letter to the editor.