CLARIFICATION: This report has been amended to clarify that Theresa Parker, the former California Housing Finance Agency executive director, retired from that post upon the expiration of her term in December 2008. 
Russ Bergeron to move from SoCalMLS to MRED


Chicagoland multiple listing service Midwest Real Estate Data LLC (MRED), which has nearly 40,000 subscribers, will get a new CEO at the end of May: Russ Bergeron, who has served as CEO of the Southern California Multiple Listing Service since 1993.
Inman News listed Bergeron at one of the real estate industry's 100 most influential leaders of 2009.
New California Housing Finance Agency executive director
Gov. Arnold Schwarzenegger appointed Larry Steven Spears, 57, to the post of executive director of the California Housing Finance Agency this month, pending confirmation of the California state Senate. Spears has been the agency's acting executive director since December 2008, when the former executive director, Theresa Parker, announced her retirement from that post amid controversy surrounding a 27 percent pay raise, the Los Angeles Times had reported. She retired upon completion of a five-year term in December 2008.
The state's budget crisis drove the agency to discontinue its mortgage loan assistance programs for more than a month.

NP Dodge promotes Robert Wiebusch
NP Dodge Real Estate, an Omaha, Neb.-based brokerage with about 500 sales associates, promoted Robert Wiebusch to vice president of operations after three years as the company's operations director.
A former Marine, Wiebusch will be responsible for the execution and strategy of day-to-day operations in the company's 15 offices in Nebraska and Iowa.
Latter & Blum announces new president
After firing its president in March, NewOrleans-based brokerage Latter & Blum Inc. Realtors announced the hire of Richard Haase as president. Haase had served as general manager of Prudential Gardner Realtors for eight years. Latter & Blum has about 20 offices and 1,000 agents and staff.
Point2 names Gregg Larson to its board
Real estate marketing and software company Point2 Technologies named 27-year industry veteran Gregg Larson to its board of directors. Larson is the president, CEO and co-founder of real estate information technology consulting firm Clareity Consulting.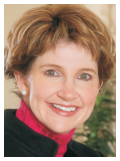 Worldwide ERC hires CEO
Relocation association Worldwide ERC will have a new CEO, Peggy Smith, as of May 15. Smith has been the association's president and chairman in the past and comes to Worldwide ERC from Microsoft, where she was director of global mobility. Worldwide ERC counts professionals from various industries among its membership, including real estate, financial services, and moving services.
Got an executive hire you'd like to let our readers know about? Send details and a photo to: press@inman.com.
***
What's your opinion? Leave your comments below or send a letter to the editor.