Retail lenders Quicken Loans Inc. and BB&T Corp. elbowed their way onto a list of Top 10 residential lenders maintained by MortgageDaily.com for the first quarter, bumping MetLife Inc. and Flagstar Bank.
MetLife saw loan production plummet 41 percent from quarter to quarter — the biggest drop among lenders analyzed, while Flagstar Bank saw a 37 percent drop in originations.
Rankings among the top eight lenders were unchanged, with Wells Fargo & Co. continuing to lead all lenders with $76 billion in originations, followed by Bank of America, Chase, GMAC, Citigroup, U.S. Bank, PHH Mortgage and SunTrust, MortgageDaily.com said.
Residential loan production for the industry as a whole was down 19 percent from the fourth quarter and 28 percent from a year ago. It was the third consecutive quarterly decline as the boom in refinancings winds down.
Encouraging signs for residential lending during the first quarter included the first non-agency securitization in two years, a rebound in mortgage insurance volume from record lows in February, and the reemergence of wholesale lending programs, MortgageDaily.com Publisher Sam Garcia said in a press release.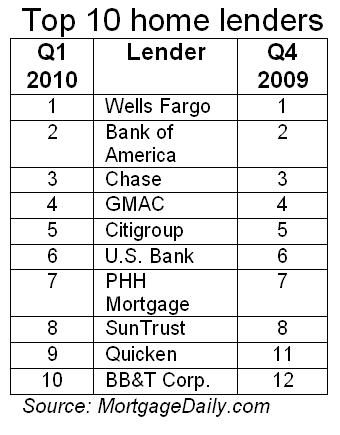 ***
What's your opinion? Leave your comments below or send a letter to the editor.