Of the top 10 metropolitan areas in the country with the highest unemployment rates, nine are in California. The other is in Yuma, Ariz., a town that borders the Golden State.
In these areas, most major sources of jobs have taken a hit in the economic downturn. Construction jobs, plentiful during the boom years, have dried up as fewer new homes are built. At the same time, those would-be construction workers are competing with farm workers for agricultural jobs that have also been cut back due to a severe water shortage in the state.
The state government's budget troubles have led to layoffs for tens of thousands of workers. Some industrial plants, facing lagging sales, have closed up shop or cut hundreds of jobs.
The non-seasonally adjusted unemployment rate in California was 13 percent in March, compared with 11 percent in March 2009. Only Michigan and Nevada had higher rates of unemployment. California consistently has one of the nation's highest foreclosure rates and leads the nation in the volume of foreclosed properties.
In such an environment, many real estate professionals have had to embrace working with distressed properties, which can make up a significant, sometimes overwhelming, chunk of the properties they buy and sell for clients.
"High unemployment is one of the factors that has contributed to the large numbers of foreclosures and short sales that we have seen. There are a lot of agents who now specialize in either REO (bank-owned) or short-sale listings. Right now, those are the agents that are probably doing the best financially," said Lloyd Leighton, owner of a real estate brokerage in Yuba City, Calif., a city with the nation's third-highest unemployment rate.
"One has to be very dedicated in order to survive in today's real estate market. You have to go where the business is, and that's in distressed sales," said Kenny Wood, a Realtor in Bakersfield, Calif. "Most people are looking for extremely good investments in real estate, and the majority of sellers are looking to avoid foreclosure."
In response to market conditions, the California Association of Realtors has created a Market Response Center with information about distressed properties, the jobs market and the housing market. Local associations are offering their members classes to help them deal with foreclosures and short sales.
The classes will help real estate professionals "better cope with the reality of the business that is going to be with us for awhile," said George Mees, president of the Fresno County Association of Realtors. The association covers the most populated metro area in the top 10 — Fresno, Calif. — and has 2,700 members.
At one point in the housing crisis, distressed properties made up 70 to 80 percent of the association's listings, Mees said, but despite high unemployment, distressed properties now make up about 40 percent of listings. A little over half of those are short sales; the rest are REOs.
Echoing the experiences of other real estate professionals in the state, Mees said both the state and federal tax credits are helping spur sales, especially by first-time homebuyers. Prices in Fresno County hit bottom in early 2009 at about $128,000, he said, when the market was dominated by foreclosures. Now, the median price is about $150,000, he said, and inventory went down to 2.4 months in April.
"There was a time in 2007 when we had a 20-month supply in inventory," he said. "We could actually use a little more inventory."
Despite the unemployment rate, many real estate agents said their business was doing fine — for some, better than fine.
"Properties are selling. A good percentage of our buyers are first-time homebuyers, move-up buyers and investors. The sellers are homeowners who have equity in their home, distressed homeowners attempting to complete a short sale, investors, and lending institutions who have foreclosed on the properties," said Thelma Baker, executive officer for the Imperial County Association of Realtors in Southern California. El Centro is the county seat and has the nation's highest unemployment rate at 27 percent.
"Year to date, we're kicking booty. We are far and away ahead of where we've ever been," said Jason Castle at Melson Realty in Porterville, Calif. He operates in many of the state's high unemployment areas, including Delano, Bakersfield and Visalia.
"Right now we're probably looking to double the production of our best year ever (in 2009). The way I look at it, 2010 is a year of opportunity. It's creating a significant amount of pain and grief for some families, while also opening (the) door for other families to get into a home at a realistic payment and realistic price," he said.
During the boom, houses in the area sold for about $350,000; now, Castle said, "I could buy a similar home and pay what I should have paid for it before: $150,000."
About 80 percent of his business is in distressed properties, he said. While at the beginning of the crisis handling a short sale was a painful, time-consuming process, he said lenders have a much more streamlined process now. Bank of America, for example, now handles short sales through an online platform called Equator.
"(For my most recent) two transactions, we'll probably end up closing in about 75 days. In the past, it has taken four to six months. We're actually really excited about it," Castle said.
Still, many real estate professionals in these high-unemployment areas did not expect prices to jump very much in the short term, mainly because they expect foreclosures to continue.
"We're seeing the notice of defaults increasing dramatically, so (a new wave of foreclosures) could hit sometime this summer or later this year," Castle said.
"Pricing-wise we're not going to come out of this in two years. We're just not. There's no financing in place for that," he said.
There are signs that some California markets — mainly in coastal areas, however — have hit bottom in terms of price. There are also some recent developments that may help spur job creation.
"Our local officials are working on creating more jobs in the area. Solar energy and geothermal jobs are new job sources coming to the county. The county has two areas designated as 'enterprise zones' that offer tax advantages to attract new businesses," Imperial County Association of Realtors' Baker said.
And just this week, Toyota announced it would reopen its NUMMI plant in Fremont, Calif., after closing it down in March. The plant had been the last auto facility in the state and had resulted in layoffs for 4,700 workers, many of whom lived in the Central Valley. An estimated 25,000 workers were also said to be affected by the closure. The plant's re-opening could mean 1,000 new jobs in the area.
Top 10 metro areas with the highest unemployment rates — not seasonally adjusted:
1. El Centro, Calif.: 27 percent (Total population: 166,874)
2. Merced, Calif.: 22.1 percent (Total population: 245,321)
3. Yuba City, Calif.: 21.7 percent (Total population: 165,539)
4. Yuma, Ariz.: 19.9 percent (Total population: 196,972)
5. Visalia-Porterville, Calif.: 19.4 percent (Total population: 429,668 )
6. Modesto, Calif.: 19.2 percent (Total population: 510,385)
7. Fresno, Calif.: 18.7 percent (Total population: 915,267)
8. Hanford-Corcoran, Calif.: 18.6 percent (Total population: 148,764)
9. Stockton, Calif.: 18.4 percent (Total population: 674,860)
10. Bakersfield-Delano, Calif.: 18.3 percent (Total population: 807,407)
Unemployment data source: Bureau of Labor Statistics
Population data source: U.S. Census Bureau 2009 Estimates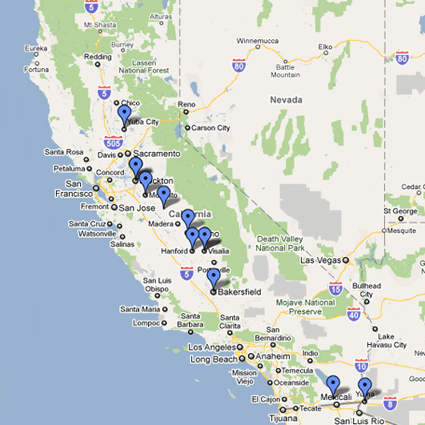 Click here for a full-size map.
***
What's your opinion? Leave your comments below or send a letter to the editor.