Reports by financial institutions of incidents of suspected mortgage fraud climbed 13 percent during the six months ending March 31 compared to the same period a year ago, the FBI said in releasing its annual report on mortgage fraud.
Some of the rise in suspicious activity reports (SARs) filed with the U.S. Treasury Department's Financial Crimes Enforcement Network (FinCEN) is connected to loans that were originated years ago.
The discovery of mortgage fraud through mortgage industry loan review processes, quality control measures, regulatory and industry referrals, and consumer complaints can lag by two years or more, the FBI said.
The FBI and FinCEN also warned of ongoing mortgage fraud connected to foreclosure rescue scams, short sales, homebuyer tax credits, and "builder bailout" schemes in which builders unload excess inventory by inflating property values and refunding bogus downpayments to buyers.
In releasing its first analysis of foreclosure-rescue schemes today, FinCEN said those types of scams are evolving from operations that attempt to convince troubled borrowers to sign quitclaim deeds, to scams that collect advance fees from homeowners who are promised help in obtaining loan modifications.
The FBI said perpetrators of foreclosure-rescue schemes are exploiting the U.S. bankruptcy system by filing fraudulent bankruptcy petitions to delay the foreclosure process and extract the maximum profit from victims during the commission of advance fee, fractional transfer, and sale-leaseback-repurchase foreclosure-rescue schemes.
According to FinCEN, the top 10 metro areas for mortgage fraud, based on the concentration of suspicious activity reports between Jan. 1, 2008 and June 10, 2010, were:
1. Miami-Fort Lauderdale-Pompano Beach, Fla. (5,029)
2. Los Angeles-Long Beach-Santa Ana, Calif. (4,839)
3. New York-Northern New Jersey-Long Island, N.Y.-N.J.-Pa. (3,447)
4. Chicago-Naperville-Joliet, Ill.-Ind.-Wis. (2,973)
5. Washington, D.C.-Arlington-Alexandria, Va.-Md.-W.Va. (1,848)
6. Riverside-San Bernardino-Ontario, Calif. (1,791)
7. Phoenix-Mesa-Scottsdale, Ariz. (1,674)
8. Atlanta-Sandy Springs-Marietta, Ga. (1,667)
9. San Francisco-Oakland-Fremont, Calif. (1,364)
10. Orlando-Kissimmee, Fla. (1,326)
The FBI ranked California, Florida, Illinois, Michigan, Arizona, Georgia, New York, Ohio, Texas, Washington, D.C., Maryland, Colorado, New Jersey, Nevada, Minnesota, Oregon, Pennsylvania, Rhode Island, Utah and Virginia as the top areas for mortgage fraud, based on information from the FBI, FinCEN, Fannie Mae, RealtyTrac Inc., and Interthinx, among other agencies.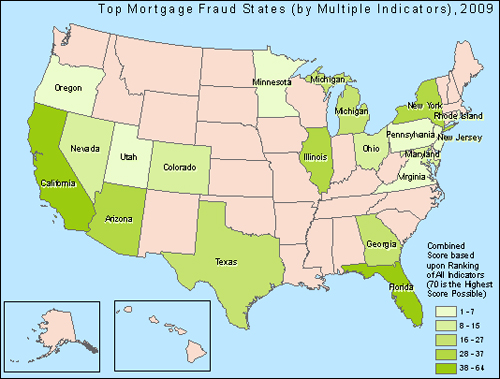 According to the FBI, there were 67,190 mortgage fraud-related SARs filed with FinCEN for the fiscal year ending Sept. 30, 2009, which represented a 5.1 percent increase from fiscal year 2008 and a 44 percent increase from fiscal year 2007.
The FBI said that as of April 2010, it had 3,029 pending mortgage fraud cases, 68 percent of which involved dollar losses totaling more than $1 million. The FBI said mortgage fraud investigations totaled 2,794 in fiscal year 2009, a 71 percent increase from the year before and a 131 percent increase from fiscal year 2007.
Emerging schemes include commercial real estate loan fraud, condominium conversions, first-time homebuyer tax credits, bankruptcy fraud, "property flopping" and short sales, property theft and fraudulent leasing of foreclosed properties, tax-related fraud, and the resurgence of debt elimination or redemption schemes.
The FBI expects the most common schemes to exploit the homebuyer tax credit program will employ the use of people under 18 or nonresident aliens to claim the tax credit.
Other schemes used to exploit the homebuyer credit program include applicants with income that exceeds program requirements, individuals who have owned a home more than five years, and individuals applying for the program before finalizing the purchase of a home, the FBI said.
In "property flopping" or short-sale property-flipping schemes, perpetrators use distressed properties of homeowners who are unemployed or facing foreclosure. They negotiate a short sale with the bank or lender, purchase the property at a reduced price, and flip it to a preselected buyer at a much higher price.
Perpetrators collude with appraisers or real estate agents to undervalue the property using an appraisal or a broker price opinion to further manipulate the price down — the flop — to increase their profit margin when they flip the property, the FBI said.
The FBI said some lenders are circumventing the Home Valuation Code of Conduct (HVCC), rules governing appraisals of homes purchased using loans backed by Fannie Mae or Freddie Mac, by using other non-commission employees to order appraisals.
The FBI said regulators and law enforcement officials continue to oppose a waiver of the FHA 90-day property flip rule in effect through Jan. 31, 2011. The waiver "contributes to an ever-increasing pool of potentially fraudulent property flipping schemes as it does not require the seller to have title to the property for a minimum of 90 days," the FBI said.
The FBI said bank-owned (REO) properties are also vulnerable to schemes in which perpetrators file false warranty deeds using false rental agreements and collect advance fees from an unauthorized tenant.
***
What's your opinion? Leave your comments below or send a letter to the editor.