Editor's note: This story has been edited to correct that 15,153 borrowers started trial modifications in June.  
The number of trial loan modifications offered by loan servicers participating in the Obama administration's Home Affordable Modification Program appears to be reaching a plateau, although the number of borrowers moving into permanent modifications continues to show steady growth.
The latest HAMP report from the Treasury Department showed 15,153 borrowers starting trial loan modifications in June, compared with 110,000 during the same month a year ago.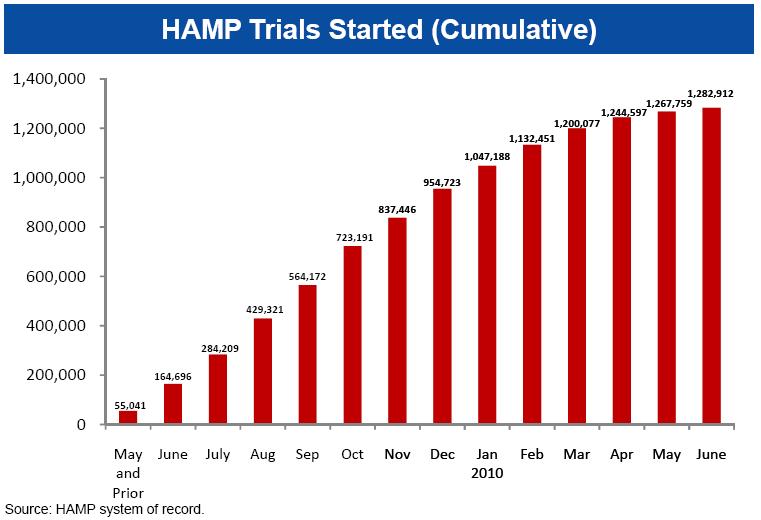 Since the HAMP program's inception, loan servicers have begun 1.28 million trial modifications. More than a third of those borrowers — 520,814 — have seen their trial modifications canceled. Another 398,021 have been moved into permanent loan modifications, and 364,077 are still in trial modifications.
The cancellation rate on permanent loan modifications has been lower, with only 8,823 dropping out of the program. Loan servicers moved 51,205 borrowers into permanent modifications in June, the report said — the sixth consecutive month in which growth in permanent modifications has averaged more than 50,000.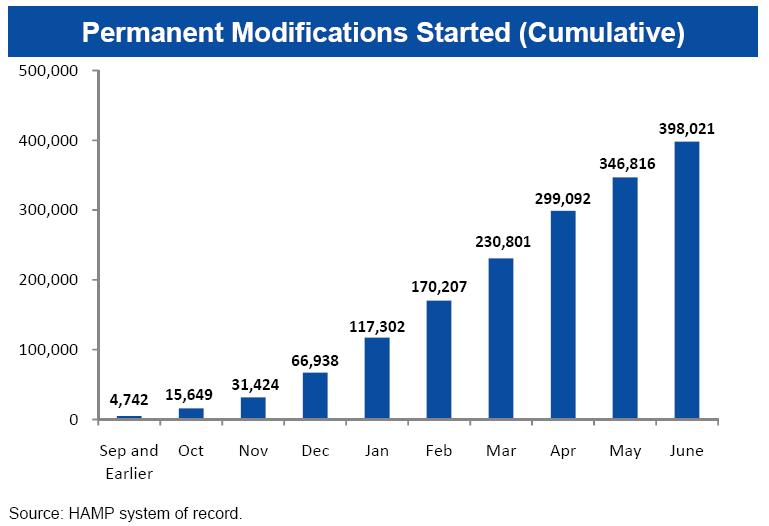 Among HAMP permanent modifications in place for at least six months, less than 6 percent are 60 days delinquent, and less than 2 percent are delinquent by 90 days or more.
The Obama administration's monthly "Housing Scorecard" for July noted that all told, loan servicers have restructured 2.95 million mortgages, including nearly 400,000 through FHA loss mitigation programs.
In other economic news, the U.S. Bureau of Labor Statistics reported that the national jobless rate inched down by two-tenths of a percentage point from May to June, to 9.5 percent — the same level as a year ago.
Looking back a year, the unemployment rate was higher in 24 states, lower in 22 states and the District of Columbia, and unchanged in four states.
Nevada reported the highest unemployment rate among the states, 14.2 percent — a high in records dating to 1976 — followed by Michigan (13.2 percent), California (12.3 percent) and Rhode Island (12 percent). North Dakota continued to register the lowest jobless rate, 3.6 percent, followed by South Dakota (4.5 percent) and Nebraska (4.8 percent).
The U.S. Census Bureau reported that housing starts fell 5 percent from May to June, to a seasonally adjusted annual rate of 549,000. In the last 12 months, housing starts have ranged from a low of 529,000 in October to a high of 679,000 in April.
Single-family housing starts in June were down 0.7 percent from May to a seasonally adjusted rate of 454,000, a new 12-month low.
A new report by Standard & Poor's and Experian showed monthly default rates on mortgages and most other consumer loans down sharply from a year ago.
Default rates on first mortgages averaged 3.27 percent in June, down 5 percent from May and 41 percent from the same time a year ago. Although default rates on second mortgages and auto loans also registered double-digit declines from a year ago, credit card defaults were up nearly 6 percent from a year ago, to 8.81 percent.