Real estate broker Steve David likes to say that he "prospects for business at 200 miles per hour."
That's not just industry hyperbole — he really does it. David, who heads two brokerages in the Fort Lauderdale, Fla., area, also happens to drive one of the fastest boats in the world.
He's managed to combine his passion for speed with business networking — though the thrill of the race is by far the motivator that has led him to 17 world speed records and 11 national championships in the sport of unlimited hydroplane racing, he said.
"Unlimiteds" are the big guns of boat racing. " 'Unlimited' means it can have as much power as you want," David said. "They're powered by turbine engines — essentially they're jets, but these engines turn a propeller. I'm fortunate to hold most of the records in the class."
David, 56, has been working his way toward being the fastest man on water, as some have called him, for most of his entire life.
"I was raised on the water in Fort Lauderdale, and I had my first boat when I was 6," he said. "It always came down to a question of which kid had the fastest boat in the neighborhood."
When he was 14, he said he began "sneaking away" — because of his mother's concerns about safety — to participate in weekend races. Eventually, he held top rankings in powerboat racing, he said.
Now he drives Oh Boy! Oberto/Miss Madison, a sleek, red-and-green 32-footer weighing 6,000 pounds that David manages to streak to a little over 200 miles an hour. The pair won a close race at the Seafair Cup in Seattle on Sunday, Aug. 8, which marked David's 60th win. He needs two more wins to tie the sport's all-time leader, Bill Muncey. 
The sport is hardly a casual undertaking — the equipment is big-ticket and the physical risks are significant.
"It's a little over $1 million to construct the boat," David said. "It's $500,000 for the hull and $140,000 per engine, and we have four." Hauling the boat around the country to races requires a truck that costs about $100,000, plus expenses. Two crew members work full-time, in addition to help at races from 10 to 12 crew volunteers, he said.
"The annual budget is $450,000, and that's if nothing goes wrong," he said.
Last year, something did. Competing in the Oryx Cup UIM World Championship in Doha, Qatar, the boat unexpectedly did a 360-degree flip, landing right-side-up and continuing to the finish. Despite the mishap, he came in second in the final, racking up enough points to earn the sport's national high-points championship.
David, however, broke a foot in the flip, and Oh Boy! Oberto/Miss Madison suffered significant damage, to the tune of $50,000 plus labor, David said.
These costs don't come out of David's wallet, however. One of the boat's sponsors is the Oberto Sausage Co. in Kent, Wash., which is primarily known for producing beef jerky.
The "Madison" in the name refers to Madison, Ind., population 12,000, which owns the boat and also underwrites the costs. The town has a boat-racing tradition that dates to the early 1900s (and before that, steamboats raced nearby on the Ohio River), and it has sponsored an annual racing event since 1948.
David and his boat finished first at this year's event in Madison, held during Fourth of July weekend.
The town's affinity for racing was the centerpiece of a 1980 movie, "Madison," which starred Jim Caviezel. Oh Boy! Oberto is the only municipally owned boat in the sport, a relationship that David likens to professional football and the city of Green Bay, Wis.
The town also provides insurance for David, who has needed it over the years, he said.
"It's inevitable that you're going to crash sometime," he said. "It's a matter of how bad you're going to get hurt.
"I've been injured several times, though nothing really serious," David said. "Several ruptured discs."
Numerous drivers have been killed in the sport over the years, David said.
"It used to be a lot more dangerous, before the safety cell," an enclosed capsule for the driver that's now mandatory on the boats, David said. He described it as a transparent canopy similar to that on a F-16 jet; the drivers are tethered by six-point harnesses and wear masks that supply compressed air so that they can breath if the boats become submerged.
Prize money isn't the object for most drivers, he said.
"A few actually eke out a living at it," though most of the sport's drivers hold an array of day jobs, David said. "Some are roofers, one is a forensic psychologist, and there are boat-builders — most drivers are somehow marine-related."
The real estate industry has been a good fit for him, David said.
"One of the reasons I stayed in real estate was it gave me the freedom to travel when I like," he said.
In addition to growing up on the water, David also grew up in real estate, he said, with both parents in the business.
He entered it himself in 1974, rising to become the top-producing Century 21 salesperson in Florida and selling more than $100 million in residential properties in a four-year period, according to his biography.
Today, he co-owns Castelli Real Estate Services in Fort Lauderdale, which claims to be the largest independent brokerage in South Florida. He's also president of Florida Professional Real Estate, an REO (bank-owned property) disposition-management company.
David said racing has opened doors to relationships between the latter brokerage and numerous bank clients who have an interest or involvement in the sport.
"You're having fun, and it turns into business," he said.
Despite his management role in the brokerages, he's still hands-on with transactions, he said.
"I'm kind of the rainmaker (for Florida Professional Real Estate)," he said. "I get the institutional contracts and team members service them. I still list and sell daily."
David also has served as the president of the Realtor Association of Greater Fort Lauderdale and has been director of both the Florida Association of Realtors and the National Association of Realtors.
He often teaches continuing-education courses in contracts law, negotiation skills and investments, he said. Sometimes, in speaking engagements, he shows video of his boat flipping in Qatar to make a point about what can happen in real estate.
His profession and his sport have some things in common, he said.
"Racing is very much like real estate: It's win or lose, and there are no excuses. You either did your best and made no mistakes and won — or you got beat," he said.
"I find, in my real estate teaching, people offer excuses why they're not achieving," David said. "There aren't any excuses."
And aside from the thrill of competition, he enjoys his racing because he has met so many people through it, he said. Frequently, special-needs children are guests at the races, and he particularly enjoys getting to know them.
"When they bring those folks into the pit, that's been a special opportunity that I don't think I would have had," David said. "In real estate, it's easy to let your ego make you think you're the top hot dog in town, but when you meet folks like this, it makes you humble."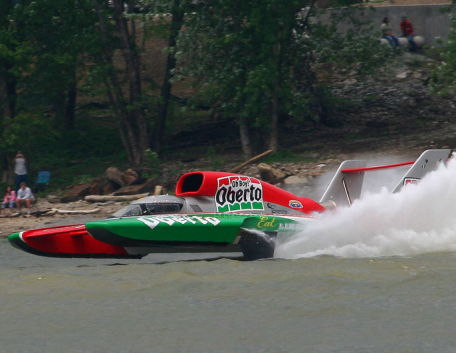 Steve David's Oh Boy! Oberto/Miss Madison speedboat catches air.
Mary Umberger is a freelance writer in Chicago.