Real estate search and marketing company Trulia.com is set to release the newest version of its mobile application for the Apple iPhone. The company expects Apple to approve its updated app as soon as Thursday.
Trulia launched its iPhone app in September 2008. Since then the app has been downloaded more than 400,000 times (total for all versions). 
Trulia spokesman Ken Shuman said that the app is drawing "serious homebuyers," which is key, even if "We might not have the most downloads in the App Store."
Over the past year, the company has seen mobile traffic to its website jump from 2 percent to 10 percent overall — and 15 percent at peak times, according to Rob Cross, Trulia's director of distribution.
About half of that traffic to the website comes from the iPhone app and the other half comes from the company's mobile website.
Peak times include weekends between noon and 4 p.m., when users are presumably out house hunting, and, during the week, times when people are likely to be out either walking around or in transit — 5 p.m. to 7 p.m. on a Wednesday, for example, Cross said.
In one measure of engagement, Trulia gets three times as many registrations through smart phones as it does through its standard website, Cross said.
A recent Inman News smart phone survey found that Trulia's app was one of the mobile apps most frequently cited as useful for work purposes by real estate professionals, ranking third in the survey behind Facebook (No. 1) and Realtor.com (No. 2).
The app is currently ranked No. 115 among "Lifestyle" apps in the Apple App Store. (The store has no "Real Estate" category).
Inman News got a sneak peek of the updated app Tuesday. The newest version of the app includes more than 1 million rental listings and more than 3 million sold listings, in addition to the 4 million for-sale home listings that were already available.
"We think it's interesting for folks to get a better feel for comps in the neighborhood — what (homes) have recently sold — so they get a sense of pricing, but also the local area from a real estate flavor perspective," Cross said.
Trulia launched rental search on its website in April. The rental listings on the app offer similar details as those available on the company's for-sale listings: photos, unit descriptions, floor plans, the ability to save favorite listings, and the ability to contact the person listing the property — in the case of rentals, the landlord.
Users can customize the sold, rental, and for-sale listings they view through filters by price range, property type, number of bedrooms, number of bathrooms, square footage, date range, and, where applicable, whether the property has received a price reduction.
Users can now also see photos in landscape mode — which makes photos bigger — in addition to portrait mode. The company's user behavior data shows that users spend much of their time looking at photos when browsing listings, Cross said.
"More than ever, it's important for folks to have photos and a media presence (on their listings). (People) love to look at photos on the website and on the iPhone," he said.
The new app version also offers more property data than the current version. Users will now have access to public records information such as property tax assessor information as well as sold price, lot size, and square feet.
As before, users can get driving directions, save searches, and instantly contact the listing agent either by phone or e-mail. One new feature is that the agent's contact information is now branded with the agent's logo.
The app's design is also more streamlined. Users have one-touch access to for-sale, rental, and sold properties as well as open houses and price-reduced homes. The new design also makes it easier for users to see nearby amenities on a map, including schools, restaurants, grocery stores, banks and gas stations.
Users may be searching for homes in five different neighborhoods, so they want to know what specific areas are like, Cross said. To that end, the company has also added "aerial view" to its map-view options.
The updated app also contains what technologists call an "Easter egg" — in this case, a hidden feature. When searching for listings in a location other than the user's present location, the user can simply shake the phone to re-center the results back to his or her present location.
A report by real estate consulting firm, Clareity Consulting. compared 23 consumer-facing property-search applications available on the Apple iPhone as of June 1, including Trulia's app. It gave the app fairly high marks for ease of use and style: 4 out of 5 possible points in each.
Of the 23 apps, however, Trulia and Apartments.com got the lowest scores for reliability: 1 out 5. The report said Trulia's app was "buggy" and "crashed often," without elaborating further.
"The Clareity report didn't specifically detail the bugs or crashes that they experienced, so it's hard to say exactly how they happened. However, we've added a ton of support to the new app to eliminate crashes and will continue to focus on this to make it better," Cross said.
Trulia is considering building an app for Google's Android platform, Cross said. A foray into the BlackBerry platform is also a possibility, but building an app on that platform is comparatively difficult, he said.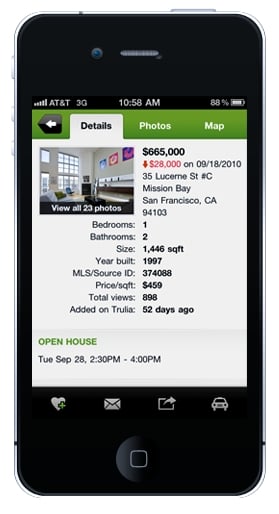 Trulia app screenshot.