The polls are still open for industry professionals to choose the newest technology product that would most benefit the real estate industry.
Five real estate tech entrepreneurs took to the stage and pitched their products and business plans in a "New Kids on the Block" presentation at Real Estate Connect last week. Voters have until 11:59 p.m. PST Wednesday to cast their votes by text message. Inman News will announce the winner by popular vote Thursday.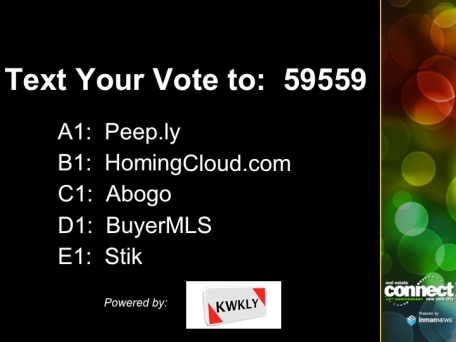 Here are the contestants:
Tina Fine, founder and CEO, HomingCloud.com. HomingCloud is "like a dating site for buyers and sellers … to meet up without a broker," Fine said. Buyers, sellers, renters, landlords, and subletters post what they are offering and/or what they are looking for on the site, the site suggests matches, and then both parties can connect directly and privately on the site. The startup launched in September and is self-funded.
Jay Gierak, co-founder, Stik.com. This site uses the Facebook platform to help users find service providers within their own network of friends. Everyone is somehow connected to 40,000 people, Gierak said, and statistically 1,300 of them will be buying or selling a home this year. "The best kind of business is referral business," Gierak said. "We help you get discovered."
Adam Mays, Abogo. Abogo is a tool that can predict how much a household would spend on transportation according to its address, including public transit and car ownership and use. "Transportation is the second biggest part of a household budget next to housing, and they're really connected. We want to help people understand the full cost both to your wallet and to the environment of car ownership," Mays said. The venture is backed by the Center for Neighborhood Technology, a Chicago-based think tank.
Ernie Graham, founder, Peep.ly (now SocialBios.com). SocialBios.com turns static "About Us" pages into social networking hubs. Agents can embed the product into their site with their own branding and colors. When users visit a brokerage site's description page, they'll be able to see how they are already connected to agents at that brokerage through Facebook, Google's Gmail, Foursquare, LinkedIn, Twitter and SocialBios.com. "It's compelling to see, 'Oh wow, I already know this guy and here's how we're connected,' " Graham said.
Charles Williams, founder and CEO of BuyerMLS.com. BuyerMLS is a Web-based, agent-only database of buyers. Agents post their buyer needs and wants for listing agents to search, without sharing buyer contact information. "It's similar to office meetings and mass e-mails where agents say I have a buyer and here's what they want," Williams said. The venture launched two months ago and is self-funded.
To participate in the voting, cast your vote (vote only once) by sending a text message to 59559:
Text "A1" (don't use quotes) for Peep.ly;
Text "B1" for HomeClouding.com;
Text "C1" for Abogo;
Text "D1" for BuyerMLS;
Text "E1" for Stik.