Many real estate closings come with a certain amount of tension, but novice real estate agent Erin Toll Glover has come to expect more than the usual amount of anxiety emanating from across the closing table.
Closers at title insurance companies have told her they're terrified of her, she said.
"People are always aware of my past," she said, laughing. "The biggest hurdle has been to get people to see that I don't hang upside-down in a bat cave and sleep in a coffin."
That's because Glover — when she was known professionally as Erin Toll — comes to the closing table with no small reputation.
Until June, she was the director of the Colorado Division of Real Estate, where she was known as an aggressive enforcer of the rules. Before that, working in the state's Division of Insurance, she uncovered a wide-ranging kickback scandal in the title insurance industry.
Already no stranger to being in the headlines, she became the focus of media scrutiny in June when she was placed on administrative leave over remarks she made about a state legislator who worked in the mortgage business. She ended up agreeing to a settlement with the state, and then resigned.
Almost immediately, Toll, who is a licensed attorney, turned heads in the housing business by going over to the "other side" — to become a real estate agent.
"Nobody had any idea that I was interested in real estate, but it's something I've always been interested in," said Glover. "I had thought about doing it when I was practicing law.
"I love working with people, and it's really all about consumer protection, whether I'm the regulator or as the regulated entity," she said. "My job is still to make sure that the consumer is protected."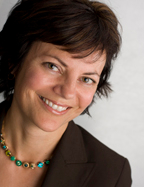 Erin Toll Glover
In her view, she's done well in her first months on the job, having closed four transactions amounting to about $1 million in sales as an agent for Perry & Co. in Cherry Creek, Colo. Along the way, though, she's had to work to gain the trust of other brokers, who knew her only as someone who disciplines real estate professionals or yanks their licenses.
"People are extremely wary of me until they meet me," she said. "When I call brokers on the other side and tell them I'm going to bring an offer, they're extremely cautious.
"After they get to know me, they say, 'I thought you were this devilish, aggressive …' One woman actually used the B word," she said. "They say they're surprised to find I'm this goofy, fun-loving person."
That wasn't exactly the image she cultivated in 2005 and 2006, when her investigation of Colorado title insurers led First American Title Insurance Co., to refund $24 million to consumers and prompted similar investigations in other states. In 2006, Inman News listed her among the nation's most influential real estate leaders.
That year, she became Colorado's real estate regulator, where she worked to strengthen oversight of the mostly unchecked mortgage broker profession in a state that had one of the nation's worst records for mortgage fraud. In the appraisal business, she markedly increased the levels of disciplinary actions taken by the state, according to the Denver Post.
Although she was widely lauded as a consumer advocate, she also made enemies, some of whom criticized her aggressiveness as an abuse of power.
She stepped into a buzz saw in March 2010, when, after a verbal tussle with state legislator Ted Harvey at a state Senate committee hearing over proposed regulatory changes, she announced that the mortgage brokerage he worked for was under investigation by her office for allegedly breaking advertising rules.
But the state's Department of Regulatory Agencies, which oversees Toll's division, said there was no such investigation.
The Post reported that an investigation officially began the day after Toll's statement, though she said in an Inman News interview that prior to her controversial comment, her office had been looking into possible legal missteps by the company where Harvey was a mortgage broker — that the investigation status hadn't been officially documented, she said, was a technicality.
"There was a clerk in my office who had piles and piles of investigations to be logged, and a formal investigation had not been logged into the system," she told Inman News. "That's what this boils down to."
Nonetheless, within days she was placed on paid administrative leave by her supervisor. Toll, in turn, filed a whistleblower complaint with the state, claiming she was being targeted for termination.
In June, she and the state reached a settlement agreement and she resigned.
Her view of real estate agents in the field has been overwhelmingly positive so far, she said.
"The vast, vast, vast majority of the real estate brokers I have encountered are hard-working, sincere, law-abiding people," she said. "This has been refreshing. When I was the regulator, I only saw the bad guys."
Her past experience has been an asset to her business, she said.
"It comes up all the time," she said. "The referrals I have received are people who are aware of my past position."
In particular, she said, clients have told her they've sought her out as a consumer advocate. And aside from the nuts and bolts of transactions, she has enjoyed showing homes and the hand-holding and reading of clients' minds that sometimes go along with the job. She has become friends with her clients, she said.
The former regulator said the real estate industry doesn't need any further consumer-protection laws enacted — it just needs to enforce what's already on the books.
"If there's not firm enforcement, one or two bad apples will start breaking the law, and pretty soon the whole barrel is breaking the law, and soon it becomes the standard of practice," she said.
"I do think, at times, the regulators can be out of touch with the actual practice," she said. "It would be better if there was more real-time enforcement of the law, so if a scam is developing, you focus all your energy on squelching it before people get hurt, as opposed to constantly cleaning up the mess afterward — after foreclosure, after bankruptcy."
Six months into the private sector, though, she said she still worries about lingering animosities from her old job.
"I think there are people who are still upset that I took their licenses," she said. "I knew I had enemies — I knew so well that I have an alarm system in my house. I have three huge dogs and I'm not afraid to use them.
"I'm always very aware of my surroundings because many people threatened me, and I still feel that wariness today," said.
Asked to discuss the specific threats, she said the threats weren't overt — that she was referring to hostile e-mails and letters, including some that described her as "evil."
In addition to home sales, Glover also has been working recently as an expert witness in title insurance cases, she said.
"I love some aspects of it," she said. "It's intellectually stimulating and it uses my legal skills, and I love writing the reports.
"I'm no hired gun," Glover said. "In every case I have worked on, the consumer I'm representing is in the right. I have believed that from the bottom of my heart, and I try very hard to help them."
But being on the witness stand still can be a rough ride, and she's glad it's not a daily part of her life, she said.
"It's very adversarial," she said. "I'm happy to be away from the adversarial nature of the business by no longer being a regulator."