The pace of new-home sales fell an estimated 12.6 percent from December to January, to a seasonally adjusted annual rate of 284,000, according to the latest figures from the U.S. Census Bureau.
That's an estimated 18.6 percent drop from the same time a year ago, and not far from a low of 280,000 seen in October. Last year, new-home sales peaked in April, hitting an annual rate of 414,000 sales before plummeting 32 percent the following month when federal homebuyer tax credits expired.
Since then, the annual pace of sales has exceeded 300,000 in only three months — June, September and December.
During the boom, new-home sales topped 1 million per year from 2003 through 2006, and have declined each year since to a low of 322,000 last year.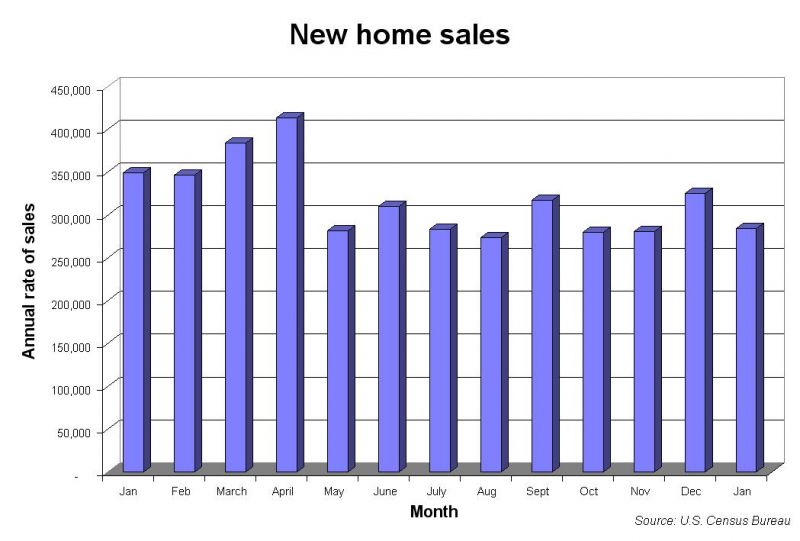 In past recessions, jobs created by new home construction have helped drive economic recovery. During the latest downturn, builders in many markets face competition from an abundant supply of existing homes, including homes in foreclosure and bank-owned properties.
"Builders are clearly facing a competitive disadvantage with regard to the large inventory of existing homes at a time when they are unable to replenish their own inventories due to a lack of available financing," said David Crowe, chief economist for the National Association of Home Builders, in a statement.
Reno, Nev.-based homebuilder Bob Nielson, chairman of NAHB's board of directors, said the trade group does expect demand to improve "somewhat" with job-market gains heading into the spring buying season.
With the thin inventory of new homes for sale continuing to decline, and builders still having a hard time obtaining loans to build new homes, the question is whether builders will be able to meet the improving demand as it emerges, Nielson said.
There are signs that demand is picking up in some regions, with new home sales up an estimated 54.5 percent from December to January in the Northeast and 17.1 percent in the Midwest. Those gains were offset by an estimated 12.8 percent decline in sales in the South and a 36.5 percent drop in Western states.
The Census Bureau said inventories of new homes totaled just 188,000 nationwide, down from 232,000 a year ago. At last month's rate of sales, that represented 7.9 months of supply — not far from the six months that many analysts consider a roughly equal balance of supply and demand.
The median sales price of new houses sold in January 2011 was $230,600, up 5.7 percent from a year ago. The average sales price was $260,300, down 8.1 percent from a year ago.