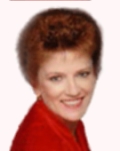 Rebecca Jo "Becky" Swann
Rebecca Jo "Becky" Swann, a pioneer in online real estate publishing, died on March 21, according to her Grapevine, Texas-based company, International Real Estate Digest (IRED).
The company posted on its website that Swann died "due to post-surgical complications."
Swann began her real estate career as an exclusive buyer's agent in 1989. In February 1995, her local Internet service provider asked her to beta test its Web server. Over the course of three days, she taught herself HTML coding and created the page that would become IRED, a directory hosting tens of thousands of real estate-related links globally.
"(The) Web is a great forum for agents because they can use the medium to stand out and exhibit their personalities. They can talk about their area of expertise and can separate themselves from the pack," Swann told Inman News in September 1996.
Swann was a speaker at the first Inman News Real Estate Connect conference in 1997, and received a "Web Pioneer" Innovator Award in 1999, "for compiling what amounted to the industry's first Web portal," Inman News reported.
"Becky was one of the first Web people who instantly saw the online real estate opportunity. She was dogged in her pursuits and engaged with all of us early on — fun it was, and folks like Becky made it so," said Inman News Publisher Bradley Inman.
"Becky played a key role in introducing thousands of real estate professionals to the wonders of the World Wide Web and the new age of real estate," said Saul Klein, senior vice president of listing syndicator Point2 and co-founder of the RealTown online real estate network, in a discussion thread.
"Our condolences to Becky's family and many friends. She was a gutsy lady with great passion and dedication for her causes and interests. She will be missed."
Klein met Swann in 1995, when she was part of a group he invited to create a blueprint for the Realtors Information Network, a NAR subsidiary. The online community Swann helped create was the precursor to Klein's RealTown, he told Inman News.
"Her contributions in those early days and beyond cannot be measured, but I know that they were significant to myself and to many others. She was a true pioneer and innovator, and I was lucky to have known her for the short period that I did," Klein said.
Broker Ed Hudson admired Swann for her enthusiasm and work ethic.
"I worked with Becky on several projects and committees, primarily with the newly formed National Association of Exclusive Buyer Agents (NAEBA). Becky was an inspiration to me due to the seemingly endless amount of energy she devoted to any cause or organization she worked for or with," Hudson said.
"I was also inspired by her early entry to the Internet. IRED.com was online before most real estate brokers even thought about needing a website."
In 2003, Swann came out in support of consumer access to online for-sale home listing data, signing a petition to pressure the National Association of Realtors to drop a proposed policy that would regulate multiple listing service data dissemination on Virtual Office Websites (VOWs). The policy was eventually challenged by the U.S. Department of Justice and settled in 2008.
According to an obituary published by the Dallas Morning News, Swann is survived by her husband, Jim Swann, as well as two children, three grandchildren, her mother, four siblings, and other extended family.
A memorial service for Swann will be held at 3 p.m. Friday, March 25, at the Preston Hollow Presbyterian Church, 9800 Preston Road, Dallas.