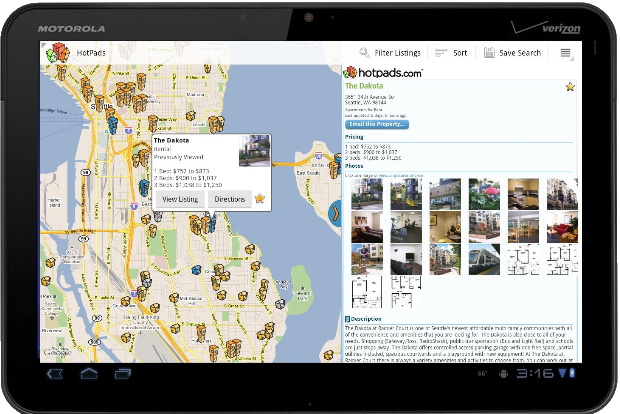 Property search site HotPads has released a free mobile application for tablets running the Honeycomb version of Google's Android platform, the site announced Friday.
HotPads' iPad app rolled out about a week ago and has received more than 1,100 downloads so far, the company reported. The HotPads site is closing in on 4.5 million monthly users, of which 10 percent are accessing HotPads from mobile apps, according to company spokesperson Paul Gleger.
HotPads' Android tablet app has all the same features as the iPad app. Users can search for for-sale homes, rentals, and hotels either nearby or at a location they specify.
They can filter their results, view listing details and photos, save favorite searches and listings, share listings via email or Facebook, and contact an agent directly from the app. In map view, users can open a listing page and still navigate the map on one screen.
While both apps are currently very similar, the flexibility of the Android platform means that users can expect new features to appear more quickly on the Android tablet app, Gleger said.
"For example, whereas it generally takes Apple a week to approve an update, we can push out new features/updates on Android as soon as we have something to deploy," Gleger said.
The app's next update will include HotSpots, a color-coded map tool that allows users to compare listings on a cost-per-bedroom basis.
HotSpots launched in February on the HotPads site. The new feature will be ready on the Android tablet app by the end of Friday or on Monday, the company said.    
The Android operating system will account for 49 percent of the smartphone and tablet market by 2012, according to information technology research company Gartner Inc.
At that time, iOS, the platform running Apple's iPhone and iPad, will account for 18.9 percent of market share while Research in Motion's BlackBerry will have 12.6 percent market share, the company predicted.
"Right now in the battle of iPad vs. Honeycomb, iPad is winning due to the sheer number of apps available in the market. Last month, there were 65,000 iPad apps to Honeycomb's 100," said Keith Sanders, HotPads' lead mobile software engineer.
"Before yesterday, Honeycomb had no dedicated real estate app — now that's changed."