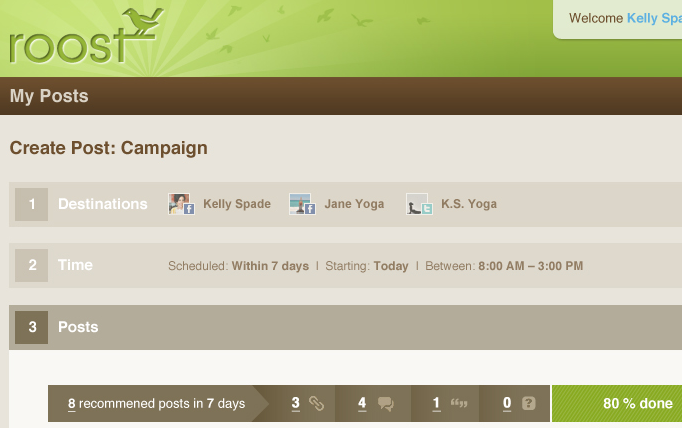 Social network marketing and technology company Roost has signed an agreement with California Association of Realtors' subsidiary Real Estate Business Services to feature its platform as the primary tool in CAR's first social media training program, Roost announced today.
CAR is the country's largest state Realtor association, with more than 145,000 members at the end of March. REBS' training division, CAR Education, will use Roost's social marketing platform as the primary tool of its new Social Network Master Program.
The program is fee-based and geared toward increasing business through social media campaigns. It includes courses on Facebook, Twitter, YouTube, and blogging that members have the option to take individually.
"Social networking has become a useful and necessary tool for Realtors to generate leads and serve their clients. Many of our members are in need of quality training and tools to utilize these new platforms," said Robert Bailey, chairman of REBS, in a statement.
Training on the Roost platform will begin this Friday, April 15, at CAR's Social Media Boot Camp, a daylong seminar at the University of Southern California in Los Angeles. Training materials will also be available online.
Roost launched its social marketing platform on March 29. The company simultaneously expanded its business model beyond real estate professionals to other small business owners, such as lawyers, accountants and restaurateurs.
"We've been in real estate quite a while and we've learned quite a lot. One of things we've learned is that, like in real estate, there's lots of businesses that rely on referral, word-of-mouth business," said Chris Brubaker, Roost's vice president of marketing.
Social networks can play a big role in helping small business owners stay "top of mind" to customers offline, he said.
Nevertheless, Roost will continue "to develop and invest in real estate," Brubaker added.
The platform launch included a more robust version of Roost Publisher, now called Campaign Creator. Whereas the Publisher tool allowed users to schedule a single Facebook post at a time, Campaign Creator allows them to schedule multiple posts simultaneously to both Facebook and Twitter.
The tool also suggests a campaign format, recommending the number of links and status updates a user should schedule per week and times of day to post them.
The idea behind the tool is to allow users to spend as little as 20 minutes a week managing their social marketing campaigns, Brubaker said.
For those worried about what to post, Campaign Creator also suggests content based on the user's industry type and interests — an article from the real estate section of a local paper, for example.
"By suggesting that content we really hope we're taking that guesswork out of the equation," Brubaker said.
Another tool, Roost Circles, has also launched. Roost Circles allows users to share each other's posts.
"We wanted to create a tool that was actually social. (Users) can band together with colleagues to create a social network for content sharing. I can create a blog post about the market in San Francisco and share it with my mortgage broker and appraiser and encourage them to share," Brubaker said.
CAR members will also learn to use other Roost tools, including its "Real Estate" Facebook tab; RoostBar, a banner in which a business name, picture, and a "like" button appear at the top of links a user posts via Campaign Creator; and the "Roost Academy" Facebook tab, which includes webinars, how-to videos, and FAQs about how to use social media for real estate marketing.
Roost Listen, which will allow agents to create a list of their most promising leads and see everything they post in one place, and an analytics tool, are in development, the company announced.