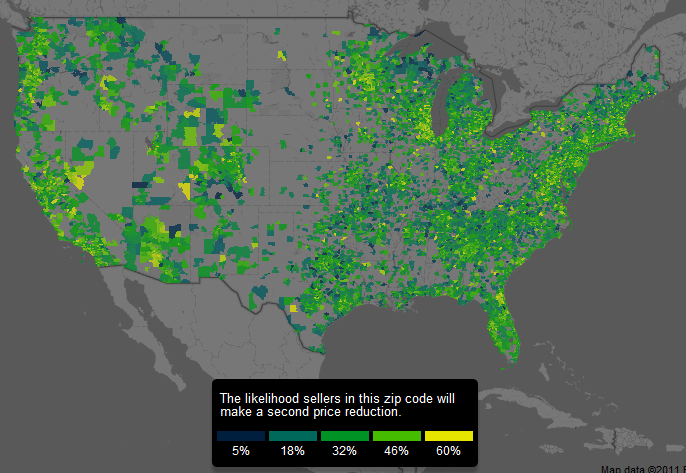 Screenshot of Trulia's price reductions map.

Property search and marketing site Trulia has launched an interactive map illustrating price reduction patterns in cities and ZIP codes nationwide, the site announced Thursday.
The map allows users to zoom into a particular location and see the average price range of a listing, the average number of days the listing is on the market before sellers make their first price cut, the average percentage of the original price sellers cut, and the probability of a second reduction.
In the year ending March 31, 2011, home sellers had cut a combined total of $24 billion from home listings on Trulia, according to a new quarterly report released with the map. The Home Offer Report is based on non-foreclosure residential listings on the site.
On average, sellers cut their original list price by 8 percent after 79 days on the market. Of those who made one cut, 35 percent made a second cut.
Narrowed down to the country's 50 largest cities, sellers waited less time before the first price reduction, 62 days, and cut by less, 7 percent. A bigger share also made a second cut: 42 percent.
"Trulia's new Home Offer Report gives buyers the upper hand to make strategic, aggressive offers when a home is due for a price reduction, increasing the likelihood the seller will accept it while minimizing the competition from other buyers who might be attracted to the property by a price cut," said Tara-Nicholle Nelson, consumer educator for Trulia, in a statement. Nelson is also an Inman News columnist. 
"Sellers who don't cut their homes' list prices deeply enough the first time face a long lag-time on the market and a high chance of needing to make a second cut, which can result in lowball offers from buyers."
"We also see a pattern of sellers making early, deep and multiple discounts in foreclosure hot spots such as Michigan, Florida, Maryland and California — a bad omen for the future of home values in these already depressed areas," Nelson added.
Sellers in these cities were the most likely to make multiple cuts:
| | | | |
| --- | --- | --- | --- |
| Rank | City | State | Probability of 2nd Reduction After Making 1st Cut |
| 1 | Phoenix | Ariz. | 56% |
| 2 | Mesa | Ariz. | 54% |
| 3 | Jacksonville | Fla. | 52% |
| 4 | Baltimore | Md. | 49% |
| 5 | Chicago | Ill. | 48% |
Sellers in these cities were the least likely to make multiple cuts:
| | | | |
| --- | --- | --- | --- |
| Rank | City | State | Probability of 2nd Reduction After Making 1st Cut |
| 1 | El Paso | Texas | 28% |
| 2 | Tulsa | Okla. | 28% |
| 3 | Omaha | Neb. | 30% |
| 4 | Honolulu | Hawaii | 33% |
| 5 | San Francisco | Calif. | 35% |
Sellers in these cities offered the deepest discounts:
| | | | |
| --- | --- | --- | --- |
| Rank | City | State | Avg. % Discount During 1st Reduction |
| 1 | Detroit | Mich. | 19% |
| 2 | Miami | Fla. | 11% |
| 3 | Columbus | Ohio | 11% |
| 4 | Baltimore | Md. | 10% |
| 5 | Atlanta | Ga. | 9% |
Sellers in these cities offered the smallest discounts:
| | | | |
| --- | --- | --- | --- |
| Rank | City | State | Avg. % Discount During 1st Reduction |
| 1 | Boston | Mass. | 5% |
| 2 | Austin | Texas | 5% |
| 3 | Raleigh | N.C. | 5% |
| 4 | Colorado Springs | Colo. | 5% |
| 5 | El Paso | Texas | 5% |
Sellers in these cities waited the longest before making a first cut:
| | | | |
| --- | --- | --- | --- |
| Rank | City | State | Avg. Days on Market Before 1st Reduction |
| 1 | New York | N.Y. | 80 |
| 2 | El Paso | Texas | 79 |
| 3 | Charlotte | N.C. | 75 |
| 4 | Cleveland | Ohio | 74 |
| 5 | Raleigh | N.C. | 71 |
| 6 | Louisville | Ky. | 71 |
| 7 | Kansas City | Mo. | 71 |
| 8 | Memphis | Tenn. | 70 |
| 9 | Miami | Fla. | 69 |
| 10 | Fort Worth | Texas | 69 |
Sellers in these cities were the quickest to slash their prices:
| | | | |
| --- | --- | --- | --- |
| Rank | City | State | Avg. Days on Market Before 1st Reduction |
| 1 | Minneapolis | Minn. | 45 |
| 2 | Oakland | Calif. | 48 |
| 3 | Phoenix | Ariz. | 48 |
| 4 | Sacramento | Calif. | 49 |
| 5 | San Diego | Calif. | 50 |
| 6 | Omaha | Neb. | 52 |
| 7 | San Jose | Calif. | 53 |
| 8 | Seattle | Wash. | 54 |
| 9 | Las Vegas | Calif. | 54 |
| 10 | Mesa | Ariz. | 55 |
Source: Trulia