Editor's note: Inman News is profiling two real estate markets in North Carolina — Raleigh and Charlotte — in coverage this week. Inman News is also profiling other real estate markets across the country in a recurring series. See last week's report on the Twin Cities metro.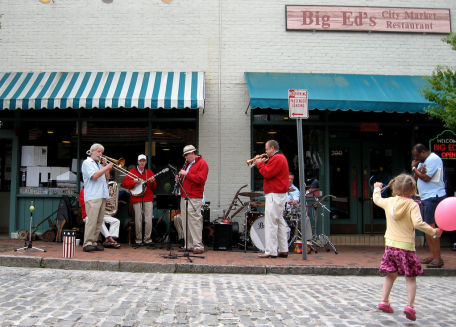 Downtown Raleigh, N.C. Flickr photo courtesy of twbuckner.
RALEIGH, N.C. — When Raleigh broker Sheri Moritz is asked that most common of real estate questions — "How's the market?" — she has a ready answer:
"Let me just debunk some of the things you know about the Raleigh market."
Moritz is broker-owner of Real Living Realty Experts. She's been in real estate for 19 years, 17 of those in the Raleigh area, and has sold more than 1,500 homes.
"You can't turn on social media or the news without someone saying the world's coming to an end. People's misconception in our market is that (our prices) are going to go down. People say, 'I don't think we've hit bottom yet,'" Moritz said.
In contrast to many other areas of the country, however, the Raleigh-Cary metro area's median home price has not changed drastically in the past few years. In 2010, the area's median sales price for existing homes was $217,600, according to the National Association of Realtors — 2.6 percent below the median in 2008.
During that same period, the median sales price in the South overall fell 9.3 percent while the median for the U.S. as a whole fell 11.9 percent. More recently, the median sales price was down 0.5 percent year-over-year in the first quarter in Wake County, where Raleigh and its surrounding areas are located, according to Triangle Multiple Listing Service.
"I compare it to the turtle and the hare. We've always been the turtle," Moritz said. "We haven't had the (price) jumps, so we haven't had the declines either."
Raleigh did not completely escape the downturn, however. Home sales in Wake County started to drop in the fourth quarter of 2007. In 2008, sales plunged 30.5 percent compared to 2007. In 2009, that rate of decline slowed — closed sales fell 13.4 percent compared to 2008. By 2010, sales were down 8.3 percent compared to the year before.
In first-quarter 2011, closed sales decreased 10.6 percent year-over-year. The estimated supply of homes for sale was 9.6 months in March, up slightly on a year-over-year basis. A supply of six months is considered to be a rough equilibrium between a buyer's market and a seller's market, with a larger supply tilting toward a buyer's market.
Last year, Mortiz sold 34 homes. This year, she said she expects to sell more — if only because she's decided to do more of the selling herself.
When the market is down, it's not a good idea to rely on "other people to feed your family," she said.
Stubborn sellers meet deal-seeking buyers 
In the first quarter, homes in Wake County typically got 92.2 percent of their original list price, essentially flat from first-quarter 2010.
Sellers in Raleigh were among the most stubborn in the country in terms of pricing their homes, according to a report by Trulia. The site found that the market's sellers waited an average 71 days before making a first-price reduction — seventh longest among the 50 largest cities nationwide. And when they did cut, they offered the third smallest discount of any city: an average of 5 percent.
Both buyers and sellers in the area have become very price-conscious, Moritz said.
Sellers with little or no equity, especially, wonder, "Am I going to be able to get enough to get out?" she said.
"The buyers are only hoping to get the best deal they can. It used to be people would buy houses that they enjoyed and can afford. But I've seen people who loved (a) house" let themselves lose it over as little as a few thousand dollars, she added.
Jobs in government, health care, and education 
The nonseasonally adjusted unemployment rate for the Raleigh-Cary metro area in February was 8 percent, compared to 8.9 percent nationally, according to the Bureau of Labor Statistics. 
Raleigh is the capital of North Carolina and one corner of what is known as the Research Triangle region. Similar to several of the markets profiled in the Inman News "10 Real Estate Markets to Watch in 2011" report, employment in the Raleigh area is bolstered by jobs in the public sector as well as the health care industry.
The city's major employers are the state of North Carolina, the Wake County public school system, North Carolina State University, WakeMed Health & Hospitals, Rex Healthcare, Progress Energy, Wake County government, and the city of Raleigh, according to The City of Raleigh Economic Development Program.
Research Triangle Park, one of the oldest and largest research parks in North America, is the region's main economic driver. Established in 1959 by government, university and business leaders, the park is home to more than 170 companies and more than 38,000 full-time workers.
In the Research Triangle region as a whole, the major employers are Duke University & Medical Center, the University of North Carolina, IBM, GlaxoSmithKline, SAS Institute, Durham Public Schools, and Blue Cross & Blue Shield of North Carolina.
Economic consulting firm Moody's Analytics predicts jobs in the Raleigh-Cary area will jump by 2.5 percent between fourth-quarter 2010 and fourth-quarter 2011, compared to 2 percent at the national level, with the vast majority of growth concentrated in the last three quarters of this year.
After falling in almost every quarter since 2006, jobs in the utilities industry are expected to experience the largest growth (up 7.2 percent) in the Raleigh area, followed by wholesale trade (5.3 percent), natural resources and mining (4.5 percent), retail trade (4.1 percent), education and health services (3.7 percent), and professional and business services (3.2 percent). Construction jobs will see the smallest increase, up 0.3 percent.
A rising, educated population 
North Carolina saw the fourth-highest jump in population among all 50 states between 2000-10, up 18.5 percent to 9.5 million, according to 2010 census results. It was one of only six states to see its population grow by more than 1 million people during that period.
During the same period, the Raleigh-Cary metro area's population grew 41.8 percent, to 1.1 million people, making it the fourth fastest growing metro area in the nation.
The predominance of universities and technology companies in the area translate to a highly educated population. In 2009, 42.2 percent of people 25 and up in the Raleigh-Cary metro area had a bachelor's degree or higher, compared to 27.9 percent in the nation as a whole, according to the U.S. Census Bureau.
The median household income for the metro area in 2009 was $59,316, compared to $50,221 at the national level. 
The vast majority of homes in the Raleigh-Cary metro area (76.4 percent) were affordable to families making the area's median income in fourth quarter 2010, according to an affordability index by the National Association of Home Builders and Wells Fargo.
Singles in the city center
The metro area's median age in 2009 was 34.3, compared to 36.5 for the nation as a whole. At the city level, Raleigh's median age is 31.9. 
Young singles tend to dominate among homebuyers in the area, according to local real estate professionals. That particular demographic is especially interested in living in Raleigh's downtown area, which the city has been revitalizing for the past few years.
"Employees are telling employers they want to live downtown," said Jack Kimball, broker-owner of Re/Max City Centre in Raleigh. "They're the hipsters, 'yupsters', and empty nesters who don't want to commute."
The downtown area has about 40,000 workers. About 5,000 people live downtown and cite walking proximity to work as their main reason for doing so, according to the Downtown Raleigh Alliance, an organization that manages and promotes the city center.
"People want to walk or take public transit instead of driving 20 miles to the store," said Barrett Powell, a broker at Coldwell Banker Advantage in Raleigh.
There was a run-up of condo building downtown in 2005 and 2006 that resulted in a glut of inventory; at least two projects held auctions recently to sell off excess units. Another downtown condo project failed last year and was turned into rentals without selling a single unit, according to an article in the News & Observer.
Hanley Wood's Builder Market Health Index recently ranked Raleigh as the country's healthiest housing market, with overall building permits rising 85 percent last year.
Single-family building permits in the metro area rose 6 percent in 2010, compared to 3 percent at the national level. Multi-family permits rose 8 percent, compared to 10 percent nationwide.
David Diaz, president and CEO of the Downtown Raleigh Alliance, predicts demand in apartment rentals downtown will see a peak within the next two years.
"There's a huge pent-up demand for rentals right now," he said.
Five colleges and universities within two miles of downtown encourage a thriving rental market.
"We have 10 renters coming in every day," said Chuck Belden, co-founder of the RtownLiving real estate team and blog focused on the downtown area.
Investors snap up foreclosures 
The Raleigh-Cary metro area has one of the lowest foreclosure rates in the nation. One in every 368 housing units in the Raleigh-Cary metro area received a foreclosure filing in first-quarter 2011, compared to one in 191 units in the U.S. as a whole. The area was ranked 145th in foreclosure activity among 211 metro areas covered by RealtyTrac.
"Overall, the foreclosure market has been isolated because (the market) has been so steady and most people that come here have good jobs," said Jason Long, RtownLiving's other co-founder.
The area also had one of the lowest delinquency rates in the nation in November 2010, 4.3 percent, according to CoreLogic.
Nonetheless, there is a rising market share of distressed properties. They made up 17.3 percent of home sales in the Raleigh metro area in November 2010, compared to 8.9 percent in November 2009.
Raleigh's rental market has attracted attention from investors. Fifteen of the 34 houses Moritz sold last year were to investors paying cash.
"A good investment property will sell here in two or three days, with multiple offers," she said.
Her investors look for foreclosed properties under $150,000 that don't require a lot of rehab work (because most aren't local buyers), are located in a desirable area, have rental income potential, and a low rental turnover rate.
Narrowed by those parameters, there are perhaps 40 properties available at any given time, Moritz said.
With that kind of competition, cash buyers have the upper hand in negotiations, she said.
She recently got two offers on one house — one at full price with financing and the other $4,000 under the list price, with cash.
Five years ago she would have told the seller to take the full-price offer "because a prequalification letter was cash," she said. No longer. She advised her client to take the cash offer.