Real estate listings and valuation site Zillow.com continues to sign up subscribers to its Premier Agent program at an accelerated pace, the company revealed in its latest regulatory filing as it prepares for an initial public offering of shares.
Zillow Inc. — which has applied to have its stock approved for listing on the Nasdaq Global Market under the symbol "Z" — said it had 10,710 Premier Agent subscribers at the end of March, up 32 percent from December and more than triple the 3,438 subscribers at the same time a year ago.
The Premier Agent program, which launched in October 2008, allows local real estate agents to purchase ads that appear alongside Zillow.com listings and property profiles within the agent's ZIP code, under contracts that range from six to 12 months. The ads appear on both Zillow.com and Yahoo Real Estate under the terms of an advertising alliance announced last summer.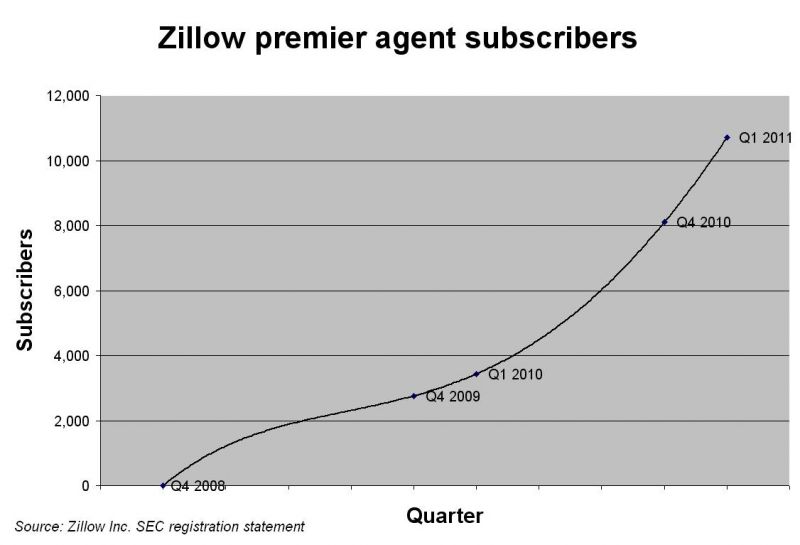 Zillow said its new consumer-generated agent reviews, launched in December, have also been a hit, with more than 40,000 reviews submitted by the end of April.
In an amendment to the S-1 registration statement Zillow filed last month with the U.S. Securities and Exchange Commission, Zillow said it boosted first quarter revenue 18 percent from the previous quarter, to $11.26 million. That's more than double the $5.33 million generated in the first quarter of 2010.
Annual revenue has grown from $10.6 million in 2008 to $17.5 million in 2009 and $30.5 million last year. Zillow said most of 70 percent compound annual growth in revenue during that period has come from Premier Agent ads and fees collected from mortgage lenders who participate in the Zillow Mortgage Marketplace.
The company said it began recognizing revenues from its strategic alliance with Yahoo Real Estate during the first quarter, and expects the ad alliance will drive greater demand for Premier Agent ads.
Revenue growth has also been spurred by "significant growth" in traffic to Zillow.com and adoption of mobile applications, the company said, with approximately 17.3 million average monthly unique users during the first quarter, an 86 percent increase from a year ago.
First-quarter expenses were also up 20 percent from the previous quarter, to $12.12 million, and the company posted an $826,000 net loss for the first three months of 2011. That's up from the $486,000 net loss Zillow posted in the final three months of 2010, but considerably less than last year's first quarter loss of $2.8 million.
Zillow said it boosted spending on sales and marketing during the first three months of the year to $5.48 million, up 35 percent from the previous quarter and 76 percent from a year ago.
Since the company's inception in December 2004, Zillow has racked up an accumulated deficit of $79.5 million as of March 31. The company has trimmed its net loss from $21.2 million in 2008 to $12.8 million in 2009, and $6.8 million in 2010.