U.S. home prices hit their lowest level since the beginning of the recession, according to the latest Standard & Poor's/Case-Shiller National Home Price Index released today.
Home prices nationwide fell 5.1 percent in the first quarter compared to first-quarter 2010, back to where they were in mid-2002. The index fell 4.2 percent compared to fourth-quarter 2010.
Twelve of the 20 metro areas tracked by the index hit new lows in March: Atlanta; Charlotte, N.C.; Chicago; Cleveland; Detroit; Las Vegas; Miami; Minneapolis; New York; Phoenix; Portland, Ore.; and Tampa, Fla.
All but Washington, D.C., saw their prices fall year-over-year. Home prices in the nation's capital rose 4.3 percent on an annual basis.
The 20-city composite index fell to 138.16, a 3.6 percent annual decline and down from its earlier April 2009 low of 139.26. The indices have a base value of 100; indices above 100 indicate appreciation of a typical home in a subject market since January 2000.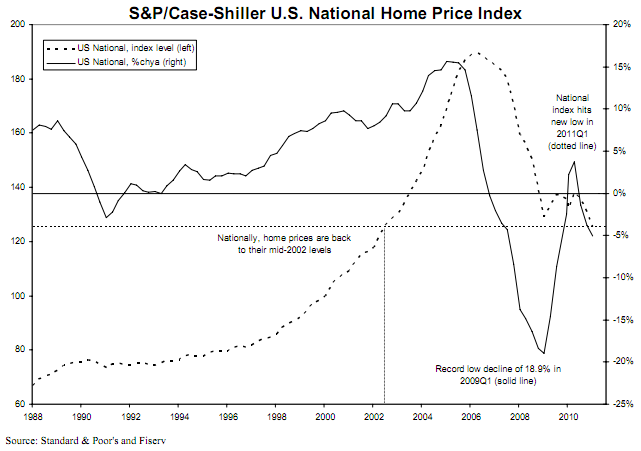 "This month's report is marked by the confirmation of a double dip in home prices across much of the nation. Home prices continue on their downward spiral, with no relief in sight," said David M. Blitzer, chairman of the index committee at S&P Indices, in a statement.
S&P Indices also announced the launch of a housing market-focused blog, HousingViews.com, today. In a blog post about the index, Blitzer added, "While the overall numbers in the S&P/Case-Shiller Home Price Indices for March are down and disappointing, the pattern is not uniform. A few areas — Washington, D.C., and (California's) San Francisco and San Diego — remain above their recent lows. At the other end of the scale, Detroit is about 30 percent below its level of January 2000."
Case-Shiller metro price changes (March 2011)
| | | | |
| --- | --- | --- | --- |
| Metro area | Index level | Change from February | Change from a year ago |
| Atlanta | 98.36 | -1.9% | -5.2% |
| Boston | 147.36 | -1.7% | -2.7% |
| Charlotte | 106.96 | -2.4% | -6.8% |
| Chicago | 110.57 | -2.4% | -7.6% |
| Cleveland | 96.8 | -1.8% | -6.3% |
| Dallas | 112.89 | -0.8% | -2.5% |
| Denver | 120.55 | -0.6% | -3.8% |
| Detroit | 67.07 | -2.0% | -0.9% |
| Las Vegas | 97.18 | -1.1% | -5.3% |
| Los Angeles | 167.77 | -0.3% | -1.7% |
| Miami | 137.28 | -0.8% | -6.1% |
| Minneapolis | 105.57 | -3.7% | -10.0% |
| New York | 163.5 | -0.9% | -3.4% |
| Phoenix | 100.27 | -0.5% | -8.4% |
| Portland | 132.67 | -0.7% | -7.6% |
| San Diego | 153.88 | -0.8% | -4.0% |
| San Francisco | 129.82 | -0.1% | -5.1% |
| Seattle | 132.97 | 0.1% | -7.5% |
| Tampa | 127.08 | -0.7% | -6.9% |
| Washington | 182.98 | 1.1% | 4.3% |
| Composite-10 | 151.66 | -0.6% | -2.9% |
| Composite-20 | 138.16 | -0.8% | -3.6% |
Source: Standard & Poor's and Fiserv