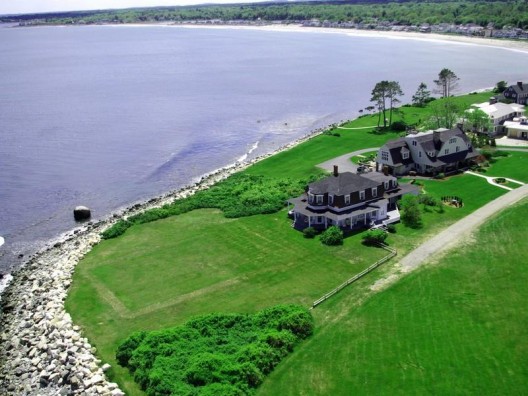 Click here to view the full photogallery.
Location: Rye, N.H.
Price: $4.9 million
The Skinny: Occupying a prime position at the head of a private peninsula, this 1870 summer cottage is full of potential, but in need of a thorough restoration. Fortunately for history buffs, the unique private community of Straw's Point has covenants to encourage the preservation of the existing homes. This particular house — with its tall windows, historic details and attractive siting — stands to benefit from a devoted renovator.
The 5,100-square-foot manse has eight bedrooms and 2.5 baths in its current configuration, and features rare details like marble mantelpieces, an original farmer's sink, and wood-and-glass cupboards. Some misguided attempts at "improving" the property will have to be corrected, like the '70s vintage sliding doors in the living room, but those sorts of touch-ups are a small price to pay to restore 19th-century authenticity. That is, a small price to pay after the hefty $4.9 million asking price.
Source: Tate & Foss
View the original item at Curbed.com: "New England Oceanfront Home Just Begging for a Tasteful Update," by Rob Bear.
More from Curbed.com's House of the Day:
Copyright Curbed.com 2011