Editor's note: This article is republished with permission of Builder magazine. View the original article: "Zillow Boosts Exposure for New Homes With its Latest Search Features."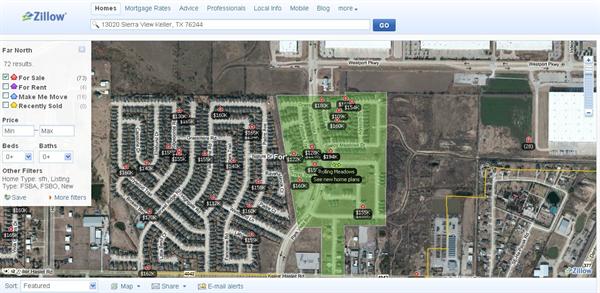 One of the improvements to Zillow.com's search function is the way it identifies when new homes are part of a specific neighborhood or community. Image courtesy of Zillow.
Zillow.com, the online real estate database, has introduced a new search function on its website that's giving greater visibility to new homes that are available in markets around the country.
Zillow's site has 22 million viewers per month, and the goal of this launch "is to give more exposure to new homes for all consumers, not just those who come to the site predisposed to buy a house," says Greg Schwartz, Zillow's chief revenue officer.
The first stage of this launch includes changes to Zillow's website and mobile application, through which Zillow receives about 30 percent of its weekend traffic.
When Zillow's viewers call up a market, they can now get a clearer picture of the new and existing homes that are available in the market being scanned. Before, that distinction was less clear, and viewers had to dig deeper into Zillow's site to come up with detailed information about a particular house. For example, the older version might show a model, but not indicate how many available new homes in a given area that model represented.
"We want to show every home to every shopper," says Schwartz.
Perhaps as important is the enhancement to Zillow's search function that groups new homes by their community or neighborhood. (A map that Zillow provided to Builder shows these houses inside of a green-colored area that indicates the boundaries of the neighborhood.)
Zillow has been working on this "discoverability enhancement" for a year, says Schwartz, with Beazer Homes and PulteGroup as the willing guinea pigs.
"In this market, where competition with resale is so intense, we're eager to pilot Zillow's new solution to better highlight new homes and more clearly illustrate the benefits of new construction," says Deborah Meyer, PulteGroup's chief marketing officer, in an email.
Previously, she notes, Zillow had represented Pulte's communities, "which include numerous types of homes at a range of prices," with a single point on its site map.
"Now, home shoppers will be able to see the outline of the entire community and then drill down to see the multiple floor plans and elevations being offered, providing us with more exposure and a broader footprint on Zillow."
About 15 percent of Pulte's communities are involved in the pilot, Meyer says. Kathi James, Beazer's chief marketing officer, says all of her company's current and "coming soon" communities are getting better exposure on the site now.
"Zillow's approach allows new-home communities to be most accurately represented in addition to individual resale listings. This gives the consumer all of the options in a single place."
Schwartz says that more builders will be included over the coming weeks and months. He adds that the initial feedback from builders about the changes "has been a sigh of appreciation that someone is investing in technology solutions."
John Caulfield is senior editor for Builder magazine.
© 2011 Hanley Wood. All rights reserved.  No part of this article may be used or reproduced in any manner whatsoever without the prior written permission of Hanley Wood.