U.S. home prices rose slightly in the second quarter, but ultimately fell in the first half of the year and are likely to fall further in the second half, according to a report from data and valuation firm Clear Capital, released today.
The firm's Home Data Index fell 3.2 percent between fourth-quarter 2010 and second-quarter 2011, despite a 0.9 percent increase in the second quarter from the first quarter. Prices are expected to fall another 2.4 percent by year-end. Since June 2010, home prices have fallen 8 percent overall, the report said.
Clear Capital attributed the price declines to downward pressure from high unemployment and a high share of foreclosure sales. Bank-owned properties (REOs) accounted for 31.4 percent of overall sales at the end of the second quarter, a slight dip from 33.1 percent at the end of the first quarter.
"While varying according to each local market, it is unlikely national home prices have reached a true and sustainable bottom," the report said.
Nonetheless, "it is clear prices have begun to level off and are not exhibiting as much volatility as we've seen since the downturn began," said Alex Villacorta, director of research and analytics at Clear Capital, in a statement.
The Midwest and the West are expected to see the biggest price drops in the second half of the year: 4.1 percent and 4 percent, respectively. The Northeast and the South will stay relatively flat with declines of 0.8 percent and 1.3 percent, respectively.
Of 50 major metro areas, only five are forecast to see home-price gains in the second half of the year: Washington, D.C.; New York; Orlando; Dallas; and San Francisco. Among the 15 markets expected to perform best in the second half of the year, 11 are expected to see either gains or smaller rates of decline.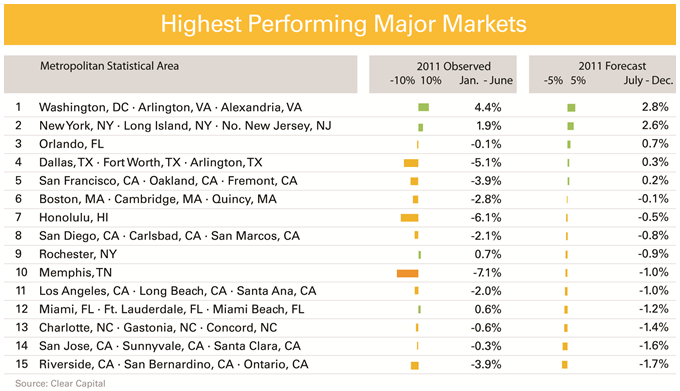 The Virginia Beach-Norfolk-Newport News, Va., metro area is expected to see the biggest price drop, down 8.6 percent, among the 15 lowest-performing major markets. Clear Capital predicts nine out of the 15 will either maintain or slow their price declines compared to the first half of 2011.