Editor's note: The following is a real estate tech company profile.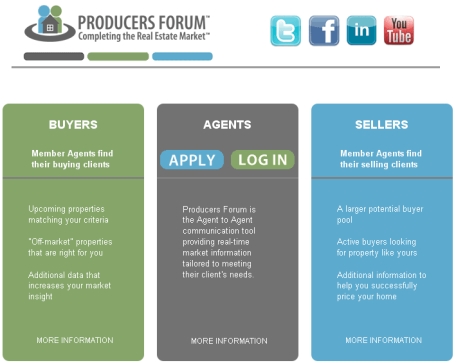 ProducersForum.org screenshot.
Q-and-A with Producers Forum founder and CEO Eric Trailer:
Q: What are the major products and services offered by your company, and the cost of these products and services?
A: Producers Forum Inc. provides a Web-based virtual "needs and wants" meeting (place) with matchmaking capability connecting member agents in real time.
The data gathered creates a 360-degree view of the marketplace where an agent can utilize the information associated with both supply and demand to serve their clients given the current market dynamics. The service is free at the basic level and matches agents who have buyers with agents who have available properties.
Producers Forum also provides … access (to) industry-preferred vendors and services that are recommended by its membership.
Q: What idea launched the company?
A: The founder's initial idea emanated from discussions with real estate professionals about the fact that they would love a better way to interact with one another about buyers' needs, as well as interact better (with) properties available for sale but not captured by multiple listing services.
Then the proverbial "lightbulb" flashed: most of what we understand about the real estate market is undefined. What if we created a forum to share information and match agents that would ultimately define a significant portion of the whole market?
What started as emails, spreadsheets and meetings quickly morphed into a robust, Web-based, real-time, virtual wants and needs meeting (place) for all real estate agents, regardless of affiliation, to participate.
Q: What does this company solve? What void does it fill in the marketplace?
A: The real estate market is largely undefined. Producers Forum is empowering real estate professionals to provide data about the real estate market that is currently not understood. Those elements of the market that are not understood include: 1. Details associated with  the size and demographics of the vetted buyers in the market, plus 2. Details associated with vetted available properties that are not reflected by the various multiple listing services.
Producers Forum seeks to aggregate this data … to better define the real estate market and to create a far more reliable exchange.
Q: What are some examples of off-market properties you've worked with? 
A: Due to confidentiality requirements we are not allowed to share specific property or client details. (View some testimonials here.)
Q: What are the difficulties in finding buyers for off-market properties?
A: While it may be true that there is at least one buyer for real estate at some level, only a properly organized exchange provides a functional market. By empowering real estate agents to provide information about motivated buyers in the real estate market, vetted information is aggregated and a more efficient exchange is created.
Q: What is the founder's background?
A: Eric Trailer is founder and CEO of Producers Forum. He is also currently president at Absolute Mortgage Banking and CEO at Rubicon Ventures LLC. He has extensive experience in finance-related disciplines such as real estate finance, corporate finance and private banking.
Having been an entrepreneur since 2002 and having established … connections to raise capital and hire … team members. Eric's previous experience includes positions as director for Technology Finance Partners in San Francisco, investment officer for Citigroup in San Francisco, and account manager for North American Title Company in Palo Alto.
Eric holds a bachelor's degree in business administration from California State University, Sacramento, with a concentration in real estate and land-use affairs.
Q: What is the amount of outside funding received to date?
A: Confidential at this time.
Q: What companies have contributed funding?
A: Individual partners of (private investment firm) Palo Alto Investors; individual partners at Absolute Mortgage Banking; and Producers Forum founder Eric Trailer.
Q: What is the company's core business model?
A: Producers Forum has a business model based on serving real estate salespeople by generating revenue from sponsorship and other premium content.
Q: What makes the company's product and service offerings unique?
A: With multiple patents pending around both the reliable matchmaking features and the supply associated with "off-market" data aggregation, combined with an agent-centric focus on providing features to help agents become more efficient in serving their clients, Producers Forum (is a) complement to the MLS to provide real estate sales professionals with … market data.
Producers Forum is also an independent corporation not associated with any real estate brokerage. This … ensures that any lead generation created as a result of the existence of the platform remains with membership and membership only.
Q: What is the company's customer base?
A: The members of Producers Forum are its customers, and members of Producers Forum are licensed real estate sales professionals.
Q: Is the company profitable now? If not, when is it projected to reach profitability?
A: Producers Forum … expects to reach profitability by the end of 2012.
Q: What are the company's growth plans for the current calendar year?
A: Producers Forum intends to become a national service, with plans to expand on a market-to-market basis commencing on the West Coast. We currently serve California, Oregon and Nevada (and have) a prioritized plan to roll this service out in strategic core-based statistical areas throughout the country.
Q: What are the company's most popular products and services?
A: Based on a recent survey of Producers Forum membership, the most popular features of the service include the … auto-matching of records, intuitive navigation, and dynamic search. Beyond the features is the fact that Producers Forum is providing (a) networking platform for agents that is … creating more closed real estate transactions.
Q: What are the company's main competitors?
A: Producers Forum was originally created to solve the issue of a lack of information in the real estate market. As we understand the landscape today, no other company is making an attempt to truly aggregate vetted data associated with that portion of the real estate (market) that is undefined by the MLSs.
There are limited competitors to Producers Forum, including Top Agent Network, PocketListings.net, Zolatta and Property Minder. 
Q: Which technology trends and market trends is the company watching most closely?
A: The Internet has marginalized the value of the agent over the last 10 years. Producers Forum sees social platforms as a key ingredient in restoring agent value by providing better service and more complete information to the agent that they can then use to better serve their clients.
Mobility is providing (a) significant incentive for rapid innovation in the real estate industry, and agents and consumers are increasingly leveraging mobile tools … against time constraints. Mobile offers opportunities for agents to provide a leap in service to their clients. Innovation has been slow to come (in) the real estate industry. This is now changing.
Q: What new products, product features and services is the company investing in most heavily?
A: Proprietary matchmaking algorithms and innovative mobile solutions. Producers Forum is currently working on a smartphone app — release (date) to be determined, but it is in the pipeline.
Q: What upcoming releases, company developments are in the works?
A: Producers Forum is very pleased at the initial response to its platform. With membership fast approaching 700 and growing virally at this point, combined with the fact that Producers Forum is empowering agents to close transactions that likely never would have existed otherwise, it appears that agents are finding Producers Forum to be an ideal tool to enable them to maximize the service that they provide to their clients.
Additionally, since Producers Forum seeks to exist as a complement to MLSs, complete and reliable data about any real estate market is now possible, which provides for a very powerful forecasting tool.