Zillow will be valued at more than $300 million after it goes public if the company is able to sell its shares for $12 to $14 each as planned, according to its latest filing with the Securities and Exchange Commission.
Zillow could raise about $45 million in its initial public offering of 3.46 million shares if they sell at the midpoint of that range.
The company would have about 27 million shares outstanding after the IPO and a simultaneous private placement, which would value the company at $350 million if those shares were worth $13 each.
Zillow's S-1 registration statement and five subsequent amended filings have shed considerable light on the company's business model and plans.
The filings show that since its inception in December 2004 the company has run up a cumulative deficit of $79.5 million through March 31.
But Zillow looks to be headed toward profitability, having trimmed net losses from $21.2 million in 2008 to $12.8 million in 2009 and $6.8 million in 2010.
During the first three quarter of 2011, Zillow's losses totaled $826,000, as revenue more than doubled from a year ago to $11.26 million.
The company has grown revenue by boosting traffic to Zillow.com — mobile apps have helped that effort — and by selling more ads to real estate agents and mortgage lenders. Under a partnership with Yahoo Real Estate, ads agents purchase through the "Premier Agent" program appear on both sites.
At the end of March, Zillow had 10,710 Premier Agent subscribers, up 32 percent from December and more than three times the 3,438 subscribers at the same time a year ago.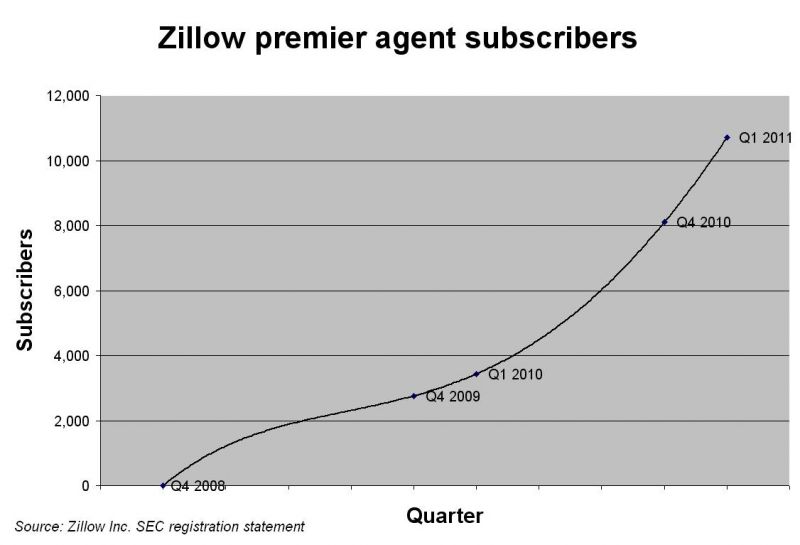 Zillow's regulatory filings in preparation for an IPO reveal that display-ad revenue grew by 27 percent from 2009-10, to $17.2 million, and "marketplace revenues," including ads sold through the Premier Agent program and Zillow's Mortgage Marketplace, were up 238 percent, to $13.2 million.
Marketplace revenues accounted for 43 percent of the company's revenue in 2010, up from 22 percent in 2009.
The Premier Agent program offers agents targeted advertising on Zillow by ZIP code, at prices that vary based on a number of factors. An agent's ratings, photo and contact information are featured alongside home profiles and listings in the relevant ZIP code, giving the agent exposure to home shoppers interested in homes in their subscribed ZIP code.
Premier Agent subscribers have access to program analytics, including detailed information on each contact and on clicks and impressions with respect to featured listings and showcase advertisements.
Zillow boasts that is has employed a "viral communications program" to grow website traffic to 22 million unique users during May 2011 "with virtually no advertising expense to date."
There are more than 1.8 million licensed real estate agents in the U.S., the company said, citing data published in April 2011 by the Association of Real Estate License Law Officials (ARELLO). Real estate agents and brokers spent an estimated $6.2 billion on residential advertising in 2010, Zillow noted, citing a report by Borrell Associates.