Editor's note: The following is a real estate tech company profile.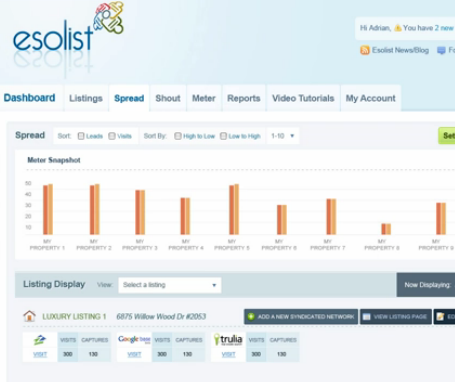 Screenshot of Esolist dashboard.

| | |
| --- | --- |
| Company name: | Esolist |
| Website: | www.esolist.com |
| Email: | media@esolist.com |
| Launch: | January 2011 |
| Founders: | Adrian Esquivel, Lorenzo Perez Jr. |
| Headquarters: | Coral Gables, Fla. |
| Number of employees: | N/A |
| Number of offices: | 1 |
Below is a Q-and-A with Esolist co-founder Adrian Esquivel:
Q: What idea launched the company?
A: We've seen many real estate agent websites and found most of them to be outdated and lacking features. When we did our research on companies offering Web-based tools, we were unimpressed. No user control, no social media integration and (a high cost) was what we found common. We know that real estate agents desire the ability to effectively market themselves and their listings.
We've seen how Realtors have embraced social media and experienced its effectiveness. So we started thinking, "How do we give a Realtor those tools to market themselves?" and "How do we do this at an affordable price?" That's how the idea for Esolist was born.
It's a Web application that creates polished websites, providing Realtors a single interface for managing all of their social media accounts — complete with analytics and reports providing return on investment.
Q: What are the major products and services offered by your company, and the cost of these products and services?
A: We offer a free Web-based application, as well as a paid version that is based on a monthly subscription of $19. Our free version provides a user the ability to create an agent profile and add a single listing. Our "Power" plan is our paid monthly product that allows the user to add up to 15 listings, archive listings, (view) real-time measurements of website traffic, and … create reports.
Q: What is the background of the founders?
A: Adrian Esquivel is founder and owner of TECKpert, which provides comprehensive Internet and media solutions to businesses looking to enhance their Web, social media and online marketing presence. He has more than 10 years' experience in technology. Lorenzo Perez is the CEO of Premier International Properties, a residential real estate company. He has more than 10 years of experience in real estate.
Q: What is the amount of outside funding received to date?
A: The company has been privately funded.
Q: What companies have contributed funding?
A: Not applicable.
Q: What is the company's core business model?
A: Our company operates on a SaaS ("Software as a Service") model.
Q: What makes the company's product and service offerings unique?
A: No other company offers a comparable product, and no one provides unified software for managing listings and social media. Aside from being user-friendly, we do not require a contract and/or a commitment … a user can try it out free.
Q: What is the company's customer base?
A: Our customers include real estate agents, brokers and professionals.
Q: Is the company profitable now? If not, when is it projected to reach profitability?
A: We are still in the startup phase. We intend to reach profitability by 2012.
Q: What are the company's growth plans for the current calendar year?
A: We are increasing our customer support and sales team as well as continuing to invest in our product development.
Q: How many subscribers do you have so far? How many are free? How many are paid?
A: (We have) more than 1,000 users. More than 50 percent are free (accounts).
Q: What are the company's main competitors?
A: We don't have a competitor that offers a comparable product. However, our competitors can include companies offering listings flier services, and companies offering websites.
Q: Which technology trends and market trends is the company watching most closely?
A: The trend we are watching closely today is mobile applications and mobile computing. Closely related to that trend is location-based marketing and cloud computing. To comment on mobile applications, Morgan Stanley Research estimates that sales of smartphones will exceed those of PCs in 2012.
To date, there are an estimated 350,000 apps in the Apple App Store, and 290,000 apps in the Android Marketplace. Esolist is an ideal application to use on the go, and we are committed to bringing it to the mobile market.
Q: What new products, product features and services is the company investing in most heavily?
A: We are in the process of developing Esolist for release in the Android marketplace and iTunes App Store for both mobile phones and tablets. (Our) mobile app release is expected in first-quarter 2012.